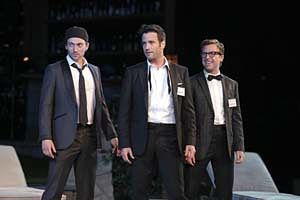 Hijinks, miscommunication, flirtation and youthful excess are the backdrop to one of Shakespeare's most accessible comedies, Love's Labour's Lost, at Central Park's Delacorte Theater. A practice run for the more complex Much Ado About Nothing, this rendition of Love's is noteworthy for being a 100-minute Shakespeare lite musical, adapted and directed by Alex Timbers.
Timbers, who wrote and directed Bloody Bloody Andrew Jackson, has brought his trademark snarkiness and sassy directorial style to the Bard's take on the battle of the sexes and the struggle for constancy in love. It's akin, in part, to Avenue Q meets Shakespeare: cheeky humor, 20- and 30something references and hummable pop songs, such as "Hey Boys" and "Are You a Man," by Michael Friedman.
Love's Labor's Lost is a straightforward story of four men who, post-university, commit to a monastic, studious life for three years. Led by Berowne (Colin Donnell) and the King of Navarre (Daniel Breaker), the men are quickly seduced by the sight of four beautiful women, led by the Princess (Patti Murin), who takes a fancy to the king, and Rosaline (Maria Thayer), who catches the eye of Berowne.
Throw in a wonderfully over-the-top Don Armado (Caesar Samayoa) who loudly courts Jaquenetta (Rebecca Naomi Jones), and all the makings for romance and revelry ensue.
Timber supplies riffs on boy and girl bands, East German performance artists and academics. (Rachel Dratch and Jeff Hiller play the kooky, verbose professors with delight.) Wesleyan, Brown and Revenge of the Nerds appear in the lyrics, as does "love's a gun, and the safety is off." His zippy style, which can be sophomoric at times, is ever present.
While much of the production is well done, attitude can trump text: We hear more from Timbers and less of the Bard. The humor remains, and when the cast sticks to Shakespeare, there are genuinely lovely moments. Still, part of the fun on a summer's night is to just sit back and enjoy the lively score and chemistry between Thayer and Donnell. The two are excellent, and Samayoa is engaging. In fact, the entire cast is first-rate.
This energetic production is Shakespeare with a millennial's twist.
Conversely, the very adult and sultry Ute Lemper, the acclaimed German chanteuse, is performing August 14, 15, 16 and 17 at the swanky 54 Below, downstairs from Studio 54. Lemper, the definitive modern-day Kurt Weill singer, is adept at traversing the musical universe. Tall and charismatic, the singer boasts versatility -- from classic cabaret songs of the Weimar era to evocative renditions of Jacques Brel and Edith Piaf.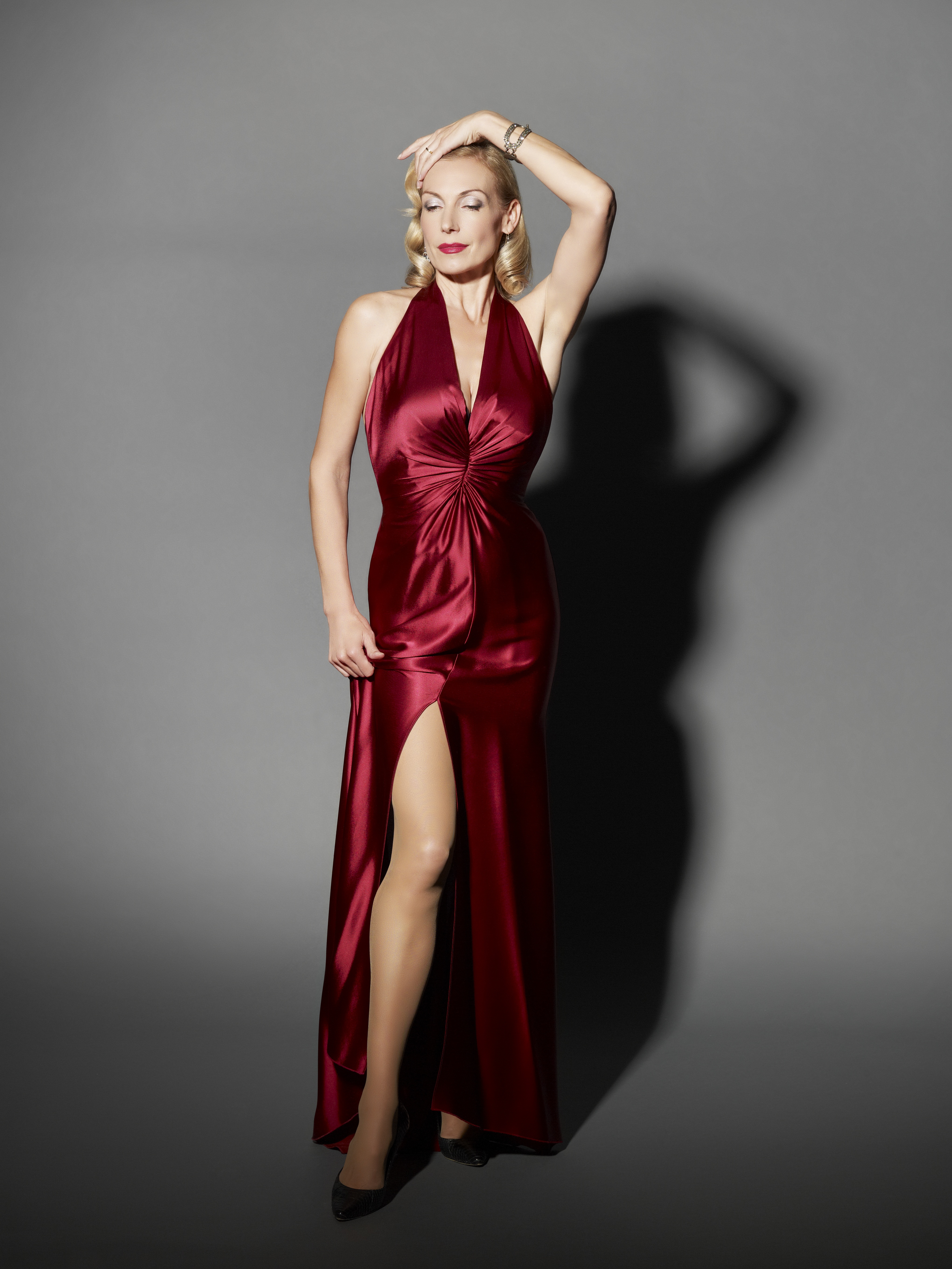 She doesn't just sing; she interprets. Anyone who has seen her shows knows she defines torch. While Lemper is accustomed to large concert halls in Europe, New Yorkers usually meet her in tony nightclubs, such as the Allen Room, Joe's Pub or the Carlyle.
Last fall, Lemper ventured into the world of Pablo Neruda's poetry and fashioned shows with his text, set to the haunting music of Tango Nuevo. She co-wrote the music with Marcelo Nisinman, producing songs as dreamy, hypnotic and woeful as the Chilean's poetry.
In fact, songs of love, passion and rebellion are strong suits in her canon; and unlike many artists, she can sing in French, German, Spanish, Yiddish and English. Her range, much like her electric rapport with the audience, is legendary. For fans of cabaret, and those who embrace the dark poetry of city streets, Lemper takes them on a journey to Berlin, Paris and Buenos Aires for four unforgettable nights.
Love's Labour's Lost photo: Joan Marcus
This Blogger's Books and Other Items from...
SUBSCRIBE AND FOLLOW
Get top stories and blog posts emailed to me each day. Newsletters may offer personalized content or advertisements.
Learn more