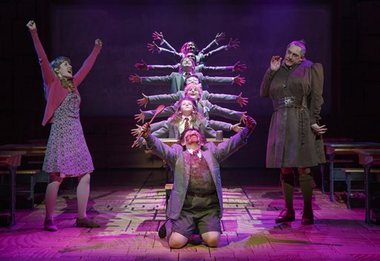 Matilda is a musical with Dickensian overtones -- nasty parents and fiendish headmistresses. Fans of Roald Dahl's book know the little girl has telekinetic powers; though the Broadway musical, an Olivier-winning West End import, focuses more on human chemistry.
Now at the Shubert Theater, Matilda, like Annie, playing a few blocks away, is burdened by horrid grownups. The girls are spunky and smart; and both shows feature over-the-top portraits of cruel adults incapable of love. In their worlds, childhood is less nurture and more savage.
Matilda's heroine is played on a rotating basis by Sophia Gennusa, Oona Laurence, Bailey Ryon and Milly Shapiro. Laurence was on duty the night I saw it, and she was wonderful.
So are her low-rent parents, Mrs. Wormwood (Lesli Margherita) and her husband (Gabriel Ebert), self-obsessed cartoon monsters, forever berating Matilda for her love of books. A passion illustrated by the wacky Scrabble letters that dot the set.
To discourage her, she's sent to a prison-like school run by the maniacal Miss Trunchbull (an extraordinary Bertie Carvel), who sings to her maligned charges: "If you want to teach success, you don't use sympathy or tenderness." She could double as a Wall Street CEO.
There are only two sympathetic counterpoints: The sweet, but nervous Miss Honey (Lauren Ward), the teacher who recognizes Matilda's genius, and a librarian (Karen Aldridge) captivated by Matilda's tale of acrobats who meet a sad end.
Directed by Matthew Warchus, there are several terrific numbers, though the musical would benefit from less. The kids in the cast are a high point; Peter Darling's choreography capitalizes on the physicality and willfulness of childhood. The entertaining family fare, a boost for girl power, is a contradiction. It posits hideous traditional families; Dahl slyly reminds us that real connections are where you can find them.
The Royal Shakespeare Company created the world premiere of Matilda and judging from its reception, it will fill its coffers for years.
Photo by: Joan Marcus