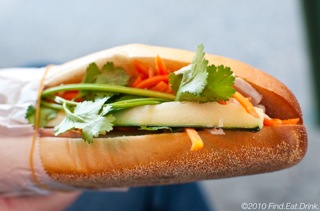 The sandwich: generally thought of as two or more slices of bread and some filling in between. Every country has their own interpretation from a bacon butty to a falafel to the Croque Monsieur to the cheesesteak. We asked 10 chefs to share their favorite spots around the US to grab a sandwich.
For more restaurant recommendations from chefs, subscribe to the free Find. Eat. Drink. newsletter.
10 Chefs' Favorite Sandwiches
Joe Ogrodnek worked at well-respected Gramercy Tavern before he became the chef at Anella in Greenpoint, NY. When he wants his sandwich fix, he frequents 'ino in the West Village for their toasty paninis. We just love the place, it's a small Italian wine bar with a great atmosphere. I love the food. For me, it's one of the best sandwiches in town.

Local Miami Chefs Michael Schwartz of Michael's Genuine Food and Drink and Michelle Bernstein of Michy's and Sra. Martinez, love the Latin-inspired La Camaronera in Little Havana. Michael's sandwich order is the Pan con Minuta (Snapper Sandwich).

Chef Jimmy Bradley of The Red Cat and The Harrison in New York, makes Philippe's one of his stops in Los Angeles for their French dipped roast beef and pork sandwiches. One of the best sandwiches ever made.

Move over classic Reuben... meet the pork belly version. Chef Erik Desjarlais of Evangeline in Portland, ME singles out Nosh Kitchen Bar's rendition: roast pork belly, cheddar cheese, caramelized onions and Russian dressing on grilled rye bread.

Chef John Besh owns six restaurants in New Orleans, including Restaurant August. He's also a native son. We figure he knows a tasty po' boy when he finds one. For the most authentic po' boy, he recommends Parkway Bakery on the Bank of Bayou St. John.

You just might spot chef Anita Lo of restaurant annisa in New York City waiting in line for Venezuelan food at Caracas Arepa Bar in the East Village. Delicious, inexpensive food from an under-represented cuisine.

Both Chef Mike Lata of FIG in Charleston and master sommelier Fred Dexheimer love the casual atmosphere at Holeman and Finch in Atlanta. They serve the Ten O'Clock Burger. Every night at ten o'clock they offer 24 burgers. It's a rockin' burger.

Chef King Phojanakong of Kuma Inn and Umi Nom in New York, heads to the back of a jewelry store in Little Italy to get his favorite banh mi sandwich at Banh Mi Saigon.

Chef Michelle Bernstein may be a James Beard Award Winner, but that doesn't mean she can't enjoy a great dog. When in Chicago, Michelle stops into Hot Doug's.

Chef Rene Ortiz of La Condesa in Austin heads to the Dai Due truck at the farmers market in Republic Square Park on Saturday mornings for their old-style sausage sandwich.

Do you have a favorite sandwich from a restaurant? Tell us where it is and what you like about it. For more chefs' restaurant recommendations, tips, and recipes sent right to your email inbox, subscribe to the Find. Eat. Drink. free newsletter.
Follow Find. Eat. Drink. on Twitter: www.twitter.com/findeatdrink