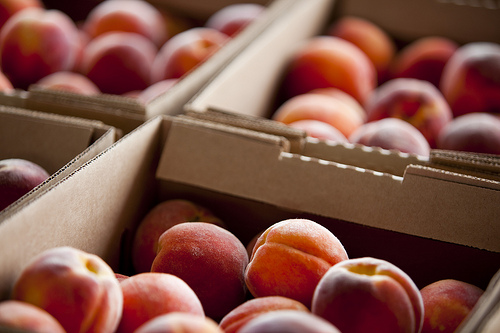 [Photo DC CentralKitchen]
As we celebrate the 235th anniversary of the Declaration of independence, we honor those who came before us with recipes that utilize local ingredients presently available from the original 13 colonies.
The New England Colonies were always largely farming and fishing communities.
The Middle Colonies grew wheat, grains and produce on farms in Pennsylvania and New York.
The Southern Colonies were almost entirely agricultural, growing rice and corn.
Recipes celebrating the 13 colonies
In honor of the 4th of July, we gathered together summer recipes, featuring one local ingredient presently available from each of the original thirteen colonies.

Connecticut - Clams. Clams surpassed oysters as Connecticut's highest valued aquaculture product, according to the Connecticut Department of Agriculture. Recipe: Clam Salad with Watermelon From: Chef Norman Van Aken Chef Aken usually makes this salad with conch, but also recommends substituting fresh clams.

Delaware - Cucumbers. Cucumbers grow best when allowed to sprawl along the ground in the garden. Recipe: Braised Cucumber Salad From: Chef John Fraser

Georgia - Peaches. Fresh Georgia peaches are available only 16 weeks each year, from mid-May to August. Recipe: Burrata with Roasted Peaches and Fried Rosemary From: Chef Mike Lata

New Jersey - Tomatoes. Tomatoes have been designated the state vegetable of New Jersey. Recipe: Tomato and Bread Soup with Parmigiano Reggiano From: Franny's Restaurant

North Carolina - Watermelons. When picking watermelons, choose one symmetrical in shape without dents, bruises and cuts. Thump and listen for a dull hollow sound. Recipe: The Cabarete Cocktail From: Mixologist Ryan Goodspeed

Maryland - Crabs. The Chesapeake Bay provides 50 percent of the total blue crab harvest in the United States. Recipe: Crab Cake with Carrot Butter Sauce From: Chef Michael Schwartz "The sweetness of the carrot and the crab play off each other perfectly."

Massachusetts - Mussels. Try not to overcook mussels. Once the shells open up, they're done. Recipe: Mussels with Buttery Miso Broth From: Chef Tony Maws

New Hampshire - Fava Beans. The fava bean peak month is July. When buying them, look for shiny firm pods and bypass the soft or wrinkled beans. Recipe: Mixed Bean Salad with Pistachios From: Chef Kurt Gutenbrunner

New York - Beets. Beets are available all year long, but the best time to buy them is June through October. Recipe: Beet Salad with Crushed Pistachios and Robiolina From: Chef Amanda Freitag

Pennsylvania - Wheat. Pennsylvania is considered the birthplace of the American pretzel industry. Recipe: Pretzel Rolls From: Chef Andrew Little

Rhode Island - Squid. Squid should be cooked either a very short time or a very long time. Anything in between turns it into rubber. Recipe: Squid A La Plancha with Bay Leaf and Lemon From: Chef Josh DeChellis

South Carolina - Corn. Look for Anson Mills cornmeal. Owner Glenn Roberts researched historic documents to grow harvest and mill near-extinct varieties of heirloom corn. Recipe: Husk Cornbread From: Chef Sean Brock

Virginia - Scallops. Refrigerate scallops immediately after you buy them and if possible, consume, or at least cook them, within one day. Recipe: Grilled Sea Scallop Salad with White Truffle Flavored Olive Oil From: Rosario Safina

What summer dishes do you like to eat on the 4th of July? Share your favorite Independence Day foods. For more tips and recipes from chefs, sign up for the free Find. Eat. Drink. newsletter.
Follow Find. Eat. Drink. on Twitter: www.twitter.com/findeatdrink