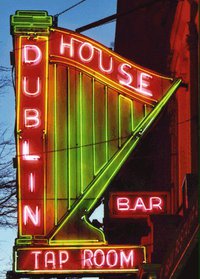 We know it's nearly impossible to complete a list of the greatest dive bars in America, but here is a start. This list is picks from bartenders, sommeliers and chefs.

"The thing that makes these places special is that they are relatively untouched. The feel loved, worn, weathered, and not at all fabricated. The history is real, and you can feel it in the bones of the space."
-- Bartender Brooks Reitz (FIG in Charleston and creator of Jack Rudy Cocktail Co)
Pictured is the Dublin House Tap Room, recommended by bartender Brian Bartels (Fedora in NY) and sommelier Levi Dalton (Bar Boulud in NY).
What makes a great dive bar? Is it because it's well-worn and rough around the edges with cheap drinks, sticky floors and a few unsavory characters? Not always. We asked a few "industry folks" to tell us their favorite dive bars around the country.

Snake and Jake's Christmas Club Lounge - New Orleans "Snake and Jake's has no windows and is open until daylight the next day. It has an emphasis on beer and whiskey shots and if you go there naked, you drink free." - Bartender Chris Hannah (Arnaud's French 75 in New Orleans) Photo: Snake & Jake's

Sunny's Bar - Red Hook, Brooklyn "For just a great bar with an amazing atmosphere and cold beer." - Bartender Maxwell Britten (Maison Premiere in Brooklyn, NY)

The Blarney Cove - NYC "My favorite real-deal dive bar is The Blarney Cove on 14th btw A & B. Real dreary, Charles Bukowski skid-row style." - Sommelier Michael Madrigale (Bar Boulud & Boulud Sud in NYC)

Power House - Hollywood, CA "It's about as divey as a place could get." - Chef de cuisine Robert Trester (Delphine in Hollywood, CA)

Mac's Club Deuce - Miami "Classic dive bar. You never know who is gonna be there, but it's likely to be good. Tony Bourdain and I love this place." - Chef Norman Van Aken

Silvertone Bar and Grill - Boston "It's a great dive. When you walk downstairs to go to a place, you know you're in a dive. They do have the best mac n' cheese in town, which is something you love at 1am, after a night out." - Chef Ming Tsai (Blue Ginger Restaurant in Wellesley, MA)

Mean-Eyed Cat - Austin "It's a Johnny Cash-themed dive bar." - Restaurateur Jesse Herman (La Condesa in Austin)

Local Option - Chicago "They have an awesome beer list." - Chef di Cucina Meg Colleran Sahs (Terzo Piano's in Chicago)

Metzger's Tavern - Henderson The scene is incredible - everyone in the community drinking beer, telling stories, eating burgers, chomping on oyster crackers. It also doubles as a package store, so you've always got people coming in to buy a fifth of Old GrandDad and heading down the road. Priceless." - Bartender Brooks Reitz (FIG in Charleston and creator of Jack Rudy Cocktail Co)

Do you have a favorite dive bar? Why do you like it? Share your watering hole of choice with us. We've got more! Here's a list of 35 great dive bars across America. Want recommendations from chefs, bartenders and sommeliers for where to eat and drink around the world? Sign up for the free Find. Eat. Drink. newsletter.
Follow Find. Eat. Drink. on Twitter: www.twitter.com/findeatdrink