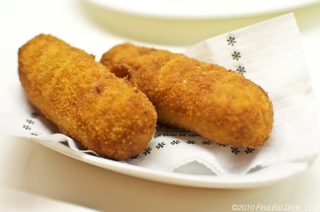 There are too many places in Barcelona to put them all in a slide show. Here are a few great spots to go to Find. Eat. and Drink. This is where chefs love to go and often pass along as their recommendations. Some are obvious, some are not.
Download the Find. Eat. Drink. Barcelona Guide.
Get key insider recommendations from top chefs, sommeliers and culinary experts all over the world by subscribing to the free Find. Eat. Drink. newsletter.
Find. Eat. and Drink. Like a Chef in Barcelona
Papabubble's handmade candies looks like droplets of Venetian glass. Drop in to watch them making the candy - it's like performance art. Watch video of candy makers in action.

Chefs love the Boqueria market (see slideshow), which has been around since the early 18th century. Exotic fruits, vegetables, fish, and lots of pork products. Chef Gary Danko (Danko in San Francisco) says: I head for the Jamon Iberico and any other ham I want to try!

Inside the Boqueria is the famous food stall Pinotxo. This is also a chef destination. The chickpeas with blood sausage and the gambas are favorites of pastry chef Johnny Iuzzini (Jean Georges in New York): They do the most delicious, super simple food that is expertly prepared and it has so much flavor.

At Quimet y Quimet, the montaditos (canape-like tapa) are made with local ingredients and specialty canned seafoods. This vermouth and tapas bar is a favorite of many world class chefs like Jose Andres and Ferran Adria. See a slideshow of Quimet & Quimet.

Tapac 24 is the creation of Ferran Adria's disciple Carles Abellan. This is the Bikini 24 sandwich: jamon, buffalo mozzarella and black truffle. See slideshow of Tapac 24

How could you have a Barcelona list without Cal Pep? Everyone says that... which is why there is always a line. Cal Pep is said to be the inspiration for chef Mario Batali's Casa Mono.

Chefs head to Bar Mut for their daily specials, like sea cucumber and fresh gambas. The clientele is mostly local and well-heeled and due to its small size, the reservation policy is a bit tight.

Blavis is a tiny 14-seat restaurant in the neighborhood of Gracia. For anyone who has walked up to Park Guell, you've passed through this area. Go for lunch, the food is gorgeous. Here is a slideshow of Blavis.

Bar Churreria is a simple, small coffee shop. Thick, creamy hot chocolate provides a nice dunking vehicle for the crispy and crunchy freshly fried churros.

On a street that seems filled with trendy bars, there's something classic about Gimlet. It can get unbearably crowded, but if you stop in on a quiet night you'll enjoy some worthwhile cocktails.

Down a grungy little street in the El Raval district, you'll discover a little haven to the Negroni cocktail, aptly called Negroni.

Get more Barcelona recommendations from chefs on the Find. Eat. Drink. iPhone App. Here is the link to download the app.
Follow Find. Eat. Drink. on Twitter: www.twitter.com/findeatdrink