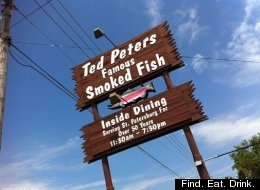 The spotlight is on Tampa this month for the Republican National Convention. From the smoked fish dip sandwich at historic Ted Peters to a late night stop at the Taco Bus, there are any number of off-the-beaten track restaurants, bars and shops worth going out of your way to try.
Where To Eat & Drink in Tampa
As Tropical Storm Isaac delays conventioneers from attending the Republican National Convention, we pass along where the local chefs eat in the Tampa Bay Area.

Chef Chad Johnson is the James Beard Foundation nominated chef at SideBern's. We asked him and other culinary insiders to share some of their favorite local spots.

Bern's Steakhouse opened in 1956. Known for their premium aged steaks, they also have a serious oenophile following. Wine fanatics from around the world travel to Tampa for their 6,500 label wine collection. Chef Chad Johnson goes for: A bone-in Delmonico steak and creamed spinach.

Michelle Faedo's is known for their devil blue crabs, which is like a Cuban crab cake. It's very casual and you can eat there or take out.

Cross the bridge into St. Petersburg and Clearwater for great restaurants... and if the weather is nice you'll see a gorgeous sunset while you're there on when you're heading home in the rear view mirror.

The Taco Bus is a traveling Mexican taqueria. Chef Chad Johnson says go to the Taco Bus for: A late night snack of beef tongue tacos.

Historic Ted Peters is right over the causeway to St. Pete beach. It's a smoke house that has been around for 50 years.

Red oak smoked fish, icy cold root beer, German potato salad, and a side of smoked fish spread equals delicious. It's a little incongruous to order a burger from a smoked fish joint, but the locals rave about it.

North of Clearwater is Tarpon Springs, which is a Greek sponge diving colony. It's an old school Florida town, but you'll feel like you've landed on a Greek island. Aside from a few tacky T-shirt shops, it's a cool little community.

If you're looking for a great bottle of wine, then stop into B-21 in Tarpon Springs. The depth and breadth of selection will have you shopping for hours.

Mykonos restaurant offers classic Greek food. Shannon Sprentall of the family-owned B-21 Wine Company says: Great local spot for lunch.

Finish up with a glass of wine at Bianchi's Enoteca in Tampa. Chad Johnson says: Susan and Romeo keep a rotating list of really unique wines by the glass. They also have a great list of cheese and charcuterie.

Let us know your favorite area restaurants in the comment section below. For more places to eat, drink and shop in the Tampa Bay Area, click here to find a downloadable handy pdf guide that you can take with you. To get more travel tips from chefs, subscribe for free to our weekly newsletters right here.
Follow Find. Eat. Drink. on Twitter: www.twitter.com/findeatdrink