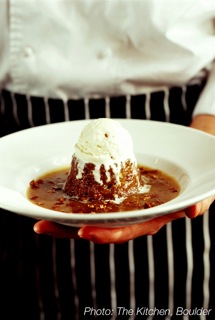 Where The Chefs Love To Eat
Chef Tim Love is the owner of Fort Worth restaurant Lonesome Dove Western Bistro, which he describes as "Urban Western." He also owns The Love Shack burger joints.

Chef/restaurateur Tim Love is a native of the Lone Star State and when he's home on the range, he's eating meat. He told Find. Eat. Drink. about his favorite local spot, Massey's. For chicken fried steak. It's probably some of the best chicken fried steak around, for sure! It's just a little diner.

Two-time James Beard Award recipient and Top Chef Masters winner chef Marcus Samuelsson will be opening his newest venture, Red Rooster Harlem, in New York in early December.

Chef Marcus Samuelsson was born in Ethiopia, raised in Sweden, trained in Switzerland and Austria and now calls New York home. He gets a taste of Africa in New York City at Queen of Sheba. I love to order the kitfo at Queen of Sheba. It reminds me of visiting my wife's home village.

Chef Kerry Simon earned the nickname "The Rock and Roll Chef" early on in his career, when he was cooking for the rich and famous at the Plaza Hotel in New York City. Chef Simon now owns Palms Place, Cathouse, LA Market, and Simon LA.

Chef Kerry Simon likes to eat at Animal in LA's Fairfax neighborhood. This dish is crispy pig ear, chili, lime, and a fried egg on top. Kerry told Find. Eat. Drink. why he's a fan of Animal: Great food and they always have something interesting going on.

Award-winning pastry chef Johnny Iuzzini started working in kitchens at the age of 17. He is now the executive pastry chef at Restaurant Jean Georges in New York and the head judge on Bravo's Top Chef: Just Desserts.

Chef Johnny Iuzzini loves WD-50 located in New York's Lower East Side. Pastry chef Alex Stupak is one of the most talented pastry chefs in New York. He is awesome. There is always a punctuation point of pure flavor. Something is always going to pop.

When New Orleans was struggling to get back on its feet after Katrina, chef John Besh played the role of the nurturer, serving red beans and rice to refugees and emergency workers out of flat-bottom boats. That's what good chefs do, they feed the soul.

Chef John Besh picks Luizza's for their take on an authentic New Orleans sandwich. Go for the Frenchaletta. It's a muffuletta on a French bread loaf.

We wonder if Iron Chef Jose Garces ever sleeps? In the past five years, he's created a seven-restaurant empire with places in Philadelphia and Chicago and now has three more new ventures on the way.

For chef Jose Garces, it's local restaurant Osteria in Philadelphia where he likes to spend his own dime. I'm crazy about the Italian food at Marc Vetri's Osteria.

Chef Anita Lo knows all about having to start over. This past April, she reopened her elegant West Village restaurant annisa, after a fire completely destroyed it last summer.

Chef Anita Lo is among many chefs who adore Kyo Ya in New York's East Village. The Japanese restaurant serves a traditional multi-course kaiseki. Chef Lo likes Kyo Ya for: Japanese that will blow you away.

Chef Michael Mina owns restaurants all over the country, with two new ventures in Seattle and San Francisco.

Chef Michael Mina told Find. Eat. Drink. his recommendation for iconic San Francisco cuisine is the Tadich Grill. What should we order? Get the Cioppino.

Chef Jamie Bissonnette is the co-owner of Coppa and Toro in Boston. Both restaurants use local ingredients and whole animals.

Chef Jamie Bissonnette loves offal and heads to Gourmet Dumpling House in Boston's Chinatown. The tripe tongue and tendon salad. This is my go to. Soup dumpling are great.

Chef Lachlan Mackinnon Patterson worked at the French Laundry before opening his own restaurant in Boulder, Frasca Food and Wine. We like to say that we make Italian food that you haven't seen before. Of course, with our biggest influence being the region of Friuli.

Chef Lachlan Mackinnon Patterson loves the cooking of fellow Boulder chef Hugo Matheson of The Kitchen. The majority of their food is locally sourced.

Who are the chefs you admire? Tell us who you think is doing a great job. To get chefs' restaurant recommendations, tips, and recipes sent right to your email inbox, subscribe to the Find. Eat. Drink. free newsletter.
Follow Find. Eat. Drink. on Twitter: www.twitter.com/findeatdrink