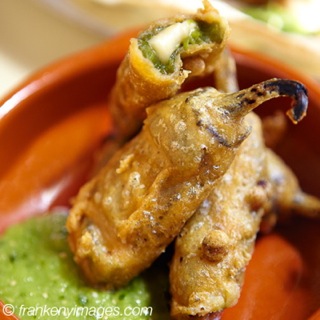 With the World Series about to begin and football season in full swing, we asked two well-regarded chefs to share tips for serving game time bites. Whether you're tailgating or throwing a party at home, score some points with a few quick-snack recipes.
Chef Traci Des Jardins has won many awards for her upscale restaurant Jardiniere in San Francisco. This past year, chef Des Jardins opened up her first sports bar, Public House, at San Francisco's AT&T Park, home to the Giants.

Chef Traci Des Jardins uses frozen puff pastry to wrap up the dogs. Here is her recipe for pigs-in-blankets. Use good quality hot dogs. I like 4505 Meats.

One of chef Traci Des Jardins' favorites nibbles to serve at Public House are blistered jalapeno peppers stuffed with mozzarella. Here is Traci's recipe for Jalapeno Poppers. They're roasted jalapenos, stuffed with cheese. They are really good, people go crazy over them.

Chef Traci Des Jardins lives in California, so she can get amazing avocados and limes. For guacamole, I keep it really simple: avocado, lime juice, finely diced white onion, chopped cilantro, a serrano chili for some spice, salt, and that's it. What's her favorite tequila? Use a really good quality pure agave tequila, my favorite is 7 Leguas. It's really clean and crisp.

Chef Michael Schwartz owns two restaurants, Michael's Genuine Food and Drink in Miami and Grand Cayman. His recommendation for watching the big game: Old Speckled Hen beer with Garlic Chile Crab Dip and a pile of freshly made potato chips.

Chef Michael Schwartz developed this crab recipe for eco-friendly Blue Star Foods. His Garlic Chile Blue Star Crab Dip recipe can also be used as a filling for a fish sandwich.

Beautiful, fresh, bold vibrant flavors. Here is Michael's recipe for Crab and Lychee Summer Rolls.

Share what you love to serve while watching sports. Any great guacamole tips? For more chefs' tips, recipes and their restaurant recommendations sent right to your email inbox, subscribe to the Find. Eat. Drink. free newsletter.
Follow Find. Eat. Drink. on Twitter: www.twitter.com/findeatdrink