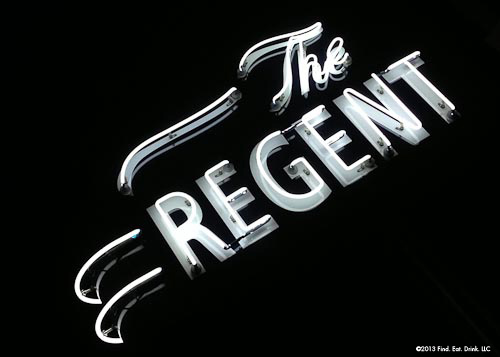 Art Basel opens in Miami on December 5th. If you want to sneak away from the parties, here is Find. Eat. Drink.'s guide to 10 places local bartenders go to drink.
Find. Eat. Drink.'s Bartenders' Guide to Drinking in Miami
Ask a bartender where they go for a proper cocktail in Miami and the Regent Cocktail Club often tops their lists. Barman Trevor Alberts of The Raleigh's Martini Bar says, "This is one of the finest bars I've ever been to with the best bartenders I've seen."Photo: Regent Cocktail Club

Bartender Ben Potts of Blackbird Ordinary recommends getting a drink from fellow bartender Trevor Alberts at the classic Martini Room tucked inside of the Raleigh Hotel. The bar still has the original 1940s decor and on Tuesday nights, Alberts hosts guest bartenders from around the Miami area to create signature cocktails.Photo: The Raleigh

"A true locals place with a tricked-out cocktail program and a Kold Draft and Scotsman pellet ice machine" is what Trevor Alberts loves about Gramps in Wynwood. You'll find old Florida decor, a photo booth and outdoor seating.Photo: Find. Eat. Drink.

If people go to The Regent for serious cocktails, the Regent's bartenders visit Broken Shaker to have fun. Julio Cabrera of The Regent Cocktail Club calls the atmosphere here "unbeatable. It's the best place to chill out and relax." Ramsey Pimentel of the Ritz-Carlton and Porcao loves the vibe, "You feel like you're in the Keys when you're here."Photo: Broken Shaker

"They have the best beer selection in Miami," raves bartender and the creator of Broken Shaker, Gabe Orta about The Room. This dark and loungy bar only serves beer, wine, Champagne and sake and is the sister to the other Rooms in New York and Los Angeles.Photo: The Room

"It's more like a club" is how bartender Gabe Orta describes Blackbird Ordinary, "it's perfect if you want to dance and have a great cocktail in your hand." They grow many of their own herbs and they often have live music.Photo: Blackbird Ordinary

Bartender Julio Cabrera, the winner of the 2014 global Most Imaginative Bartender Bombay Sapphire Competition, likes to frequent the Surfcomber Social Club to chill out and drink tropical cocktails with names like Swizzling the Night Away.Photo: Surfcomber Social Club

Mac's Club Deuce is the mother of all classic dive bars with the prerequisite check list: pool table, jukebox, horseshoe bar, vintage neon and barflies that range from drag queens to movie stars. Ryan Goodspeed, who heads the bar program for Michael's Genuine and The Cypress Room respects its longevity, "I think its the oldest bar on the beach."

"This place is what Miami is all about," explains sommelier Allegra Angelo of 50 Eggs, "the best part is that it exists inside of a gas station. They serve simple, good tapas and have a surprising and impressive wine cellar with wines from all over the world." Allegra isn't kidding, you enter through a gas station convenience store and slip through the Mediterranean archway to get in.Photo: El Carajo

At the end of the night, the Purdy Lounge is where you'll see the industry crowd stopping in. "It's really hopping at 3am," says Ryan Goodspeed. "It's a shot and beer kind of place," is how Trevor Alberts describes it. No cover, cheap drinks and reggae on Monday nights. Avoid weekends, unless you crave long lines and mayhem. Photo: Purdy Lounge

Want more places? Download the Find. Eat. Drink. iPhone app to get more recommendations from bartenders, chefs and sommeliers in the US, Canada, Europe and the Caribbean. HERE IS THE LINK TO DOWNLOAD THE APP.
Follow Find. Eat. Drink. on Twitter: www.twitter.com/findeatdrink