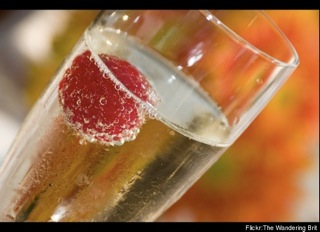 Whether you're throwing a large soiree, a small dinner party or just spending a casual evening at home, these recipes, courtesy of chefs and mixologists, will spice up your night and take you into 2011 in style.
Chefs' New Year's Eve Dishes & Tips
Mixologist Ryan Goodspeed, of Michael's Genuine Food & Drink in Miami and Grand Cayman, loves to use fresh ingredients to create inventive cocktails. This is his twist on the Manhattan. I take Amarena cherries, reduce them down with rosemary and make a simple syrup out of them. I substitute that for sweet vermouth, add Bulleit bourbon, a dash of lemon and you get a fantastic drink. Here is Ryan's recipe for a Bulleit Proof Manhattan.

Chef Jesus Nunez offers a simple and delicious appetizer from his native country of Spain. Chef Nunez just opened up his first US restaurant, Graffit, in New York City. Pair the rolls with a Spanish Txakoli wine. Here is chef Nunez's recipe for Serrano Ham and Tomato Bread Rolls.

Chef Gary Danko of Restaurant Gary Danko in San Francisco, says to save money try Hackleback Caviar or shovelnose sturgeon roe. It's the smallest species of freshwater sturgeon native to the United States. It is often called hackleback, sand sturgeon or switchtail. If money is no object, Chef Danko says go for Beluga caviar. Beluga's flavor is like the foie gras of the sea. It's very buttery and fatty, but not overly complex.

Chef Gary Danko recommends serving the caviar with Chopin Vodka. This is one of the smoothest vodkas, with its slight oiliness (characteristic of potato vodkas) that cut beautifully against the briny trait of black caviar. Slightly sweet and well-rounded with a hint of apple. Chopin has a medium-length, pleasing burn, but very little aftertaste. It's remarkably clean. Price: $15 -$33. Available at these retailers.

Garlic Chile Crab Dip is great for either an elegant or casual party snack. Bake or fry freshly made potato chips for dipping. Chef Michael Schwartz of Michael's Genuine Food & Drink in Miami and Grand Cayman says: Don't skimp when it comes to the quality of the crab. I like Blue Star Crab meat. Here is chef Schwartz's recipe for Garlic Chile Crab Dip.

Chef Michael Schwartz likes a simple pairing of Old Speckled Hen beer with his Garlic Chili Crab Dip. Price: $3 - $10. Available at these retailers.

Go retro with classic fondue. Chef Michael Mina owns restaurants from coast to coast and knows what dishes are crowd pleasers. Here is chef Michael Mina's recipe for Classic Cheese Fondue.

This fresh and zesty white wine is a great contrast to the richness of the fondue. It's from the French region of Savoie and the producer Domaine Jean-Pierre et Jean-Francois Quenard owns 37 acres of vineyard around the village of Chignin. Price: $12 - $22. Available from these retailers.

End the night with Randy's Famous Key Lime Pie recipe. Randy's is located in Naples, Florida, and makes a perfect Key Lime pie with satiny texture and just the right zing of acidity. His recipe is simple and doesn't use eggs or even require baking. Here is Randy's recipe for Key Lime Pie.

Toast the new year with this champagne recommendation from wine director Cat Silirie of Barbara Lynch Gruppo in Boston. I basically live on this. Price: $40 - $46. Available from these retailers.

Share your favorite New Year's Eve dish. For more recommendations from chefs, sommeliers, mixologists and food artisans for restaurants and recipes, subscribe to the free Find. Eat. Drink. newsletter.
Follow Find. Eat. Drink. on Twitter: www.twitter.com/findeatdrink