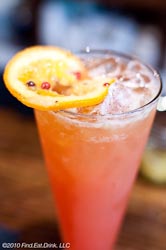 Sweet, salty, balanced, and refreshing - here are four summer cocktail recipes to try.
Four Summer Cocktail Recipes To Try
There's nothing like a cold beer on a hot summer night. East Village restaurant JoeDoe's Jill Schulster doesn't think you need to chose between suds and spirits. She combines both in her "prepared beer cocktails." Her favorite brew mixer? Dale's Pale Ale from Colorado. Here is her recipe for the Honey Beer.

Way back when... about a century ago, sodas were made with botanical ingredients like roots, bark and flowers, and were meant to be healthy. Fentimans still makes their sodas as they did back in 1905. Here is Fentimans' Dark and Stormy recipe.

Chef Anton Nocito was a butcher, a graduate of the French Culinary Institute, a chef at two Danny Meyer restaurants (Union Square Cafe and MoMA's Cafe 2), and the Executive Chef at A Cafe in the AKA Hotel Central Park. Now he makes all natural syrups to mix in soda. They're also great for adult beverages. Drake Page, of The D.P. Chutney Collective, shares his recipe for The Gimlet.

Franny's in Brooklyn has a huge chef following. The food is locally sourced and delicious, but don't forget to try their cocktails. Here is Franny's Anisette cocktail recipe.
Follow Find. Eat. Drink. on Twitter: www.twitter.com/findeatdrink