America's Top 10 Memorial Day BBQs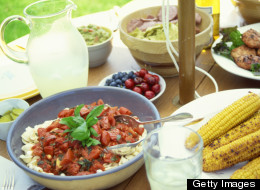 Ah, Memorial Day... The last weekend in May marks the beginning of summer, and the unofficial way to celebrate is by firing up the grill and popping open a cold brew. Cooking outdoors is a seasonal joy that takes many forms, from backyard BBQ with hamburgers and hotdogs to clambakes on the beach and everything in between. However, as fans of TLC's "BBQ Pitmasters" know, the real glory of American BBQ goes to southern style smoked meats accompanied by delectable homemade sauce.
Across the country on Memorial Day weekend, the BBQ tradition carries on in regional and national barbeque competitions and festivals, so wherever you'll be spending the long weekend, there's bound to be a smoker near you. We combed the calendars of the governing bodies of barbeque (Kansas City Barbeque Society, International Barbeque Cookers Association, and the National Barbecue Association) to put together this list of the nation's top Memorial Day cook-offs. These gatherings go above and beyond throwing meat on the fire; most feature family-friendly activities, judged cook contests, live music, and treats from local vendors. Get ready to loosen your belt a few notches because there's more than enough 'Q to go around!
Top Memorial Day BBQ Festivals
On Memorial Day, there's no greater combination than blues music, cold beer, and hot BBQ. The only other ingredients needed are good company and a great setting. Beaver Creek has all of those items on the menu from May 24-27 at the Blues, Brews, and BBQ festival. This year is the festival's 10th anniversary and will feature chefs and microbrew beer from around Colorado. In the BBQ competition, teams will compete for $10,000 of prizes.

This combination music and BBQ festival is an annual highlight on the Cleveland events calendar. The food portion of the Great American Rib Cookoff includes both amateur and professional BBQ competitions, and enough meat to feed the entire city of Cleveland. This year's music offerings include Buddy Guy, Rick Springfield, and Bret Michaels.

If you find yourself in Central Florida on Memorial Day weekend, then do your tastebuds a favor by heading to the Central Florida BBQ Blowout. This event is hosted by Hope Helps to raise money to fight homelessness in Seminole County. The BBQ features an official cooking competition as well as live music and beer.

This Northern California event is a free public picnic hosted by the Brentwood Police Activities League. The main attraction is a Kansas City BBQ Society sanctioned state championship cook-off. Saturday is a traditional cook-off featuring a mix of meats, and Sunday is a public rib throwdown... winner takes all. The weekend event also features craft brewery tastings and blues music.

The Northeast can barbecue too! This rochester BBQ competition follows the Kansas City format and features teams from New England and New York. This year, Roc City is also presenting the World Bacon Championship, which includes four disciplines of bacon: Bacon in a Box, for purists; Wrapped In, for bacon-wrapped-delights; Savory Dish, for bacon-as-a-meal; and Dessert, for anyone who can't get enough bacon!

Fort Ritchie, Maryland gets into the holiday spirit by hosting the Pignic. The two-day event benefits the Make a Wish foundation and includes BBQ competitions, music, and more. The family friendly party even features a kids BBQ contest for up and coming pit-masters.

Memorial Day marks the first event of the season at the Missouri Festival & RV Park in Dixon, MO. The May BBQ competition is one of four summer events that also include a July 4 Chili cook-off, a Labor Day BBQ competition, and a Columbus Day BBQ competition. Dixon is in the neighborhood of Lake of the Ozarks State park, so when the grilling is done, you can enjoy the water.

Get your hootenanny on in Southern Georgia at this full-fledged blue grass and BBQ festival. Bands will be pickin' on stage while you pick at the tasty offerings from local and national 'Q teams. The Banjobque is a a two-day festival that benefits the Joseph R. Pond Memorial Foundation. This year's lineup includes musical acts The Ramblin' Fevers, Jerry Douglas, and Carolina Chocolate drops, among other great performers.

Ohioans have another tasty rib cook-off to attend Memorial Day weekend in Berea, a Cleveland suburb known for this annual gathering of ribbers. The Berea National Rib Cookoff, presented by Yuengling, offers a family-friendly weekend of barbecue and music. If the Great American Rib Cookoff wasn't enough, then you can try to hit both festivals in one weekend.

Just 30 minutes from the Las Vegas strip, Boulder City is home to the Best Dam Barbecue Challenge. The weekend of BBQ features competitions that draw a large regional crowd. Catch a tour of the Hoover Dam, then swing by and feast on smoked ribs, brisket and chicken. Admission is free and includes access to the Best Dam Car show.
Follow FlipKey on Twitter: www.twitter.com/flipkey