New research from Fly.com has found a gap between the services that fliers want (and are willing to pay for) and the ones currently being offered. The survey, which involved 613 U.S. travelers between Jan. 5 and Jan. 9, 2014, raises the question of whether airlines should ditch unpopular fees and instead charge for options that will increase passenger satisfaction.
Not surprisingly, 89 percent of fliers are most outraged by checked baggage fees, a large revenue generator for airlines. According to the U.S. Department of Transportation's Bureau of Transportation Statistics, U.S. airlines collected more than $2.5 billion from baggage fees during the first nine months of 2013 alone.
However, while passengers find baggage fees offensive, Fly.com's survey revealed they are willing to splurge on dedicated overhead bin space for their hand luggage (43 percent). An additional 35 percent are also happy to pay to have their checked luggage come out first at baggage claim.
Other services at the top of flier wish lists are ones that improve comfort and efficiency. At a time when airlines are shrinking the size of seats and moving them closer together, 89 percent of survey respondents felt that comfortable seats are a necessity when flying. As such, it makes sense that 45 percent indicated they would pay for extra legroom, 26 percent would pay to have an empty middle seat next to them, and another 34 percent would pay to prevent the seat in front of them from reclining. At the airport, 36 percent of fliers said they would purchase a fast pass to speed through security.
For more information on how ancillary fees stack up between airlines and passengers, check out The Battle of the Fees Infographic or join the conversation #passengersvsairlines.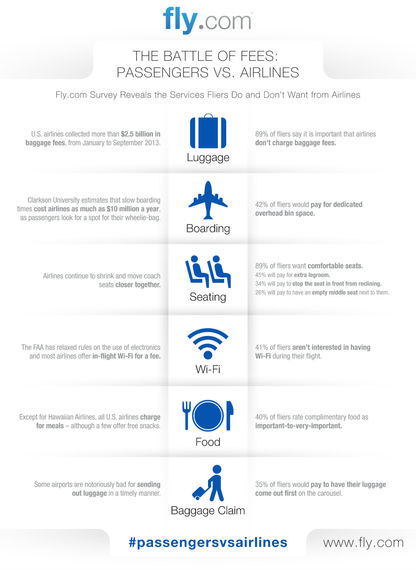 Happy Travels!
- - Michelle Erickson is the director of public relations at Fly.com and is based in California. A British native, Michelle has lived on three continents and is an avid traveler.