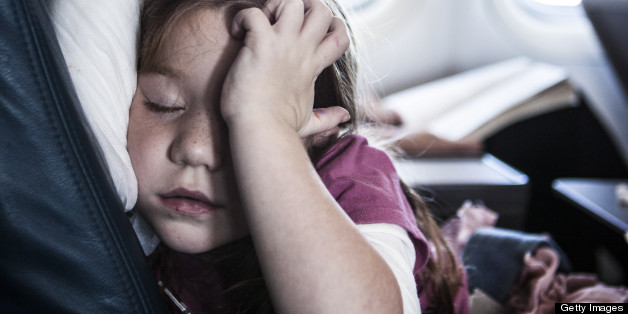 Getty Images
In recent months there has been a plethora of news reports related to airline policy changes for family travelers. Last year both Malaysia Airlines and AirAsia banned children from certain sections of their planes. At the same time United Airlines and other domestic air carriers have eliminated family pre-boarding for parents with young children who are traveling in economy class.
But it seems that even when you pay for certain privileges, they aren't always extended to you if you are flying with kids. For instance Virgin Atlantic and Virgin America won't let children under 12 enter their Clubhouse at San Francisco International Airport -- even when they have an Upper Class ticket. This is a far cry from the Virgin Atlantic set-up at London Heathrow, which boasts a fantastic children's play area that my own kids thoroughly enjoyed when they made a hop over to England last summer.
So why are airlines suddenly eager to penalize family travelers? According to Cynthia Drescher at Jaunted, it is because "the flyers [that are] made happier by the ban will outnumber those inconvenienced." Yet one would think that family travelers still represent a lucrative customer base for airlines -- after all they offer more tickets purchased per itinerary.
Regardless of which side of the fence you sit, it is no surprise that a recent survey from Fly.com has found that 65 percent of moms believe there is a negative stigma attached to flying with children. And, as a mom who often flies with two little ones, I can also relate to the 68 percent of moms who rate their level of stress as moderate to extreme when flying with kids.
However, the big surprise from Fly.com's survey was that more moms (40 percent) are concerned about their child disturbing others than they are about their child's physical and mental comfort during the flight (26 percent). If this finding is indeed indicative of mass opinion, it is nothing short of sad.
It also begs the question "what can moms do to improve the flight experience for their child (and other passengers) and thereby alleviate stress?"
Here are some suggestions from the Fly.com team.
Time Your Flight around Your Child's Daily Schedule
Children often behave better when their normal routine is not disturbed. It therefore makes sense to try and time your flight around key elements of their regular schedule, such as meal time, nap time and bed time. For example if your child normally eats lunch around noon and then takes a 2 hour nap around 1:30 pm, for a 5 hour flight, you might want to consider a departure time around 11 am. This will allow you to make a fun activity out of meal time as well as minimize "awake" time. Just make sure you bring a book and their luvvie if these are things they need to help fall asleep.
Pick Window or Aisle Seats
While most cabin crews will still try to accommodate families wanting to sit together, it is often a good idea to pick window or aisle seats to increase the chance that the person in the middle seat will switch with you.
Select an Airline that Still Allows Pre-Boarding
Southwest, Delta, JetBlue, Alaska and Virgin still offer pre-boarding, so take advantage of this courtesy to give your child (and you) a chance to get properly settled in for your flight.
Let Your Child Blow off Steam before their Flight
Try to squeeze in some time at the park, or some other active endeavor, before the flight so that your child has an opportunity to expel excess energy. Also look to see whether your airport has a children's playroom (such as Minneapolis Saint Paul International and Phoenix Sky Harbor International Airport).
Come Prepared
Aside from their favorite teddy bear and book, consider packing a new plane-friendly toy or game that they haven't seen before in your hand luggage. This should help alleviate boredom and keep them engaged and quiet -- at least for a while. Depending on age, sensory products, puzzles and electronic games can be big hits.
Think About Your Child's Comfort
Air pressure can cause havoc on young children's ears and can be quite painful. When you hear a child crying during takeoff and landing, there is a good chance that this is the reason why. With this in mind, one of the best pieces of advice I ever received was to remember to nurse or give your child a bottle, drink or lollipop (depending on age) as soon as you start to feel the air pressure change. Over the last six years this nugget of information has never failed me.
Also consider bringing a small pillow and blanket for nap time. I've heard from some moms that they even put a blanket across the top of the seat to reduce stimulus for nap/bed time -- although my six year old loves using an eye mask.
- - Michelle Erickson is the director of public relations at Fly.com and is based in California. A British native, Michelle has lived on three continents and is an avid traveler.
Views From The Window Seat
FOLLOW HUFFPOST