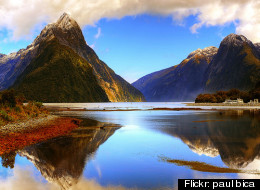 There is something about the beginning of a new year that makes us all want to plan the next steps in our daily lives. For some, planning takes the form of personal goals, like losing weight, finding a new job, completing a marathon or seeking out a significant other. And for others it is as simple as booking the next family vacation.
But, when it comes to travel, what would your most desired destination be if money and time were no object? Fly.com recently asked 875 U.S. travelers where they would most like to travel to in 2013. And the results are in.
Here is a rundown of America's top 10 most desired countries in 2013.
What is your new year travel resolution?
Top 10 Travel Destinations of 2013
Awe-inspiring scenery and endless opportunities to observe (in their natural habitat) the type of wildlife you normally only see in the zoo. South Africa is certainly a go-to destination for any nature lovers.

It is easy to understand why Europe was hands down the most desired region of the survey. And Spain is just one reason. Like other countries in Europe, Spain offers a little bit of everything – captivating history, great food, stunning vistas, beautiful beaches…and the list goes on.

Ah the South Pacific! Fiji has long been popular with Americans. And its winning formula of sun, sand and beauty is hard to beat. Plus the underwater scenery makes it an amazing destination for water based activities.

Dublin anyone? Yummy Guinness, lots of history, friendly people, amazing restaurants and beautiful scenery. All no doubt had a hand in propelling Ireland onto America's Top 10 Most Desired Countries list.

Traveling to far off lands certainly isn't everyone's cup of tea. In fact Fly.com's survey revealed that many Americans still prefer to visit and explore the many wonders of their own country. As a region, North America only narrowly missed out on Asia's third place. And the United States ranked sixth, as one of the most desired countries in the world.

With Valentine's Day around the corner, perhaps this year's survey respondents had romance on their mind. And where better a destination for a vacation filled with l'amour than France? Head south to the fabulous beaches of the French Riviera, or stroll hand in hand under the Tour Eiffel.

Who can resist the British charm? Whether you prefer bustling cities like London or Edinburgh, or quaint countryside villages and seaside towns, England has something to offer everyone.

The scenery is stunning and the country is well-known as a great place to visit for outdoor activities. So, even though Australia and New Zealand's high rankings were somewhat of a surprise, we can certainly understand the allure of these antipodean countries.

Maybe it is the fact that folks in Australia are currently barbequing on the beach while we are shivering every time they step out their front door but, regardless, Down Under is clearly a place where many Americans would like to be.

Outshining the competition by a huge margin (twice as many responses as New Zealand and twice as many responses as the United Kingdom and France combined), this destination conjures up images of history and great food and wine.
Honorable Mentions:
In Asia, India edged out other countries to take the top spot for that region. The combined popularity of India, Japan, Thailand, China and Vietnam also helped propel Asia to be the third-most desired region to visit.
Of the other regions, Brazil beat Peru for the number one position among South American countries, and Israel narrowly beat Turkey as the most desired Middle Eastern destination. In the Caribbean, Jamaica edged out the U.S. Virgin Islands, Turks & Caicos and the Bahamas, while Costa Rica and South Africa were the clear winners for Central America and Africa, respectively.
Feeling inspired? Search for cheap flights on Fly.com.
-- Michelle Erickson is the director of public relations at Fly.com and is based in California. A British native, Michelle has lived on three continents and is an avid traveler.
Follow Fly.com on Twitter: www.twitter.com/fly_com