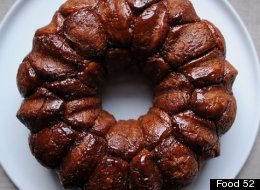 That sudden chill in the air means it's time for some spice in your life -- especially in your baked goods! These ginger-filled recipes will be sure to add both warmth and a bit of zing to your busy holiday season.
Get more confidence-boosting skills for your gingery goodies -- learn how to peel ginger with our Kitchen Confidence series.

Not too sweet and not too spicy, this holiday breakfast reaps all the best rewards of monkey bread and gingerbread. It's fluffy and fragrant, and the crust is laquered with a brown sugar caramel. We recommend eating it warm, with salted butter and coffee. -- Amanda & Merrill Get the recipe Photo: Food52

These cookies are spicy, sweet and rich with molasses. Take care not to overbake the cookie and you will have a chewy center that will melt in your mouth. For added spice and bite, add diced candied ginger to the batter. -- TasteFood Get the recipe Photo: Sarah Shatz

A fusion of gingerbread and apple cake, this recipe is our dream cake for fall -- layers of spiced batter sandwich tender caramelized apples and on top a coating of turbinado sugar melts to a sturdy, glassy crust. Eat this cake fresh, within a day, and make sure you caramelize the apples when sauteeing, so they get a little oomph! -- Amanda & Merrill Get the recipe Photo: Food52

Pumpkin is such a great base for all kinds of flavor, and adds a wonderful texture to quick breads. We really wanted to kick up this pumpkin bread a notch and added molasses and freshly grated ginger in addition to the usual pumpkin pie spices. -- Foxes Get the recipe Photo: Nicole Franzen

Ms. T's muffins are a wonderful breakfast treat. The pear and ginger combo is wonderful and the use of fresh and ground ginger results in a well developed flavor. The pear sauce retains lots of pear chunks that are a great treat in the muffins. -- biffbourgeois Get the recipe Photo: William Brinson

This is a delightful ice cream that packs a wollop of flavor. I let this ice cream chill for about 16 hours and I loved the nice, gingery punch. The toasty sesame brittle is excellent with the ice cream. Watch it closely when baking, as mine took less than 25 minutes. There's lots of brittle leftover, so I guess I'll have to make some more ice cream. -- biffbourgeois Get the recipe Photo: James Ransom


Get answers to your burning Thanksgiving questions on the go with our free FOOD52 Hotline iPhone app.
Follow Food52 on Twitter: www.twitter.com/food52