7 Lemony Twists On Memorial Day Drinks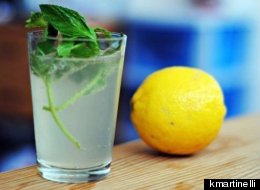 From youngsters just itching to get in the pool to grownups eager to heat up their grills, Memorial Day, for everyone, means summer. As the toasty weather settles in you'll be happy to reach for a tall glass of something equally sweet and tangy. Tired of plain old lemonade? These chilled drinks take this classic summer quencher for a spin with the addition of the season's favorite ingredients: sugary watermelon, barely-bitter rhubarb and fleshy mango, to name a few.
Entice your guests with any of these seven colorful concoctions at your Memorial Day BBQ to wash down the salty, grilled fare.
Brought to you by the spirited home cooks' community at Food52
8 Lemony Twists on Memorial Day Drinks
This tart, pink cocktail is a burst of summer in a glass. -- A&M Get the recipe Photo: Jennifer Causey

Tart and refreshing, this limeade is a perfect drink for getting into the spirit of spring. -- A&M Get the recipe Photo: Melanie Einzig

This is a very nice beverage that is both refreshing and light. -- biffbourgeois Get the recipe Photo: James Ransom

On a hot summer day, a sip of this sparkling drink is like an answer to one's prayers. -- panfusine Get the recipe Photo: kmartinelli

Try this refreshing concoction of fresh watermelon, lemon, sugar and water known as "watermelonade". -- Merrill Get the recipe Photo: Sarah Shatz

If you've never had a German radler, which resembles a British shandy -- beer and lemon soda -- don't let the summer pass without drinking one. -- Amanda Get the recipe Photo: Melanie Einzig

So here is my almost embarrassingly simple recipe for lemonade ice cubes, studded with fresh berries. They have a hint of sweetness, but not so much as to make them sticky. -- Merrill Get the recipe Photo: Sarah Shatz
Follow Food52 on Twitter: www.twitter.com/food52