7 Gorgeous Spring Pea Recipes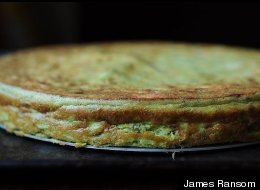 With each season come fruits and vegetables so distinctly themselves that we can't help but use them in as many dishes as we can, for as many meals as we can, before the season fades into the next. In the summer, it's tomatoes and raspberries. In the fall, it's mushrooms and apples. In the winter, it's beets and citrus. And in the spring, it's strawberries -- and peas.
Each part of the pea plant -- the tiny peas themselves, their shoots, even their pods (which can be simmered to make a broth) -- tastes of the sweet, sunny days of spring. Here are 8 ways to use them, before spring becomes summer.
7 Gorgeous Spring Pea Recipes
A wonderful springtime pancake full of green vegetables, herbs and earthy flavor. -- broccolirose Get the recipe Photo: James Ransom

This torte is all about peas. Peas are puréed with the ricotta and also left whole for texture in this baked egg dish. -- TasteFood Get the recipe Photo: James Ransom

The peas are simmered in the milk, spooned into a bowl, topped with enough milk to pool around the base, then seasoned with salt, pepper and lemon zest, and crowned with a sliver of butter. - Amanda Get the recipe Photo: Sarah Shatz

We found the silky, rich sauce resulting from generous doses of bacon, egg and cheese totally addictive, and peas are a great addition. -- Amanda & Merrill Get the recipe Photo: Sarah Shatz

The combination of the mascarpone and egg yolks makes for a wonderfully rich omelet. -- Amanda & Merrill Get the recipe Photo: James Ransom

These are springtime crostini with complex flavors that never let on how easy they are to make. -- Amanda & Merrill Get the recipe Photo: James Ransoms

This is a bright greenmarket salad that celebrates the grassy, fresh flavors of spring. Whenever I see pea shoots at the market, I can't resist buying some. -- Amanda & Merrill Get the recipe Photo: Merrill Stubbs
Follow Food52 on Twitter: www.twitter.com/food52