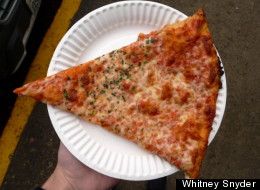 Everyone has their favorite pizza place, whether it's the dollar-slice joint serving up saucy cardboard (hey, you don't need to defend yourself) or the brick-oven spot that's so hot right now you couldn't get a perfectly charred pie if you waited two hours. Dedicated food enthusiasts have more than one favorite pizza source. We have 20 (and then some).
Check out our 20 favorite pizza spots around the country (spoiler alert: one of them is in your house) and let us know in the comments where else we should be paying homage to one of the greatest foods humanity has ever known.
More from Food Republic:
By The Numbers: Chipotle
10 German Sausages to Know and Love
Video: Olsen Twins Gangsta Pizza Party
100 Italian Food and Drink Phrases
Food Republic Coffee Power Rankings

Best American Pizza Joints
The guys at Brookyln's Forcella came up with a genius idea. Why not take a perfectly delicious disk of pizza dough and deep fry it before covering it with toppings and throwing it in the oven? Maybe they were inspired by Paula Deen. Whatever it was, the result is a puffy, pillowy funnel cake-like dough that will have you wishing every other pizza got the same treatment.

Putting pistachios on pizza is perfectly normal, isn't it? Well, maybe not. It is a little nuts, but absolutely delicious. Pizzeria Bianco in Phoenix whips up a nutty pie, the Rosa Pizza, which is a must-try.

How about a pizza with elk, mushrooms, and rainbows? Inspired by the state's ecosystem - Idaho has 11 national forests- Chef Brad Breakell creates fresh, thin-crust pizzas that have potatoes looking a little jealous.

Pizza Otto in Portland is so good that this guy got them to cater his booze cruise wedding celebration.

Another Portland favorite, Hot Lips Pizza is just about as green as pizza will get (it's in Portland- duh!) All the ingredients are local, most of the delivery methods are electric or pedal-powered, the cutlery is compostable, and the waste heat from the pizza ovens is used to heat not only the water for dishwashing, but also helps heat the entire Ecotrust building in the Pearl District. They also make their own soda. Oh yeah, and the pizza is phenomenal.

Ha Ha Pizza in Yellow Springs, Ohio is a hippie pizza joint with an unusual array of toppings. Water chestnuts, falafel and tempeh are some of our favorites, but their time-tested cheese is just as great.

This New York-style Italian restaurant in Beverly Hills has a dining room inspired by The Godfather -- crimson booths and black and white-tiled floor -- but a menu full of light, inspired creations. The lemongrass pizza - lemongrass, ginger, caramelized onion and butternut squash - is the star of the show.

What do you get when you put chicken, apple, corn, Vidalia onion, crushed red pepper flakes, and three cheeses on a thin crust dough? The most American pizza ever made. Thanks, Joe.

The aptly named Jumbo Slice Pizza in the nation's capital is just what it sounds like. One ginormous slice of pizza that will carry you through a night of belligerence. Don't even think about ordering two.

If a half-pound slab of cheesy molten goop happens to be your thing, head over to Lou Malnati's in Chi-town for an authentic slice of slice of deep dish pizza. Although not as famous as other Chicago big names, the buttery crust and sweet tomato sauce makes Lou's an all-time favorite.

Connecticut favorite, Sally's Apizza is the classic: a coal-fired crust that's crispy, chewy and slightly puffy all at once. With just the right amount of tangy tomato sauce, cheese, a little garlic and fresh herbs, this pie is perfect for all the Pizza purists out there.

Hot oil pizza is popular in the south of France and other parts of Europe. Hot oil is olive oil infused with red pepper flakes or chili peppers, a much better option than the lackluster loose red pepper flakes offered at so many pizza joints. Stamford's Colony Grill does it best.

LA Market will relieve you of the taunting decision between sushi or pizza, thanks to their sushi pizza. The crust is topped with cucumber, celery leaves, fresh crab, raw sashimi-grade tuna and creamy avocado resulting in a delectable Japanese-inspired pie.

Punch's pizzaiolis -- Italian for pizza maker -- crank up the wood oven, or forno, to create oven-charred pies with fresh mozzarella flown in from water buffalo farms near Naples every week. And yes, you will taste the difference.

The pizza at this Trenton spot can be compared to an authentic NY slice. That by itself says a lot about the Jersey favorite: the upside-down tomato pie.

Atlanta is home to a delicious meaty, leafy pizza called the Nucci, which features capicola, arugula and Emmentaler cheese. Head to Varasano's Pizzeria for a slice of the real deal.

West Virginia knows how to stand out... when it comes to pizza. As far as small round red pizza embellishments go, at Pies 'n Pints in Fayetteville takes the cake... uh, pie with sliced sweet grapes and gorgonzola. Sorry, pepperoni.

Another Connecticut favorite is Roseland Apizza. Tucked away on a residential street in the suburbs, you might mistake this spot for an ordinary house; however, the kitchen behind this humble façade puts out some of the most decadent seafood pizzas you can find. Go for the shrimp, and thank us later.

Nothing is ever as good as homemade -- why not take a shot at making your own pizza at home? The process is not as complicated as it may seem (you'll definitely need one of these), and the end result may reveal your alter ego: Pepe from Napoli. You'll be proud of Pepe.
Follow Food Republic on Twitter: www.twitter.com/foodrepublic