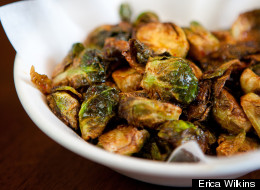 By Food & Wine
To help you stay on budget, we've put together a list of some of the most delicious happy hours in the country. Far better than the usual two-for-one draughts and free bowls of sweaty snack mix, these fantastic restaurant specials include terrific finger foods, pristine oysters and craft cocktails for less. Here, Food & Wine names America's best happy hours.
More from Food & Wine:
America's Best Happy Hours
Daily: 5-7 p.m. April Bloomfield and Ken Friedman's Ace Hotel seafood bar pairs six clams (littlenecks from Long Island or Wellfleet from Massachusetts) or oysters (a choice of east coast Bluepoints or west coast Totten Inlets) with a glass of sparkling Cava or pint of Sixpoint Oyster Stout for $18. Plus: Best Fried Chicken in the U.S. Photo © Daniel Krieger.

Daily: 5-7 p.m. At David Myers's brasserie, $15 buys happy hour patrons a drink like the refreshing El Ranchero (tequila, cucumber and lime juice) and their choice from the "bites" section, which includes shareable dishes like steak tartare, shrimp cocktail and a chef's selection of two meats and cheeses. Plus: Best Sandwiches in the U.S. Photo courtesy of Comme Ça restaurant.

Mon-Fri: 3-6 p.m. Celebrity chef John Besh's bistro sells 50-cent gulf oysters and half-priced cocktails like an icy absinthe frappe and a classic sazerac. Plus: America's Best Pizza in Unexpected Places Photo © Sara Essex Bradley.

Daily: 5-6:30 p.m. The inventive Japanese restaurant from Texas star chef Tyson Cole hosts a "sake social hour" when select sakes are just $3 and all snacks are under $6, including grilled beef tongue nigiri and hamachi sushi rolls with melon, coconut and curry. Plus: America's Best Bacon Burgers Photo © Erica Wilkins.

Mon-Thu: 5-6p.m. This ham-and-oyster specialist offers $1 chef's choice oysters, $5 fries (spiced or egg yolk glazed), $5 chicken liver mousse and drink deals like a $7 martini and a $10.50 beer-and-a-shot combo. Plus: Best Burgers in the U.S. Photo © Molly Decoudreaux Photography.

Sun-Thu: 5-6:30 p.m. and 9:30-11 p.m. There's not one but two happy hours at Jerry Traunfeld's South Indian-meets-Pacific Northwest restaurant. From 5 to 6:30 p.m., it's $5 for a thali (a selection of five small snacks like fried mussels, lamb sweetbreads and naan), while the late night special focuses on hearty $6 sandwiches filled with tandoori chicken, tender short rib or cauliflower kofta. Signature cocktails like the Rum Curry (rum, curry leaf, coconut water, fresh lime juice and orange bitters) are also $6 during both periods. Plus: Best Oyster Bars in the U.S. Photo © John Granen.

Mon-Fri: 5-7p.m. Empire builder Michael Solomonov's upmarket Israeli spot sells its incredible, creamy hummus -- which comes in four varieties, including one with fava beans -- for half price ($4-$6). Specialty cocktails like the $12 Midtown Roots (rye whiskey, sassafrass and vanilla) are $4 off. Click Here for More of America's Best Happy Hours Photo © Michael Regan.
Follow Food & Wine on Twitter: www.twitter.com/fandw