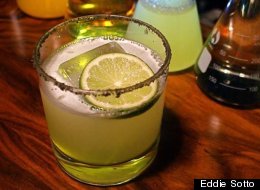 Here, Food & Wine names America's Best Margarita Bars.
More from Food & Wine:
America's Best Bars
Best Burgers in the U.S.
Best Pizza Places in the U.S.
Best Fried Chicken in the U.S.
America's Best Cheap Cities to Visit
Best Sandwiches in the U.S.
The bright and airy tequila lounge dedicates a full portion of the cocktail menu to margaritas organized by type of tequila: unaged blanco, lightly oaked reposado, oak-aged añejo and special edition reserva. All have a base of fresh-squeezed Mexican lime juice and agave nectar. Plus: Best Burgers in the U.S. Photo © GammaNine

One of New York City's best mixologists, Philip Ward opened this East Village tequila and mezcal bar in 2009 with stellar cocktails and Mexican food like tamales with charred poblanos. One of the off-menu drink specialties is a superb classic margarita with blanco tequila, Cointreau and lime juice. Plus: America's Best Bars Photo courtesy of Mayahuel.

Surrounded by the Rocky Mountains, this Aspen institution has more than 100 tequilas and mezcals, makes terrific margaritas and hosts legendary Saturday night Latin-dance parties. Plus: Best Pizza Places in the U.S. Photo courtesy of Jimmy's.

Tim Love's Western-style bistro is known for its spicy take on a margarita: Case Noble tequila muddled with jalapeño and cucumber, plus Cointreau and fresh lime juice. The refreshing cucumber perfectly contrasts the pepper's heat in every sip. Plus: Best Steak in the U.S. Photo courtesy of Lonesome Dove.

Guests at John Rivera Sedlar's modern Latin restaurant can order the Rivera margarita mixed with house-made curaçao and their choice of 20 blanco tequilas. The bar also makes a Tommy's margarita--inspired by Tommy's Mexican Restaurant in San Francisco--which eliminates the curaçao for a tarter cocktail. Click Here for More of America's Best Margarita Bars Photo: © Eddie Sotto.
Follow Food & Wine on Twitter: www.twitter.com/fandw