The Best Fried Chicken In The U.S.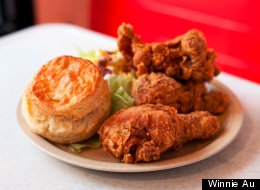 While fried chicken traces its origins to the South, innovative chefs across the country understand the innate appeal of the homey, crunchy, juicy dish. Here, Food & Wine names the Best Fried Chicken in the U.S.
More from Food & Wine:
50 Best Bars in America
Best Burgers in the U.S.
Best Pizza Places in the U.S.
Best Grilled Cheese in the U.S.
Best Breakfast Sandwiches in the U.S.
"I'm on the record as a fried-chicken freak," says editor in chief Dana Cowin, who wasn't disappointed by this cult Williamsburg spot known for fried chicken seasoned with paprika, black pepper and cayenne. "I adored its homey mood and comfort food." Plus: Best Burgers in the U.S. Photo © Winnie Au

Two Sisters' Kitchen, in a two-story house, opens only for lunch (every day but Saturday) and serves a buffet of soul food made with recipes culled from all the women in Diann I. Alford's family. "It's like Sunday lunch at your grandmother's," she says. Piled on Sisters' all-you-can-eat buffet: light angel biscuits; grits and Southern sides that might include turnip greens; and corn bread salad (Alford's mother got her to eat vegetables by adding chunks of corn bread). The one constant: "If the front door's open, we have fried chicken," assures Alford. Plus: Best Pizza Places in the U.S. Photo Courtesy of Two Sisters Kitchen

Ordering the fried chicken at David Chang's East Village spot requires planning--you'll need a group of four to eight people, and you'll have to reserve the order online. It's worth the hassle. He serves two styles in one sitting: Southern with Old Bay seasoning, and a spicy Korean version. Diners can wrap hot pieces of meat in moo shu pancakes with a variety of sweet and salty sauces. Plus: Best Grilled Cheese in the U.S. Photo Courtesy of Momofuku Noodle Bar

Founded in 1950 by "Fried Chicken King" Harold Pierce, the chain thrives on a simple model: White or dark meat plunged in oil to order, and served with hot sauce. Plus: America's Best Doughnuts Photo © cia_b of writingwithmymouthfull.com

The quick-service joint turns out a half-dozen versions of Korean fried chicken. Seoul Sassy birds are dipped in a garlic-ginger-soy blend, dusted with flour and then double-fried for a mysteriously greaseless finish. The Plain Jane has an almost translucent golden coating. Plus: Best Breakfast Sandwiches in the U.S. Photo © Santi Tuamsuk

At their buzzy sequel to Animal, chefs Vinny Dotolo and Jon Shook serve a perfect fried-chicken sandwich inspired by Georgia-based Chick-fil-A and Oakland's Bakesale Betty. Their version comes piled with spicy pickle slaw, shredded lettuce and Sriracha aioli in a brioche bun. Plus: Best Bars in America Photo Courtesy of Son of a Gun

Winner of Food & Wine's People's Best New Chef Mid-Atlantic, Kyle Bailey upgrades fried chicken with Belgian waffles during brunch service. The dish comes with buttered pecans and a maple-chicken jus, and the restaurant has a massive beer list with more than 500 bottles. Click Here for More of the Best Fried Chicken in the U.S. Photo Courtesy of Birch & Barley
Follow Food & Wine on Twitter: www.twitter.com/fandw