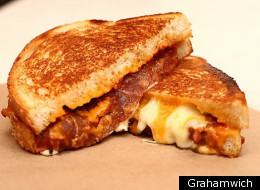 The best grilled cheese sandwich is the gooiest grilled cheese, says Laura Werlin, the James Beard Award-winning cookbook author behind Grilled Cheese, Please! "After you bite into it, the cheese should stretch out past your face as far as your arm will reach. Otherwise, it's just not right."
While it's easy to achieve some level of crunchy, buttery excellence at home, chefs and restaurateurs are creating exceptional grilled cheese sandwiches across the country. Here. Food & Wine names the Best Grilled Cheese in the U.S.
More from Food & Wine:
Best Burgers in the U.S.
Best Pizza Places in the U.S.
Best Sliders in the U.S.
50 Best Bars in America
Best Grilled Cheese Recipes
Heidi Gibson was an engineer with degrees from MIT. Then she won the national Grilled Cheese Invitational and opened this shop in the city's multimedia gulch. Tech geeks come for well-constructed sandwiches like the Mousetrap, with cheddar, Havarti and Monterey Jack on artisanal sourdough. Plus: Best Burgers in the U.S. Photo: The Cooking Channel

Graham Elliot Bowles is known for playful cuisine at Graham Elliot, and the sandwiches at his take-out joint, Grahamwich, are equally inventive. The grilled cheese on sliced Pullman loaf features Wisconsin cheddar, prosciutto, tomato marmalade and cheese curds, which, when melted, add an extra soft, gooey effect. Plus: Best Pizza Places in the U.S. Photo: Courtesy of Grahamwich

At their destination bakery, husband-and-wife team Chad Robertson and Elisabeth Prueitt use organic flour to bake extraordinary bread. Generous slices of the homemade loaves upgrade luxe pressed sandwiches like melty Gruyère with ham, and Humboldt Fog goat cheese on walnut bread. Plus: Best Sliders in the U.S. Photo: Chad Robertson

In most places, macaroni and cheese would be served as a side dish with house-smoked BBQ pork. At the Grilled Cheese Truck, that's the basis for a Cheesy Mac and Rib Sandwich. Likewise, the Brie Melt is an indulgent union of brie and smoked pork loin with peach preserves. Plus: Macaroni and Cheese Recipes Photo: Courtesy of The Grilled Cheese Truck

With respect to Boston baseball (and Fenway Park's famed left-field wall "The Green Monster"), Roxy's offers the Green Muenster, with guacamole and bacon. Here, too, mac and cheese is considered a sandwich filling for the Mac & Chorizo. In an ingenious twist, Roxy's brushes mayonnaise on the outside of sandwiches, rather than butter, before slapping them on the griddle. Plus: 50 Best Bars in America Photo: Zac Wolf

This café takes inspiration from the amazing ethnic diversity of its Queens hometown. Sandwiches include the Greek-influenced feta with roasted red pepper spread; the French-style Gruyère with pickled and caramelized onions; and a global grilled Gouda with black bean hummus, guava jam and pickled jalapeños. Plus: Amazing Grilled Cheese Recipes Photo: Andie Diemer

Chef-owner Annie Miler got so excited about her bakery-café's 10th Annual Celebration of Grilled Cheese Month this past April, she offered 10 variations each week. A year-round favorite: extra-sharp white Tillamook cheddar on country white with bacon or roasted cherry tomatoes. Photo: Courtesy of Clementine Click Here for More of the Best Grilled Cheese in the U.S.
Follow Food & Wine on Twitter: www.twitter.com/fandw