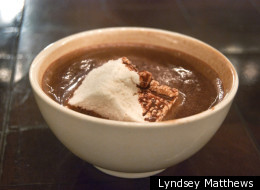 As comforting as powdered cocoa may be, the new class of high-intensity hot-chocolate drinks gives a cacao rush akin to eating truffles or a luscious chocolate dessert.
The best versions feature melted artisan chocolate blended with local milk, complex spices or even chiles for mouthwatering heat.Here. Food & Wine names the Best Hot Chocolate in the U.S.
More from Food & Wine:
50 Best Bars in America
America's Best Coffee Bars
Best Pizza Places in the U.S.
Best Burgers in the U.S.
Best Grilled Cheese in the U.S.
Made from pure melted chocolate bars and topped with homemade marshmallows, this thick hot chocolate is F&W editor in chief Dana Cowin's favorite version in the country. During their Annual Hot Chocolate Festival in February, the café serves a different flavor every day of the month, including malted milk, banana and creamy stout Plus: America's Best Coffee Bars

At superstar chef Rick Bayless's Mexican takeout joint, the menu includes tortas (sandwiches), empanadas and churros, which can be dipped in hot chocolate. Baristas grind the cacao beans to order and foam the hot chocolate with a molinillo, a traditional wooden whisk. Plus: Best Burgers in the U.S.

At her beautiful boutique, owner Kristen Hard makes amazing bean-to-bar chocolates and fun desserts like dark-chocolate-dipped frozen bananas. Hard infuses her superspicy dark-chocolate cocoa with six chiles and tops it with a fresh marshmallow. Plus: Best Grilled Cheese in the U.S.

Combining the thicker weight of a Parisian chocolat chaud with the traditionally Mexican addition of cinnamon, chef-owner Annie Miler's homemade hot chocolate is a year-round favorite at her bakery-café. "I wanted something that was rich but not so overwhelmingly rich that you couldn't drink a cup of it," says Miler. F&W editors also love her creative griddled, grilled and stuffed open-face sandwiches. Plus: Best Pizza Places in the U.S.

"We have lots of rich chocolate ganache all the time in the pastry kitchen, and our customers kept asking for hot chocolate," says Joanne Chang, pastry chef and owner of this relaxed bakery-café that has three locations in Boston. "So we scooped it into the espresso milk pitchers and steamed it with milk to make our signature hot chocolate. It's thick and rich and really delicious." The "fiery" version gets its spicy flavor from chile powder and cayenne pepper. Plus: Best Fried Chicken in the U.S.

To create thick, rich hot chocolate tableside, servers at the hotel's Fireside Lounge muddle Valrhona chocolate with hot milk, then pour the mixture over a chocolate lattice that melts from the heat of the liquid. It's topped with marshmallows and whipped cream and served with chocolate streusel. Plus: 50 Best Bars in America

This coffeehouse specializes in espresso drinks but also serves a superb hot chocolate that combines steamed organic milk, cocoa powder and 70-percent-cacao bars handmade by Rogue Chocolatier's owner Colin Gasko. Click Here for More of the Best Hot Chocolate in the U.S.
Follow Food & Wine on Twitter: www.twitter.com/fandw