The Best Mac & Cheese In America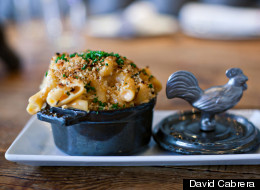 Food & Wine's Best Mac & Cheese In America
Chef-owner Shawn Cirkiel finishes his made-to-order elbow macaroni and cheese with a sprinkle of Parmesan and bread crumbs to create a superthin, crispy crust. "The hardest part is not taking a bite right when it comes out because it will burn the top of your mouth, like good pizza," Cirkiel says. Plus: Americs'a Best Bacon Burgers

The Southern fried chicken joint opened by Top Chef alum Jeff McInnis offers a celebrated macaroni with five cheeses: medium-sharp cheddar, Swiss, Grayson, Red Leicester and Parmesan. In place of the familiar elbows, McInnis opts for torchio, a spiral-like torch-shaped pasta "perfect for catching the cheesy sauce," he says. Inspired by his grandmother's crispy-crusted macaroni casserole, McInnis tops the cheesy side with bread crumbs and fresh herbs and presents it in overflowing individual cast-iron baking dishes. Plus: Best Steak in the U.S.

Of course, NYC's most famous cheese shop serves a killer mac and cheese at its new restaurant annex. The elbow macaroni's arsenal includes Tickler cheddar from England for ultimate meltiness, Murray's cave-aged Gruyère for nutty flavor, Mozzarella di Bufala for creaminess and bits of spiced tasso ham. Finally, the mini cast-iron pan of pasta is finished with more shredded Gruyère and fried onions for a fantastic crust. Plus: Best Burgers in the U.S.

The Seattle-based founder of this Pike Place Market staple, Kurt Dammeier, is a rule breaker when it comes to mac and cheese. "A lot of purists think it has to be made with elbows. But penne is better," he says. His choice is chewier, with ridges that cling to the cheese. However, he credits the overwhelming success of the dish (he sells 40,000 pounds of it a year) to a signature cross between Gruyère and cheddar called Flagship, the "umami bomb that is our cheese." He mixes a bit of Jack cheese into the dish for extra gooeyness. Plus: America's Best Grilled Cheese

A mix of rich Gouda, sharp Asiago and tangy Cacio di Roma in the Mac 'n Cheesetique showcases just a few of the cheeses on sale at this DC-area cheese shop/wine bar. "The resulting combination is savory and slightly sweet," says owner Jill Erber. Made with elbow macaroni for a "down-home feel," the dish is finished with crispy bread crumbs tossed with a touch of truffle oil. Plus: Best Pie Spots in the U.S.

After expanding their small, artisan foods shop into a full restaurant in 2003, owners Matt and Kate Jennings realized that leftover portions of cheese from the retail side could be put to delicious use. The Cheesemonger's Mac 'n Cheese mixes homemade penne with Vermont cheddar, Brie and Gruyère, but three or four other cheeses are often added in, depending on what bits and ends the shop has to offer. Plus: America's Best Bars

F&W Best New Chef 2007 Gabriel Rucker's beloved bistro serves a macaroni gratin that can best be described as a "snowballer," according to general manager Devin Haskell: "Once you see it come out of the kitchen, you have to order it." Made with small elbow macaroni, the bubbling hot pasta uses white Tillamook cheddar, Emmi Gruyère and a third rotating cheese—right now it's funky Rogue Creamery blue. Bread crumbs and chives crown each order. Click Here for More of the Best Mac and Cheese in the U.S.
Follow Food & Wine on Twitter: www.twitter.com/fandw