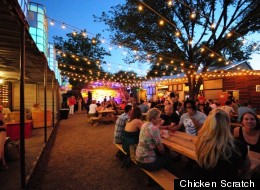 By Food & Wine
From rooftops with panoramic city views to exquisite hidden gardens, there's a new crop of restaurants with terrific food and fantastic outdoor spaces popping up across the country. Here, Food & Wine names America's best outdoor dining.
More from Food & Wine:
America's Best Bars
Best Burgers in the U.S.
Best Pizza Places in the U.S.
Best Fried Chicken in the U.S.
Best Steak in the U.S.
America's Best Boardwalks
Chicken Scratch. Chef Tim Byres's fantastic new fried chicken restaurant shares its sizable backyard with his new bar, The Foundry, where bands play live music every weekend. Mansion Restaurant at Rosewood Mansion on Turtle Creek. Chef Bruno Davaillon, formerly of Alain Ducasse's Mix in Las Vegas, serves luxurious dishes like wagyu beef tartare and foie gras with pistachio butter on the restaurant's elegant, oak tree-shaded red-brick terrace. Plus: Best Fried Chicken in the U.S. Chicken Scratch. Photo courtesy of Chicken Scratch.

The NoMad Rooftop. At his new restaurant The NoMad, "F&W Best New Chef 2005 Daniel Humm reinvents dishes like fruits de mer, creates new classics and borrows favorites from his Eleven Madison Park," writes F&W editor in chief Dana Cowin. The restaurant's rooftop has quickly become a coveted reservation, both for its phenomenal food and its view of the Empire State Building. Shake Shack. Restaurateur Danny Meyer's take-out kiosk in leafy Madison Square Park has spawned 15 locations over the past four years. Its fantastic burgers have a cult following among Gotham burger geeks. Plus: Best Burgers in the U.S. The NoMad Rooftop. Photo © Daniel Krieger.

Gjelina. Everyone from local artists to Victoria Beckham congregates at this hot spot for chef Travis Lett's rustic but meticulously prepared Cal-Med food--much of it cooked in a wood-burning oven. A fire pit burns at the center of the red-brick-floored courtyard, surrounded by vintage tables. The BLVD Restaurant at Beverly Wilshire, Four Seasons Hotel. Located in the white-hot center of Beverly Hills, this restaurant's alfresco tables offer primo people-watching and celebrity-spotting on the corner of L.A.'s iconic Wilshire Boulevard and Rodeo Drive. A-Frame. At his second L.A. brick-and-mortar restaurant, Roy Choi (an F&W Best New Chef 2010) serves superb Korean-inspired pub food like spicy beer can chicken. The restaurant's tree-flanked patio has long communal wood tables and a supercozy bonfire. Plus: America's Best Bars A-Frame. Photo © A-Frame.

Chicago Cut Steakhouse. With a 120-seat bi-level terrace that boasts views of the Chicago River and the Loop, this is the legendary steak town's ultimate outdoor spot for superjuicy dry-aged beef. Big Star. Highlights of this supercool "honky tonk" taqueria from Paul Kahan (an F&W Best New Chef 1999) include excellent pork-belly tacos and greasy-good queso fundido (a glorious melted-cheese appetizer studded with chorizo). Dim lighting, fashionably disheveled bartenders and country music encourage down-and-dirty drinking of highbrow and lowbrow beers, but there are also exceptional cocktails by Violet Hour mixologist Michael Rubel. Both are best sipped on a large patio that has sleek metal tables and cheery bright yellow chairs. Plus: Best Steak in the U.S. Big Star. Photo © Steve Dolinsky.

J&G Steakhouse. When the weather gets warm, the congressmen and senators who dine at superstar chef Jean-Georges Vongerichten's Capitol Hill steak spot can opt for the sidewalk café instead of the restaurant's discreet indoor private dining areas. Standard. Co-owner Tad Curtz built his seasonal (March-December) barbecue spot by hand, from the wooden bar to the outdoor patio's blue picnic tables. The menu features classics like pulled pork and brisket sandwiches as well as made-to-order doughnuts and craft beers. Plus: America's Best Doughnuts Standard. Photo courtesy of Standard.

Eastern Standard Kitchen & Drinks. At this popular Boston hotel restaurant, chef-restaurateur Jeremy Sewall highlights East Coast seafood in dishes like New England haddock with spaetzle. The awning-covered sidewalk patio is flanked by colorful flowering plants in white wainscot flower boxes. Temazcal Tequila Cantina. Helmed by two-time James Beard Award-winning chef Todd Hall, this taqueria-tequileria's 60-seat terrace overlooking Boston Harbor has become a Liberty Wharf summertime hotspot. Oleana. At the decade-old Oleana, chef-owner Ana Sortun serves her Eastern Mediterranean menu in a honey-colored dining room and a foliage-covered 50-seat yard in residential Cambridge. Plus: Best Grilled Cheese in the U.S. Eastern Standard Kitchen & Drinks. Photo courtesy of Eastern Standard.

Slanted Door. Chef Charles Phan's vaunted Vietnamese restaurant at the Ferry Building has a large terrace with a view of the bay and the Bay Bridge. Bar Agricole. Rhum agricole-lover Thad Vogler, who designed the cocktail menus for Beretta and the Slanted Door, co-owns this airy, rustic-industrial tavern with a supermodern outdoor patio. Chef Brandon Jew sources ingredients from local farms for seasonal dishes like sweet yellow corn soup with charred peppers. Click Here for More of America's Best Outdoor Dining Slanted Door. Photo courtesy of The Slanted Door Group, Angkana Kurutach.
Follow Food & Wine on Twitter: www.twitter.com/fandw