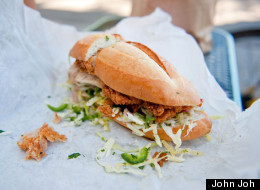 By Jasmin Sun, Food & Wine
Americans may never get over their obsession with amazing hamburgers, but they've certainly
made room for an equally delicious meal between bread: the artisanal sandwich. Here, Food & Wine names the best sandwiches in the U.S.
More from Food & Wine:
America's Best Bars
Best Burgers in the U.S.
Best Pizza Places in the U.S.
Best Fried Chicken in the U.S.
Best Bacon Burgers in the U.S.
Best Breakfast Sandwiches in the U.S.
Food & Wine's Best Sandwiches
Sandwich: Muff-a-Lotta Chef-partner and New Orleans native David Guas's menu spells muffaletta phonetically according to the Yat pronunciation (an English dialect unique to NOLA). His recipe also stays true to his roots with a briny garlic-and-oregano-laced olive salad, salami, mortadella, smoked ham and aged provolone in a sesame-seed-studded toasted Italian roll. Plus: Best Burgers in the U.S. Photo © Scott Suchman.

Sandwich: Oregon Albacore Tuna Melt At Bunk, co-chefs Tommy Habetz and Nick Wood reinvent iconic American foods. That means transforming biscuits and gravy into a sandwich filled with braised rabbit leg, or preparing luscious melts, like this version packed with locally canned albacore and finished with olive oil, balsamic vinegar and Tillamook cheddar. Plus: America's Best Bars Photo © David Reamer.

Sandwich: Chopped Coffee-Cured Beef Brisket Chef-owner and F&W People's Best New Chef 2012 Tim Byres slow-cooks the meat for this coffee-inflected brisket sandwich in the restaurant's backyard wood-burning smokehouse. Plus: Best Pizza Places in the U.S. Photo © Jody Horton.

Sandwich: De-Constructed Cuban Shredded pork and gooey triple-cream cheese fill a tomato-garlic-and-olive-oil-rubbed ciabatta roll in Bin No. 18's loose interpretation of the traditional Cuban sandwich. Although it's served with a fig-and-port-wine reduction, customers usually skip the accompaniment and reach for the hot sauce Sriracha. Plus: Best Steak in the U.S. Photo © Alfredo Patiño.

Sandwich: Fried Chicken Sandwich These delicious sandwiches, filled with crispy buttermilk-soaked, cayenne pepper-spiced fried chicken, sell out fast. Each of Bakesale Betty's two Bay Area locations is only open for three hours a day--even less if there aren't enough sweet torpedo rolls to keep making sandwiches. Plus: Best Grilled Cheese in the U.S. Photo © John Joh.

Sandwich: Smoked Meat To create smoked meat--NYC pastrami's fattier, spicier Canadian cousin--for the sandwiches at his Montreal-style Jewish deli in Boerum Hill, chef-owner Noah Bernamoff cures Pat LaFrieda- sourced, prime-Angus-certified beef brisket in a dry rub of salt, black pepper, spices and garlic before oak-smoking and steaming the meat for several hours. Plus: America's Best Bacon Burgers Photo © Taylor Wallick.

Sandwich: Reuben Oprah Winfrey is a noted fan of this grocery-store-turned-Jewish-deli's famed Reuben--and with good reason. The sandwiches are made with locally sourced corned beef, Emmentaler Swiss cheese, house-made Russian dressing and house-made rye bread. Zingerman's shop also offers mail-order sandwich kits for out-of-state Reuben cravings. Click Here for More of the Best Sandwiches in the U.S. Photo © Ryan Stiner.
Follow Food & Wine on Twitter: www.twitter.com/fandw