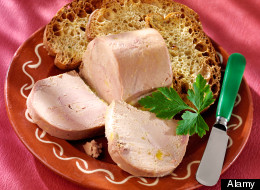 Crazy Things People Do To Ice Cream
Modern Toilet, Taiwan and Hong Kong: At this toilet-themed restaurant chain, patrons sit on toilet-shaped seats and eat chocolate ice cream out of mini toilet-shaped bowls. Plus: America's Best Ice Cream Cities Photo © Ellen Glimstad.

Big Gay Ice Cream, New York City: At the first brick-and-mortar location of the trendy Big Gay Ice Cream Truck, soft serve topping options include bacon marmalade and wasabi pea dust. Plus: Best Burgers in the U.S. Photo © Emma Story.

Spaghettieis, Germany: This popular German specialty resembles spaghetti with marinara sauce but actually consists of vanilla ice cream that's been passed through an extruder and topped with strawberry sauce and coconut. Plus: America's Best Bars Photo © Verena Fuchs.

Ice Cream Cocktail, London: Brit parlor, The Icecreamists, devises boundary-pushing flavors like the 'Sex Bomb' ice cream cocktail: "Fior di Latte ice cream is blended with natural stimulants (Ginkgo Biloba, Arginine, Guarana) and other secret ingredients for blood flow and energy. Scented with a gentle infusion of citrus zest. Topped with a shot of burning La Fee Absinthe administered from a hospital IV drip." Thankfully, even pseudo-ice cream anarchists impose a limit of one per customer. Plus: Best Pizza Places in the U.S. Photo © Wendy Rose Gould.

Sushi Ice Cream, Singapore: Häagen-Dazs shops in Singapore promoted this special ice cream, which was artfully shaped to resemble sushi. Plus: America's Best Doughnuts Photo courtesy of Häagen-Dazs.

Philippe Faur, France: At his eponymous ice cream boutiques, French ice cream artisan Philippe Faur uses Maison Rougié foie gras to create his luxe, award-winning duck foie gras ice cream. Royal Petrossian caviar, mustard and truffle ice creams are a few more of Faur's nine savory flavors. Plus: Best Grilled Cheese in the U.S. Photo © foodfolio / Alamy.

Sunny Sky's Homemade Ice Cream, Angier NC: Signing a liability waiver is a prerequisite for customers who want to taste the Cold Sweat Ice Cream, a fiery flavor made with habanero, pequin and Thai chiles. Click Here for More Crazy Things People Do to Ice Cream Photo courtesy of Sunni Sky's Homemade Ice Cream.
Follow Food & Wine on Twitter: www.twitter.com/fandw