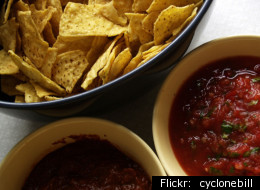 In honor of the Mexican holiday Cinco de Mayo on Saturday, Food & Wine editors tasted over 25 kinds of tortilla chips and just as many varieties of jarred salsa to create this buying guide. While there are many fantastic chips on the market, processed salsas didn't fare as well, with tasting notes like "Stale spice flavor" and "Wish it had salt and tomatoes didn't taste rotten." Fresh salsa is easy to make, but in case you do prefer to shop for it, we've included a few brands to look for below.
Also see: Best Burgers in the U.S.
Food&Wine Salsa and Chips
*Top Pick: Trader Joe's Restaurant-Style White Corn Tortilla Chips, $1.79/ 8.5oz "Great crunch." "I'd buy these!" "Nice corn flavor." "These are my new favorite tortilla chip--perfect thickness and crunch." Xochitl Totopos de Maiz, $5.99/16 oz "Love these. So thin, taste homemade and are salted nicely." "Light, crisp, mild but good flavor. Too thin for dipping, though." Tostitos Restaurant-Style White Corn, $3.99/13 oz "The chip many of us grew up with." "Thin and crispy! Good saltiness." "Little greasy aftertaste, but nice sweetness." Also see: America's Best Bars

*Top Pick: Whole Foods 365 Yellow & Blue Corn Tortilla Chips, $2.69/16 oz "Corn flavor is nice in these." "Blue are particularly good." "They have great crunch." Laurie's Buffalo Thick & Hearty Toasted Corn Tortilla Chips, $3.39/10 oz "Yum, I like these. Nice and toasty and corny, though I want more salt." "Almost a popcorn flavor." "These would be great for nachos or with thick dips. Good!" Bearitos Yellow Corn Tortilla Chips, $4.29/16 oz "Love how hearty the texture is. I also like that they're organic and have no GMOs." "I like this one, though it tastes kind of like a Frito." Also see: Best Margarita Bars

*Top Pick: Tostitos MultiGrain Tortilla Chips, $3.99/9 oz "Sweet and crisp. I like them especially because the buckwheat flavor really comesthrough." "This is a nice chip. I like the multigrain with corn." "Very crispy. Me like!" Food Should Taste Good MultiGrain Tortilla Chips, $3.69/5.5 oz "Nicely corny and crispy." "I taste the flax and sesame." "Good, but doesn't taste like a tortilla chip." "It's a cracker, too!" "I love these." Bachman MultiGrain Tortilla Chips, $3.99/10 oz "Tastes a little like a wheat thin. Hearty." "Very salty, a little greasy, but I like the corn-to-grain flavor ratio." "I like the round shape." Also see: Ultimate Margarita Recipes

*Top Pick: Trader Joe's Salsa Autentica, $4.95/12 oz "I like the acid! I prefer this smooth texture. Big chunks weird me out in these jarred salsas. This is my favorite so far!" "It's a little tomato sauce-y." "Love the smooth texture." Green Mountain Gringo Truly Natural Medium Salsa, $4.59/16 oz "Cooked tomato-y." "Tastes like apple cider vinegar. Good heat, though." "Thin, really nice heat. It has a good tang." Tostitos, $3.39/15.5 oz "Good heat." "For this style of jarred salsa, it's not that bad." Also see: Delicious Mexican Recipes

*Top Pick: Muir Glen's Medium Chipotle Salsa, $4.79/16 oz "A little sweet, but good heat." "Very smoky. Nice bite." "Nice spice." Frontera's Chipotle Hot Salsa, $4.79/16 oz "I like the chipotle flavor! I wish it had more texture, but this works for me. Nice burn." "I'd like this on a taco. Seems closer to 'authentic' than the others." D.L. Jardine's Medium Texacante Salsa, $5.69/16 oz "This tastes like chili to me." "Very cuminy! Seems like Texas, though." Also see: Best Steak in the U.S.
Follow Food & Wine on Twitter: www.twitter.com/fandw