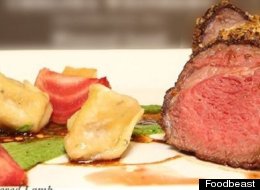 For the last 11 years, S. Pellegrino Sparkling Water has hosted the Almost Famous Chef Competition, where dozens of the best culinary school chefs across the US and Canada compete for 10 coveted finalist spots and ultimately $20,000 and a one-year apprenticeship with a celebrity chef. To become a finalist and compete in Napa, CA for the top prize, the culinary school chefs must first compete in one of 10 regional 'battle royale' style competitions and present their cuisine to an independent panel of executive chefs and food media.
FOODBEAST not only had the chance to send two staff members to judge the West Regional competition in Hollywood, but we've also complied the 10 regional-winning chefs and the dishes that propelled them to the finals. Some of the dishes include a Chiptole Beer Braised Pork Belly, a contemporary twist to Chicken n' Biscuits and Porcini Crusted Vegan Sweetbreads. Yes please, to all of that.
Check out the images below - and best of luck to the 10 finalists at the finals this weekend in Napa, CA. Which Chef would you vote for? Leave your opinion in the comments:
The Dishes That Make up the Top Culinary School Chefs in North America
Swoop apple reduction sauce on left side of plate. Pipe sweet potatoes on base of swoop. Top with 3 slices of duckbreast (half of duck), and garnish with small quenelle of chutney. Gastrique dotted in opposite way of swoosh in the middle of plate. Apple circle is placed on right side of plate; salad is tossed in vinaigrette and placed on top of apples.

Celeriac puree on one end of plate, Mushroom Ragout on the puree, Seitan sitting on top of mushrooms with a seitan garnish, a pinch of celeriac apple salad, random fennel frods and a drizzle of apple gastrique.

A contemporary twist on a classic French combination incorporating different parts of the chicken. The breast is filled with a force meat made with the thigh meat, shiitake mushroom and shallot. The vegetable accompaniment is puree of carrot, julienne of leek and medium dice celeriac and paysanne cut celery. The sauce is made with the juices of celeriac, parsnip and shallot.

Bok choy, vegetables, sauce, sea bass, and a small pinch of bonito flakes.

Sous Vide Spiced Guinea Hen, Thyme Biscuit with Corn Gravy, Brussel Sprout Slaw, and Guinea Hen Scrapple.

Tandoori Stuffed Frenched Chicken Leg Quarter, Tomato Curry Sauce, roasted cauliflower

Cauliflower and Coconut Rice Pilaf With a Curry Nut Crumble; accompanied by Mango Micro Green Salad, Mango Lassi

Blue corn tortilla mash at the bottom, then the white bean epazote fritter and on top the braised pork belly with some of pomegranate reduction and julienne vegetables and micro greens. Chive and parsley oil with pomegranate reduction around the plate.

Cherry, Basil, and Pistachio Crusted Boneless Lamb Rack with Butternut Squash Tortellini, Roasted Root Vegetables, and Arugula Puree.
Follow Foodbeast on Twitter: www.twitter.com/foodbeast