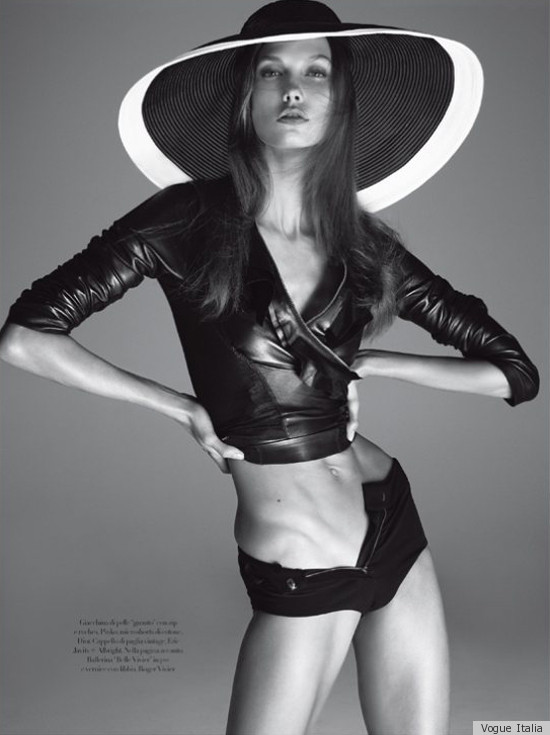 I think that letting people talk about things they don't know, or about what they assume to be the truth is rather interesting as it entails various considerations.
First: whoever says Karlie Kloss' pictures are heavily Photoshopped is wrong.
Second: very few understand photography and don't know about the viewpoint a body can be shot from. If the bust is imbalanced with respect to the pelvis and the picture is not frontal, the hips will look wider and the waist thinner.
Third: not only is Karlie not anorexic but she has a muscular body with a rounded contour due to her muscles' tension. As you can see on the cover picture, her "buttocks" are muscular and rounded, just like her thighs and her biceps.
To hush everyone up on this matter, she was also picked by Victoria's Secret, the underwear line that loves real women par excellence, for which all the following models have posed: Adriana Lima, Naomi Campbell, Tyra Banks, Eva Herzigova, Laetitia Casta, Bar Rafaeli, Gisele Bundchen and Miranda Kerr. Victoria's Secret would never use an anorexic model as this would clash with their philosophy that enhancing a woman is provocative and sexy (especially when wearing a bra and knickers or a micro-petticoat).
Fourth: I did not remove the first picture from the site because I thought it set a bad example due to her thinness. I removed it because I am aware of the fact that people can easily attach labels without thinking. I believed I could avoid a pointless debate and I made a mistake. I should have done what I thought was right: that is leave the picture and let everybody express their opinion freely. The picture is beautiful and that's all.
A few years ago I had to argue with readers when they accused Karen Elson, who is beautiful and has a very feminine figure, of being anorexic. Those pictures had been developed using a technique conceived by Man Ray called "distortion". With distortion, images appear to have an elongated "distorted" effect -- a bit like when we look in a convex mirror -- and are obtained using either wide-zoom or normal lenses. Either way, the effect depends on how close the shot is made but it makes the limbs look elongated and obviously thinner. It's a photographic technique.
Fifth: I started my battle against pro-anorexia websites speaking as a layman and I would never want to set a bad example. But if in order to avoid making "visible mistakes" I must give up on special and experimental pictures, I'd rather start photography courses to educate the many people who work in this field that don't know anything about the history of photography.
Just to enlighten yourselves, have a look at the pictures shot by Penn or Avedon in the 50s and 60s. Although the models are clothed, you will understand that movement was key in their photography and the models' moves where expressly over-enhanced to add depth to an image.
Sixth: before talking, why not just ask? I would have answered your doubts before, without causing so many pointless remarks.
SUBSCRIBE AND FOLLOW
Get top stories and blog posts emailed to me each day. Newsletters may offer personalized content or advertisements.
Learn more