Brenna Ehrlich is still recovering from her date with a listless Williamsburg type. Ehrlich, who looks like a doll with her huge eyes, tiny face and masses of dark wavy hair, drags herself out of bed early, even though she got home late. Wearing a David Bowie "Glass Spider Tour" T-shirt and a pair of shorts, she pours a bowl of Life cereal, grabs a can of Coke and sits down at her computer. She begins an e-mail to her friend Andrea Bartz. "Let me introduce you to a new brand of hipster," she writes.
The I-don't-like-anything hipster, she explains, abhors concerts, the Internet, talking about himself and talking about other people. He loathes Facebook, Duane Reade and birthdays. After a dreadful evening with one such fellow, Ehrlich is convinced she has found the new extreme on the hipster apathy continuum.
The friendship between Ehrlich, 25, and Bartz, 23, is built on daily e-mails that wittily dissect their romantic misadventures on the Brooklyn scene. The friends from Northwestern University's Medill School of Journalism, whose propensity for plaid shirts and grandpa sweaters suggest that they blend in among the wannabe artists and musicians in Williamsburg, have collected quite a few anthropological observations in the year or so since they moved to New York from Chicago. (Ehrlich is originally from Mystic, a small town in Connecticut, and Bartz is from Milwaukee.)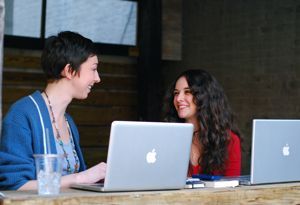 That particular e-mail triggers something. After reading it, Bartz, the more outspoken of the two, suggests that they turn their e-musings into a blog. Five minutes later, she receives another e-mail from Ehrlich containing the link for their new Tumblr blog, which Ehrlich has entitled "Stuff Hipsters Hate." From that moment on, they are no longer casual anthropologists. They are bloggers.
Ehrlich and Bartz say they're no more tech- or Web-savvy than the average urban twentysomething. Both specialized in print magazines at journalism school, and Ehrlich, who loves long-form nonfiction, took a book-writing class as well. Bartz, who is tall, rosy-cheeked and has a close-cropped cap of brown hair, works as an editorial assistant at Self magazine. Since arriving in New York, Ehrlich has done stints at Esquire and Heeb Magazine. The blog that they started last July was a foray into a new medium, and they were gratified when Stuff Hipsters Hate generated some online buzz. As soon as people--"people who weren't related to us or our friends"--started reading it, the two thought book deal.
Ehrlich and Bartz hardly fit the stereotype of the print-hating blogger. While traditional publishers fret about American readers' eyeballs turning to the free content online, many of the bloggers who pose the perceived threat are focused on scoring an old-fashioned, ink-on-paper book deal.
Of course, for many bloggers-cum-authors, the book deal represents their first opportunity to make money from the content they've posted. The dream is to replicate the $300,000-plus deal Internet copywriter Christian Lander netted for his blog Stuff White People Like (an obvious antecedent for Stuff Hipsters Hate). Certainly, that figure isn't the norm, but even a modest book deal is still more lucrative than most Web advertising. "It is up to the blogger whether or not they want to run ads on their site and only rarely, with very high traffic sites, is this revenue enough to be a considerable slice of their monthly income," says Kate McKean, a literary agent at the Howard Morhaim Literary Agency. Ben Huh, one of McKean's clients and the mini-mogul who spun books out of Internet phenomena like I Can Haz Cheezburger and FAIL Blog, agrees. "It takes a lot of page views to equal one book sale--I'll leave it at that," he said in a Mashable story (written by Ehrlich shortly after she scored her own book deal). Huh is right. While online ad pricing varies widely depending on the location and size of the ads and the blog's brand strength and reader demographic, a blogger might need 500 or more page views to earn the dollar or two that an author makes for every book sold.
In addition to fantasies of financial rewards, many bloggers have romantic notions about the printed word. "No matter how much blogs are taking off, books are still the ultimate for any writer," says Bartz with certainty. "If you want your work immortalized in a tangible way, every author wants a book." Ehrlich adds, "It's not as transient or ephemeral. It's going to be in bookstores for awhile."
FOLLOW HUFFPOST