Knowing what to eat when you have both type 2 diabetes and high cholesterol can be tough. Two Reasons, One Recipe provides valuable information about healthier eating, which you can find at TwoReasonsOneRecipe.com. On the site, not only will you find facts about type 2 diabetes and high cholesterol, but tips on how to order at your favorite restaurants, grocery shop and cooking tips and delicious recipes for every occasion.
Two Reasons, One Recipe is an educational program to raise awareness of the importance of reducing A1C and LDL-C in adults with type 2 diabetes and high cholesterol, two important risk factors for cardiovascular disease.
As part of the campaign, here are some of our favorite tips for healthy cooking and eating smart:
Use herbs, like garlic, ginger or oregano, to add a boost of flavor.
Eat vegetables, soy protein and fiber, as your diet plan allows.
Use olive or canola oil in place of butter where called for; in moderation, these oils are sources of polyunsaturated fats, or "healthy" fats.
Use a high speed blender to make fresh fruit smoothies that are delicious and healthful; bananas and strawberries are excellent sources of vitamins!
To impart extra flavor into your vegetables, cook them in their own juices - think steaming, roasting or stir-frying.
With the holidays around the corner, deciding on a healthy dish can be tough. Here are two of our favorite dishes to prepare for the holiday season:
Roasted Acorn Squash with Apple Pie Spices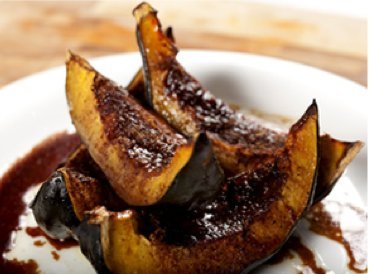 Ingredients
1 acorn squash, cut into quarters and seeded
4 tsp. canola oil
1 tsp. each cinnamon, ginger, nutmeg, garlic powder
2 tsp. coconut sugar
Salt and pepper to taste
Directions
Cut the squash into quarters removing the seeds. In a small baking pan, place the squash, skin side down in the pan and fill the pan with 1 cup of water. Top each piece of squash with a sprinkling of spices, salt, pepper and coconut sugar (low glycemic index). Top with 1 tsp of oil on each piece and roast in a 350* oven for 30-40 minutes or till tender and caramelized. Baste with any remaining juices that formed in the pan and serve alongside your favorite Thanksgiving Day Turkey. Any squash and/or pumpkin may be substituted.
Nutritional information
8 Servings. Amount Per Serving: 88 calories, 2g fat, 17g carbohydrate, 2g fiber, 1g sugar
* * *
Roast Chicken Provencale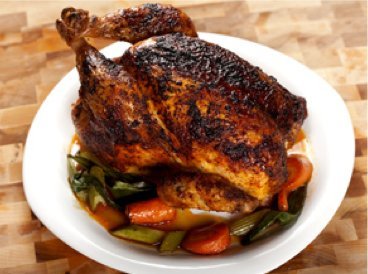 Ingredients
1 - 3.5lb whole chicken
2 tsp. Paprika
1 tsp. Garlic powder
1 tbsp. Olive oil
2 sprigs fresh thyme
2 sprigs parsley
1 green onion
1 rib celery
1 carrot
1 lemon
1 small orange
2 cloves garlic
1 cup chicken stock
2 leeks
Salt and pepper to taste
Directions
Preheat oven to 450 degrees Fahrenheit. Mix the garlic powder, salt and paprika into the olive oil and form a paste. Rub the entire outside of the bird. Cut the orange and lemon in quarters placing half inside the cavity along with the green onion, thyme, garlic and parsley. Place the celery, carrots and citrus segments into the bottom of the roasting pan along with the chicken stock. Place chicken on top of an elevated rack. If you can truss the chicken do so as it will cook more evenly but it is not mandatory. Place the chicken in the oven for 15 minutes. Baste the chicken and lower the temperature to 375F and cook for 30 minutes longer or until golden brown.
Remove the vegetables. Strain the entire mixture and reserve for later use. Cut the bird off the bones, remove the skin and serve with pan sauce. Simple, steamed vegetables are the perfect accoutrement to this simple chicken that's packed with flavors.
Nutritional information
4 Servings. Amount Per Serving: 198 calories, 8g fat, 3g carbohydrate, 1g sugar
For more recipes, just visit TwoReasonsOneRecipe.com
SUBSCRIBE TO & FOLLOW THE MORNING EMAIL
Start your workday the right way with the news that matters most. Learn more