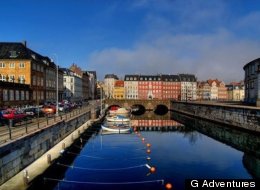 Thousands of cities, big and small, around the world have embraced the green movement over the last few years, with many more following their lead. From innovative recycling programs to adding more green space, it actually is becoming easy to be green around the world.
With Earth Month in full swing, we're putting the solar-powered spotlight on five cities making a difference fighting climate change and doing their part to make this world a cleaner place to live.
All pictures courtesy of G Adventures.
Earth Month: 5 Green Cities
Did you know? Roughly one-third of all residents of Copenhagen use a bicycle to commute to and from work! Even with those impressive stats, the city plans to push for more bike usage from residents and visitors by about 50 percent over the next three years. The city also hopes to reduce CO2 emissions by 20 percent by 2015 and become the world's first CO2 neutral city by 2025.

In 2011, San Francisco beat out 26 other major U.S. and Canadian cities in a report by Economist Intelligence Unit in five out of nine metrics including green buildings, transportation, water, energy and air quality.

The greenest city in Canada and second greenest in North America (behind San Francisco), Vancouver is aiming to become the world's greenest city by the year 2020. Home to over 200 parks, Vancouver makes great use of renewable sources for power, with a majority of it via hydroelectric power.

Thanks in large part to its location; Reykjavik makes use of geothermal energy generated underground from hot springs. The city is able to generate electricity and heat 95% of all their buildings.

Recently named the world's most livable city, Melbourne is also finding ways to become the greenest. By 2020 they plan to achieve zero-net emissions thanks to a six-goal plan put in place by the city council which includes strict green building codes and improved city planning. Melbourne is home to an impressive transport network that includes low carbon impact transportation such as Melbourne's airport/city Skybus Super Shuttle, which is Australia's first carbon-neutral public transport operator.
Follow G Adventures on Twitter: www.twitter.com/gAdventures