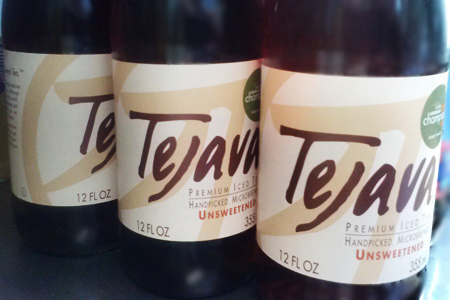 America's love affair with iced tea dates back to the 1904 World's Fair in St. Louis, when an enterprising English tea merchant named Richard Blechynden was put in charge of distributing hot tea samples to the public. When unseasonably warm temperatures drove the crowds away, Blechynden decided to "ice" his tea by running it through chilled lead pipes. Needless to say, the cold brew proved a hit. Today, over 80 percent of the tea consumed in the U.S. is served iced. With more options than ever before, it can be hard to separate the top iced teas from the rest of the bottled bunch. GAYOT has assembled the 10 best bottled iced teas, from unsweetened Javanese to organic white, for quenching your summertime thirst.
Harney & Sons Organic Iced Tea
Known for luxurious loose teas and tisanes, this family-run company launched its line of bottled iced teas in 2009. Harney & Sons sources from organic tea gardens around the world to create low-calorie, low-sugar flavors such as Organic Black, Organic Green, Organic Peach White Tea and the quirky Organic Coffee Tea (popular in Asia).
Read a complete review of Harney & Sons Organic Iced Tea
Teas' Tea
TEAS' TEA is named after the Japanese expression "Ocha no naka no Ocha," or "The Tea of ALL Teas." These all-natural bottled iced teas are free of genetically modified organisms and come in three varieties: no-calorie unsweetened; lightly sweetened low-calorie (40 calories); and sweetened classic (70 calories) -- the latter two feature natural cane sugar and a touch of stevia, a natural sweetener.
Read a complete review of TEAS' TEA
Honest Tea
Born in 1998, Honest Tea (get it?) is now the top-selling organic bottled iced tea in the U.S., and even President Obama is a fan of their Black Forest Berry flavor. Honest Tea's beverages are low in calories, USDA Organic and Fair Trade Certified and come in more than a dozen varieties, with flavors ranging from Heavenly Lemon Tulsi to Mango Acai White Tea to Green Tea with Honey.
Read a complete review of Honest Tea
Steaz Iced Teaz
All of Steaz's USDA Organic, Fair Trade Certified teas are brewed from a rare Sri Lankan Ceylon green tea leaf and contain 120 mg of antioxidants per bottle, which means you can pat yourself on the back each time you take a sip. Try their Blueberry, Pomegranate & Acai, a refreshing blend of full-bodied fruit flavors with no cloying sweetness or artificial aftertaste.
Read a complete review of Steaz Iced Teaz
The Republic of Tea
Favored by high-end restaurants and hotels, Republic of Tea's iced teas are unsweetened and zero-calorie and contain a subtle hint of fruit, which doesn't interfere with the natural flavor of the tea. Known for creative combinations like Ginger Peach Black Iced Tea and Blackberry Sage Black Iced Tea, Republic of Tea uses dried fruit instead of fruit juice in order to absorb the fruit's flavor without any of the sugar.
Read a complete review of The Republic of Tea
Tazo Organic Iced Tea
Tazo began life as a small, Portland-based specialty tea company. Made from organic tea leaves, Tazo's bottled iced teas are affordable and come in a wide variety of flavors, such as Organic Iced Green Tea (with hints of spearmint and lemongrass), Tazoberry (black tea blended with raspberry and apple juices) and Brambleberry (black tea combined with apple and marionberry juices).
Read a complete review of Tazo Organic Iced Tea
Inko's Iced Tea
Named after the founder's dog, Inko's was the first company to singularly produce premium, bottled white iced tea--the world's rarest variety of tea. Exclusively sourced from the Fujian province of China, Inko's white tea is packed with cancer-fighting antioxidants and low in calories (zero or 56 calories per sixteen-ounce bottle).
Read a complete review of Inko's Iced Tea
Adagio Anteadote Iced Tea
Adagio's line of organic, unsweetened iced tea is geared towards customers who prefer their brew with as few ingredients as possible. Refreshing in their simplicity, Anteadote iced teas contain nothing but fresh tea leaves, vitamin C and baking soda (to control acidity). Adagio uses an innovative Japanese process to completely drain each bottle of oxygen, preventing oxidization and ensuring that it does not need chemicals or preservatives to stay fresh.
Read a complete review of Adagio Anteadote Iced Tea
Tejava Premium Unsweetened Iced Tea
Tejava is the world's only 100 percent all-natural, micro-brewed, bottled Javanese iced black tea. Tejava uses handpicked tea leaves from the top of each branch and a unique micro-brewing process to strip the leaves of the bitterness often associated with black tea, resulting in a distinctive, bold flavor with no unpleasant aftertaste.
Read a complete review of Tejava Iced Tea
AriZona Iced Tea
Universally priced at 99 cents and weighing a whopping 23 ounces, AriZona first made a name for itself with its iconic pastel green cans that were both bigger and cheaper than the competition. Although AriZona's iced teas now come in a dizzying array of sizes and varieties, you can't go wrong with classic flavors like "Iced Tea with Lemon Flavor" and the best-selling "Green Tea with Ginseng and Honey."
Read a complete review of AriZona Iced Tea
MORE ON GAYOT.com
Complete Reviews and Photos of all Top 10 Iced Teas