Yesterday, the Straphangers Campaign and Transportation Alternatives gave out three dubious awards to highlight a bitter reality for two-and-a-half million daily New York City bus riders: poor, slow and unreliable service.
Our groups held the awards presentation - with all the trimmings, from wearing tuxedos to unveiling 'winners' - to make a point. It doesn't have to be this way. Bus service could be much better.
The first award was the eighth-annual "Pokey" for slowest local bus route in New York City. It's based on actual rides taken and timed. It's comprised of a golden snail on a pedestal.
The "winner" of the 2009 Pokey was the crosstown M42. It had the slowest bus speed at 3.7 miles per hour as clocked at 12 noon on a weekday.
How slow is that? The M42 would lose a race with a five-year-old riding a motorized tricycle with a speed of 5 mph. That's right, the M42 would be left in the dust of a kindergartener on a trike! (Go to www.straphangers.org to see full list of speeds for 23 buses.)

The second award was the fourth-annual "Schleppie" for the city's least reliable buses. The Schleppie is comprised of golden lumbering elephants on a pedestal.
The "winner" of the 2009 Schleppie was the B44, which runs on Nostrand Avenue in Brooklyn. More than one in five B44s -- 21.7% -- arrived bunched together or come with big gaps in service during the first half of 2009.
On a positive note, city buses are performing significantly better on reliability in the last year. In the first half of 2008, we found 13 routes that had more than one in five buses arriving off schedule. Only four routes in the first half of 2009 had greater than 20% of its buses arriving unreliably.
The third award was a first-ever Trekkie, for the city bus route with the longest scheduled running time, based on official transit statistics. It's comprised of a golden trekking camel on a pedestal.
The winner of the 2009 Trekkie was the M4, which runs between Penn Station and Fort Tryon Park in Upper Manhattan.
A trip on the M4 from Penn Station in Manhattan to Fort Tryon in Upper Manhattan is scheduled to take 1 hour and 50 minutes. An M4 scheduled to leave Penn Station at 4:30 p.m., for example, is scheduled to arrive at Fort Tryon Park at 6:20 p.m. taking 1 hour and 50 minutes.
What a trek! Long haul riders on the M4 should be sure to bring along travel monopoly and a pillow.
In comparison, weekday afternoon runs of New York to Philadelphia Amtrak regular service (non-Acela, non-Metroliner) is scheduled from between 1 hour and 18 minutes to 1 hour 27 minutes.
Amazingly, there are 25 out of 194 bus routes that are scheduled to run as long or longer than most regularly scheduled Amtrak service between New York to Philadelphia. (See running times.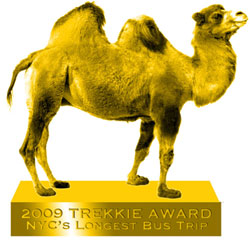 The only way to stem the tide of poor bus speeds is to give buses more priority on the street than the rest of traffic through 'Bus Rapid Transit' programs.
BRT has brought better transit to many cities around the world. A more limited version known as "Select Bus Service" (SBS) is being tested here, spear headed by New York City Transportation Commission Janette Sadik-Khan and MTA New York City Transit President Howard Roberts, Jr.
The first SBS routes have started on Pelham Parkway and Fordham Road in the Bronx (Bx12) and on 34th Street in Manhattan (M34). SBS routes are planned for Nostrand Avenue (B44), First and Second Avenues in Manhattan (M15) and Hylan Boulevard on Staten Island (S79.)
Our groups found that "Select Bus Service" on the Bx12 (on Pelham Parkway and Fordham Road) had resulted in a 41% increase in speed on the Bx12 local route. The Bx12 local was clocked by surveyors in the current survey at 6.8 mph. But the SBS Bx12 traveled at 9.6 mph, some 41% faster than its counterpart the Bx12 local.
Among time-saving bus improvement strategies now being reviewed in New York are:
• Tougher enforcement of exclusive bus lanes with barriers to discourage cars from entering;
• Pre-boarding fare payment;
• Reconfigured bus stops to speed boarding and reduce conflicts with other vehicles; and

• Bus priority signals to help buses stick to schedule.
In the months to come, our groups will be closely monitoring the city's efforts to BRT-style improvements to New York.