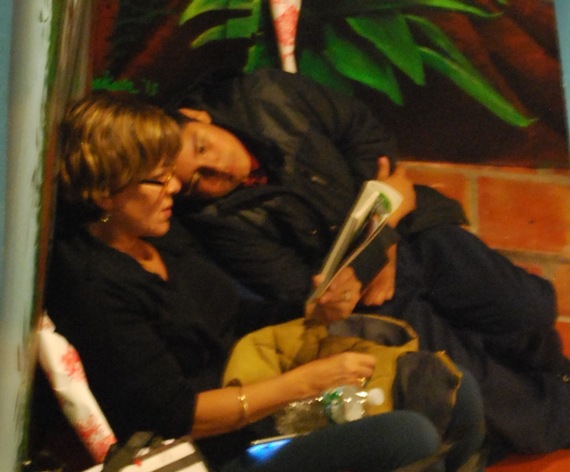 Every day all of us have opportunities to be kind, to offer a small gesture of comfort or a word of hope or encouragement to those we know well, and those we are meeting for the first time. Yesterday we held a Graduation Day for the children and volunteers who participated in our Pilot Program, Reading Buddies Plus, in which we paired a volunteer with a child for reading sessions over a 6-month period.
We knew the impact our volunteers felt because they told us every chance they had how they loved being partnered with the children over time and how much fun it was connecting with them before and after each reading session. And we were aware how much the dedicated teacher who accompanied the children here appreciated our efforts because she too, repeated how vital it was for her young children to have their own books and the one-on-one reading practice we offered. But what we didn't expect was the kindness each child expressed yesterday for their volunteers. The children arrived with flowers and small trinkets for their partners who were brought to tears as they accepted the gifts with hugs and kisses. This final session was filled with both exultation and sweet sadness as their teacher barely got out the words,
"All I ever wanted for these children was for them to love reading, and now they do."
Every day we receive letters and calls from people who tell us about the children we serve and we are always amazed at how a simple kindness can cause major shifts in the children.
The president of a children's group home recently told me,
"A kind gesture from a stranger, someone who doesn't know them, nor expects anything in return from them, means more than you know. They've heard promising words all their lives and they stopped believing in them when they realized they were empty, just lies and bribes. When a stranger does something nice for them, it has a remarkable impact - it means more than you can ever know. It says 'you're special. Wow, this person thinks I'm important.'"
Yesterday a very special and talented woman, my mother's piano teacher, surprised me with a gift of kindness unlike any I have ever received. She has come through an illness and is finally on the road to recovery. She handed me a letter and a package. As she watched, I opened both. In her letter she told me about her health struggles and thanked me for my support through it all. I told her I could never express enough thanks to her for the joy and happiness she has brought our mother these past several years. In the package was a CD. Handwritten on the CD were the words, "TRANQUIL' Pajama Program Instrumental." She played the CD for me right then and there. I was overcome with emotion. It was beautiful and tender. She found the exact notes to express all the sentiments of Pajama Program and she played every one of them with love. Tears streamed down my cheeks and I knew there could never be a way to let her know what her kindness meant to me. I took her hand as her music played but I couldn't speak. I don't think I had to - she knew what I was saying.
Every day we can offer kindness. Every day someone needs it.
SUBSCRIBE TO & FOLLOW TRUMP'S FIRST 100 DAYS
How will Donald Trump's first 100 days impact YOU? Subscribe, choose the community that you most identify with or want to learn more about and we'll send you the news that matters most once a week throughout Trump's first 100 days in office. Learn more