[A] brokered convention, I wouldn't be afraid of that. The electorate shouldn't be afraid of that. That's a continuation of the process, and competition that perhaps would be, in the end, very good for our party, and good for the cause of defending our republic.
Anything is possible. I don't close any doors that perhaps would be open out there, so, no, I wouldn't close that door. My plan is to be at that convention.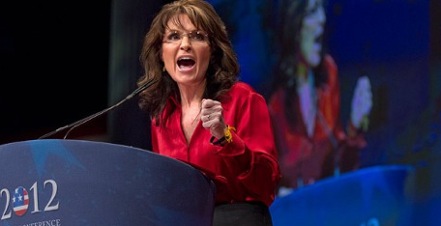 People can laugh all they want, but she ain't done. She's only developed a tougher skin through all 'this' and, out of desperation, has to inflict more damage for reasons only Sarah and her constantly-changing set of patrons knows. She has become even more dangerous and desperate.

If Sarah Palin's most electrifying speech at the CPAC did not convince that only she can articulate Americans' concerns and vision for our nation, then Obama has just been handed his second term. The CPAC event proved that only she can rouse the unexcited base to their feet. Only she can energize and move voters to go out to the polls. Only she can unite us to defeat Barack Obama.
I hope not. And the reason I say that is because if you look at, over the last four years, all of the deficiencies in knowledge, all the deficiencies in preparedness, she's done not one thing to rectify them, to correct them. She has become a person who I think is filled with grievance, filled with anger who has a divisive message for the national stage when we need leaders in both parties to have a unifying message. . . . The lack of preparedness was a bad thing and the total disinterest in being more prepared and rectifying that is something that disqualifies.
SUBSCRIBE AND FOLLOW
Get top stories and blog posts emailed to me each day. Newsletters may offer personalized content or advertisements.
Learn more