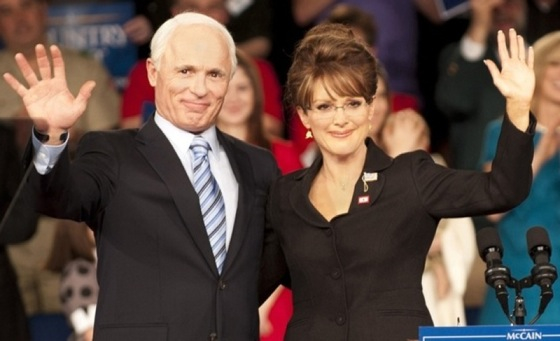 That's why I say I, like every American I'm speaking with, we're ill about this position that we have been put in. Where it is the taxpayers looking to bail out. But ultimately, what the bailout does is help those who are concerned about the health care reform that is needed to help shore up our economy. Um, helping, oh, it's got to be about job creation, too. Shoring up our economy, and putting it back on the right track. So health care reform and reducing taxes and reining in spending has got to accompany tax reductions, and tax relief for Americans, and trade -- we have got to see trade as opportunity, not as, uh, competitive, um, scary thing, but one in five jobs created in the trade sector today. We've got to look at that as more opportunity. All of those things under the umbrella of job creation.
That's not part of their platform and he was only a 'member' bc independent alaskans too often check that 'Alaska Independent' box on voter registrations thinking it just means non partisan. He caught his error when changing our address and checked the right box. I still want it fixed.
Audette/Sarkozy: Gov. Palin, I love the documentary they made on your life. You know Hustler's Nailin' Palin?

Palin: Ohh, good, thank you, yes.
Audette/Sarkozy: That was really edgy.
Palin: Well, good.
We worked for many days on the programs taking into consideration all the political implications and working with advance to get everything flowing smoothly. Then, at literally the last minute, for 3 of the 4 events, someone with some apparent authority calls our advance on the ground and fucks everything up. This has so far resulted in pissing off two United States Senators and the creation of a total 'cluster' which has reflected very poorly on the campaign.
To tell you the truth, Bill, I don't know why that association isn't discussed more, because those were appalling things that that pastor had said about our great country, and to have sat in the pews for 20 years and listened to that-- with, I don't know, a sense of condoning it, I guess, because he didn't get up and leave-- to me, that does say something about character. But, you know, I guess that would be a John McCain call on whether he wants to bring that up.
SUBSCRIBE AND FOLLOW
Get top stories and blog posts emailed to me each day. Newsletters may offer personalized content or advertisements.
Learn more