One rarely thinks of the earth's ecological system as second-hand goods. However, a stunning documentary written and directed by Canadian filmmaker Jean Lemire uses the degradation of the earth's atmospheric health as the basis for exploring climate changes in Antarctica.
No doubt inspired by Ernest Shackleton's legendary struggles (whose history hangs over this expedition with ghostly prescience), the scientists and filmmakers expect their three-masted schooner to be locked in place by pack ice throughout the Antarctic winter. Instead, they discover that, with a 6-degree Celsius rise in temperature resulting from global warming, the pack ice will not form and stay solid for long.
This phenomenon offers a dangerous warning about the degradation of the earth's atmosphere. Important marine patterns of migration and mating have been thrown dangerously off cycle. Instead of being able to freely cross from the Sedna IV to their land base (using the wood and rope bridges that have been built), the crew must cope with ropes and cables that keep snapping as the ship -- buffeted about by strong winds -- comes close to being wrecked on a nearby reef.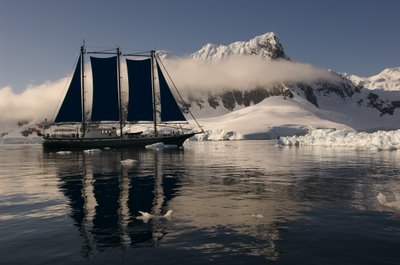 Another result of global warning is that some of the food stores delivered by an Argentinian icebreaker (valuable supplies which had been carefully buried in ice caves on shore) have defrosted and started to rot. With scuba divers in flippers attempting to play hockey while testing to see which ice floes will hold their weight (and crew members merrily playing ping pong on a table that has been brought out onto the ice so they can play in the open air), the entire expedition takes on a far different reality from what was originally anticipated.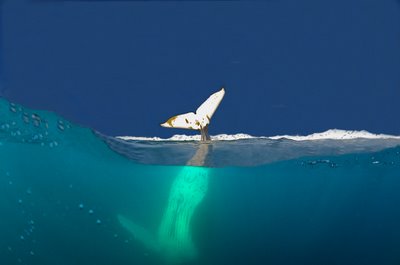 For those who enjoyed the BBC's Planet Earth series, Lemire's The Last Continent offers a sumptuous visual treat. Its stunning views of the Antarctic landscape, coupled with great underwater photography, place it at the top of the list of great travelogues and nature films.
In addition to Donald Sutherland's ominous voiceovers, audiences will be acutely aware of the powerful dynamic added to this film by Canadian composer Simon LeClerc's musical score (whose portentous orchestrations invoke memories of such epic maritime disaster films as James Cameron's Titanic and Ronald Neame's The Poseidon Adventure). I can't recommend The Last Continent strongly enough. Thankfully, you can watch the entire film online by clicking here.
In 2008, three brave Chinese athletes entered the 2008 Polar Challenge (a race that has been held every year since 2004, been televised to 168 million homes in 107 countries, and that covers 320 nautical miles from the Resolute training base in Nunavut, Canada to the 1996 position of the Magnetic North Pole).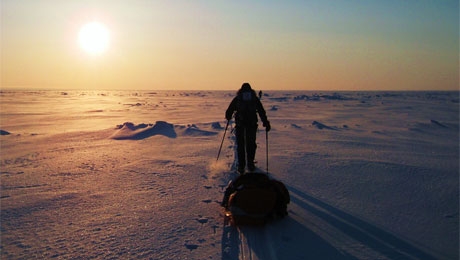 In Yang Li-chou's beautiful documentary, Beyond The Arctic, the three men who represented Taiwan as the Team Gamania Foundation in the 2008 Polar Challenge are:
Albert Liu, the CEO of Gamania (an online games company).
Jason Chen, a 22 year old student.
Kevin Lin, a famous marathon runner who works part time as a barista in Taipei while training. Although now retired from professional sports, in 2003 he came in third in China's Gobi March. In 2004 he won Chile's Atacama Crossing and, in 2006, he took third place in the Antarctica race. Along with American Charlie Engle and Canadian Ray Zahab, Lin spent 111 days crossing the Sahara Desert on foot during the 6,900 kilometer run from the Atlantic coast of Senegal to the Red Sea.
The film follows these three men as they travel from Resolute Bay to the Magnetic North Pole in 21 days. Along the way they subsist on a steady diet of noodles with hot dogs, battle hypothermia, sing silly songs, suffer from frostbite, and have a terrifying late night encounter with a polar bear that rips a hole in the side of their tent.
Temperatures range from -5 degrees to -85 degrees Fahrenheit (which means that a man's sweat can freeze in his pants, defecating is done as quickly as possible, and contestants sometimes hallucinate or suffer from snow blindness). Unlike early Arctic explorers, contestants are lucky to be equipped with GPS devices, portable stoves, and the latest in camping gear. Thankfully, the Polar Challenge's support team includes medical and safety personnel who are able to cope with emergencies.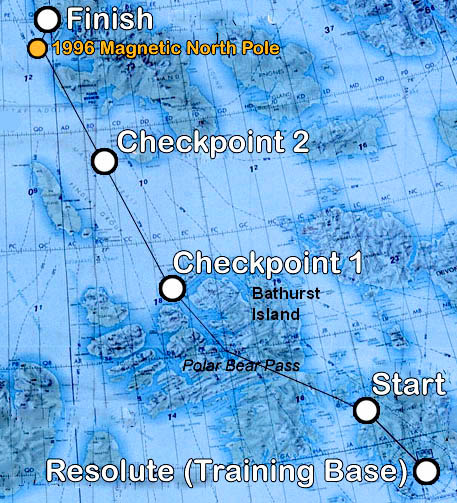 Much of the appeal of Beyond the Arctic lies in the sheer beauty of the film's frozen wasteland, the good humor of the three men representing Taiwan, and the remarkable determination, stamina, and endurance of everyone involved in the race. This is a film you'll be happy to watch from the warmth and safety of a cozy chair. Here's the trailer:
Misguided political correctness about the environment gets its comeuppance in a climate warming farce starring Rhys Thomas as Brian Tongue (who doesn't learn his girlfriend is four months pregnant until he's halfway to the North Pole) and Stephen Mangan as Mark Bark Jones (whose politically correct bark is actually as bad as his bite). This hilarious mockumentary is laced with the kind of humor that made Little Britain famous. Beyond The Pole is also, without doubt, the first film about the perils of the Arctic ever to include a debate about the inherent value of a man's foreskin for added protection against subfreezing temperatures.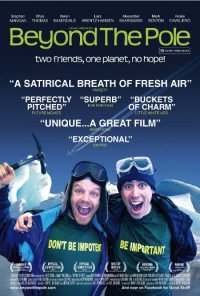 Brian and Mark are hoping to make the Guinness Book of World Records for being the first carbon neutral, vegetarian, and organic expedition ever to attempt the North Pole without a commercial sponsor. Wearing T-shirts that say "Don't Be Impotent" on one side and "Be Important" on the other, they have no experience, no planning, and no intellectual grasp of what they are attempting to achieve. What they really want is to make an important statement and become famous.
Without any knowledge about how to deal with polar bears in the wild (or unexpected competition from two gay Norwegian hikers who are not just carbon neutral, vegetarian, organic, and unsponsored, but a whole lot faster on their feet than the British duo), Brian and Mark start their training by dragging tires across meadows and trying to acclimate themselves to the cold in a meat locker (despite their claim to be strict vegetarians).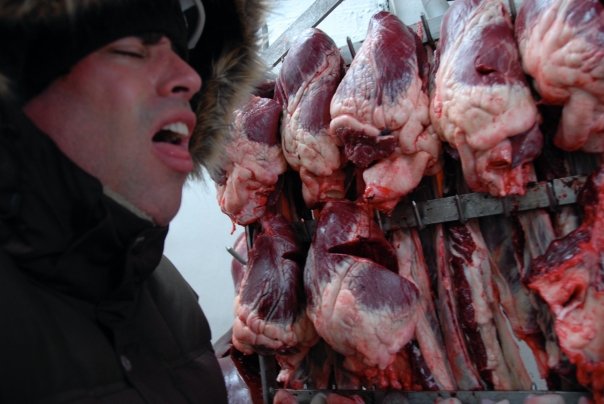 Stephen Mangan as vegetarian Mark Bark Jones
Whether one watches Brian trying to initiate phone sex with his girlfriend back home or Mark trying to wipe Brian's shit off his snowy boots, Thomas and Mangan are brutally funny as the two idiots at the center of the film. As a Norwegian gay couple who bring wet suits for the water segments of their trek -- but whose relationship breaks up midway through their hike to the North Pole -- Alexander Skarsgård (Terje) and Lars Arentz-Hansen (Ketil) milk more farce out of the simple act of offering Brian a biscuit than one could ever imagine.
With beautiful cinematography by Stuart Biddlecombe and a ridiculously silly script by David L. Williams and Neil Warhurst, Beyond The Pole brings a delicious touch of British snark to the frozen reaches near the top of the planet. Even though the screenplay covers a period of nearly 75 days on the ice (with no supplies and not a whole lot of brains to help these two fools), the inevitable tragedy that befalls the British expedition is nevertheless milked for as much comic effect as possible under the keen directorial guidance of Williams.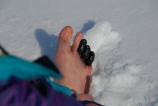 Strong support comes from Mark Benton as Graham (Brian's best friend who develops the hots for Brian's girlfriend), Rosie Cavaliero as Sandra (who didn't want to tell Brian she was pregnant because it might distract him from his goals), and Helen Baxendale as Becky (Mark's girlfriend who dumps him and heads off to the French Riviera).
Beyond The Pole should be seen by anyone who takes their favorite causes a bit too seriously. Here's the trailer:
SUBSCRIBE TO & FOLLOW ENTERTAINMENT
HuffPost Entertainment is your one-stop shop for celebrity news, hilarious late-night bits, industry and awards coverage and more — sent right to your inbox six days a week. Learn more