In the brief period when I lived in Providence, Rhode Island, I was able to catch performances of several shows during their pre-Broadway Boston tryouts. Among the ones that were obviously in trouble were:
Her First Roman (an adaptation of George Bernard Shaw's Caesar and Cleopatra starring Richard Kiley and Leslie Uggams).
Dear World (Jerry Herman's adaptation of Jean Giradoux's The Madwoman of Chaillot starring Angela Lansbury).
Georgy (based on the film Georgy Girl).
The Gingerbread Lady (Neil Simon's dramedy starring Maureen Stapleton as a recovering alcoholic).
Prettybelle, a Bob Merrill/Jule Styne musical starring Angela Lansbury as a schizophrenic alcoholic nymphomaniac Southern belle in a Louisiana mental ward who, as therapy, is writing a memoir entitled "Rape and Resurrection" (the production closed in Boston).
None of those shows went on to develop the cult status and rabid following of Stephen Sondheim's Follies, which I first saw at Boston's Colonial Theatre in March of 1971. As I drove home following the performance (this was when Yvonne de Carlo was still singing "Can That Boy Foxtrot!") I wondered where Sondheim had dug up all those wonderful old songs. As I crossed over the state border into Rhode Island I realized those songs were not "found" -- they were incredibly fresh and new!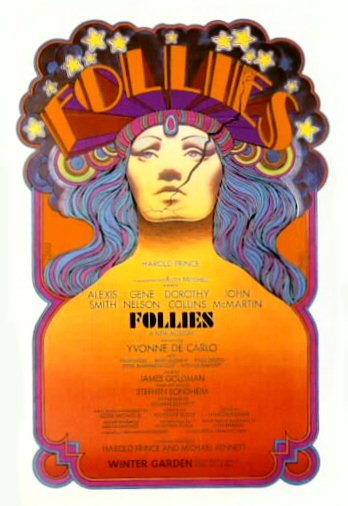 Poster art from the original 1971 production of
Follies
Harold Prince (who directed the original production) used to point to this photograph from Life Magazine of film star Gloria Swanson -- seen standing amid the ruins of New York's Roxy Cinema as it was being torn down to make way for an office building -- as the inspiration for Follies.: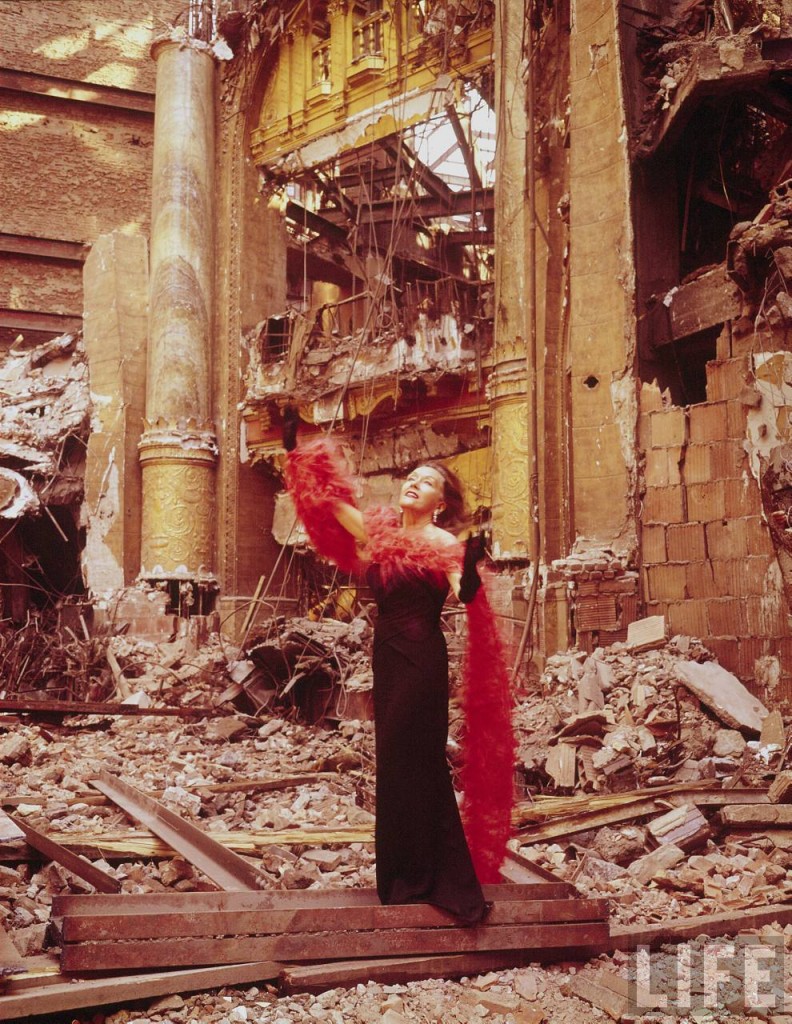 (Photo by: Eliot Elisofon)
Follies takes place on the stage of a doomed Broadway theatre that has been scheduled for demolition. Between World War I and World War II, Dmitri Weissmann (a Florenz Ziegfeld type of showman) staged a series of musical revues which featured gorgeous chorus girls decked out in magnificent costumes.
As the guests arrive for a final reunion in which Weissmann invites them to sing a few songs and tell a few lies about themselves, the ghosts of previous Weissmann girls can be seen haunting the theatre. As the partygoers continue to drink, the past merges with the present in "Who's That Woman" (often referred to as "The Mirror Number").
The show's final sequence, "Loveland," starts with the promise that "You're Gonna Love Tomorrow" but ends up as a brilliantly conceived fantasy psychoanalysis session in which the four leads act out their inner conflicts in old-fashioned Follies-style production numbers. As the party winds down, the disillusioned Sally vows to pick up the pieces of her marriage, insisting that she and Buddy can start all over again tomorrow.
She then gasps, "Oh my God, it is tomorrow!"
From the 1970s to 1990s, film versions of hit Broadway musicals fell out of favor in Hollywood. However, during the past decade, there has been a renewed interest in bringing Broadway musicals to a wider public:.
In 2001, a made-for-television movie was made of South Pacific starring Glenn Close and Harry Connick, Jr.
In 2002, the film version of Chicago finally made it to the silver screen with Renée Zellweger and Catherine Zeta-Jones in the roles created by Gwen Verdon and Chita Rivera.
In 2003, a made-for-television movie of The Music Man starred Matthew Broderick and Kristen Chenowith.
In 2004, Andrew Lloyd Webber's long-running hit, The Phantom of the Opera, was released with Gerard Butler and Emmy Rossum in the lead roles.
In 2005, the film versions of The Producers and Rent were released.
In 2006, exactly 25 years after its Broadway premiere, Dreamgirls finally made it to the screen. On June 15, 2006, viewers across the nation were treated to a Live from Lincoln Center telecast of The Light in the Piazza.
2007 witnessed the release of two major musicals: Hairspray and Sweeney Todd: The Demon Barber of Fleet Street (with Johnny Depp in the title role).
In 2008, Meryl Streep generated box office gold with the release of Mamma Mia!
In 2009, Maury Yeston's Nine did wonders to broaden and revitalize the original stage version.
On August 18, 2010, viewers across the nation were treated to a Live from Lincoln Center telecast of South Pacific.
According to IMDB, 2012 promises a new version of My Fair Lady with Carey Mulligan as Eliza Doolitte, a remake of Damn Yankees produced by Craig Zadan and Neil Meron, and Aaron Sorkin's eagerly-awaited treatment of Follies.
A remake of South Pacific is currently planned for 2013.
When the Kennedy Center announced that it will present a 40th anniversary production of Follies from May 7 to June 5, 2011 in its Eisenhower Theatre (with a cast headed by Bernadette Peters and Kim Cattrall), it seemed as if the stars might be aligning to create an exceptionally rare opportunity. Keep in mind that:
The original production of Follies opened at Broadway's Winter Garden Theatre on April 14, 1971. Since then, the show has taken on landmark status as an important piece of musical theatre.
The Kennedy Center opened on September 8, 1971 and has since become an important part of the nation's arts scene. Like Follies, the Kennedy Center will celebrate its 40th anniversary in 2011.
This year has seen numerous celebrations of Stephen Sondheim's 80th birthday.
Rocco Landesman (a powerful Broadway producer and part owner of Jujamcyn Theatres) is now Chairman of the National Endowment for the Arts.
As the President of the Kennedy Center, Michael Kaiser (who frequently blogs on The Huffington Post) oversees a huge fundraising machine.
Numerous events (including the Kennedy Center Honors) have been recorded and subsequently televised over the Public Broadcasting System.
Although the female leads have been set for the 2011 production of Follies, this is one show that you can pack with major stars in supporting roles the same way you would cast an Agatha Christie whodunit (Murder on the Orient Express, Death on the Nile) or a disaster film like The Poseidon Adventure. Indeed, several Kennedy Center honorees might be persuaded to join the cast!
While many have expressed hope that the Kennedy Center's production of Follies might transfer to Broadway, I'd like to suggest a different approach to exposing as many people as possible to this wonderful piece of American art. Why not include Follies in the 2011 schedule of "Great Performances" to be telecast over the PBS network? I'm sure that DVD sales of the telecast would be a popular item during subsequent pledge drives. If viewed through the lens of the Recovery Act, this is a "shovel ready" arts project.
Exactly 25 years ago, on September 6 and 7, 1985, the New York Philharmonic presented a concert version of Follies with an all-star cast headed by Barbara Cook, Lee Remick, Mandy Patinkin, George Hearn, Carol Burnett, Elaine Stritch, and soprano Licia Albanese. "Follies in Concert" was subsequently televised over PBS and sold well as a DVD set.
The cast for the 1998 Paper Mill Playhouse production (which included Ann Miller, Donna McKechnie, Tony Roberts, Kaye Ballard, and Liliane Montevecchi) recorded a two-disc version of the entire score. Here's a clip of the 75-year-old Ann Miller in her last stage appearance singing "I'm Still Here."
Theodore S. Chapin's book, "Everything Was Possible: The Birth of the Musical Follies," has become a must-have item for fans of musical theater. Imagine a Great Performances telecast of Follies with the following cast:
Sally Durant Plummer: Bernadette Peters.
Phyllis Rogers Stone: Kim Cattrall.
Benjamin Stone: Kevin Kline or David Hyde-Pierce.
Buddy Plummer: Nathan Lane (who starred in the Broadway revival of Sondheim's A Funny Thing Happened on the Way To The Forum).
Hattie Walker: Angela Lansbury or Chita Rivera (both Kennedy Center honorees).
Heidi Schiller: Renata Scotto.
Solange LaFitte: Liza Minnelli.
Carlotta Campion: Bette Midler or Debbie Reynolds
Stella Deems: Tyne Daly.
Roscoe: Mandy Patinkin (who co-starred with Bernadette Peters in the original cast of Sondheim's Sunday in the Park With George).
Emily Whitman: Carol Burnett (a Kennedy Center honoree who also appeared on Broadway in a Sondheim revue entitled Putting It Together ).
Theodore Whitman: Tim Conway (Burnett's much-beloved colleague from her popular television variety show).
Dmitri Weissmann: Fyvush Finkel.
For a special thrill, this link and the following two video clips contain about 30 minutes of rehearsal footage from the original 1971 production.
Most people in the opera world agree that productions televised as part of the Live From Lincoln Center, Live From The Met, and Great Performances series have increased the national audience's thirst for opera. People who saw a particular opera on television (or DVD) were often motivated to experience that same opera in a live performance.

At this point, one should not merely think of Follies as a "movie in development." It is a remarkable piece of art that has essentially been written of the musical theatre, by the musical theatre, and for the musical theatre. As a major work created by one of America's greatest living composers -- and a cornerstone of the cultural impact of the American musical theatre -- an unexpected opportunity to televise a live performance of Sondheim's iconic musical from the Kennedy Center takes on "the fierce urgency of now."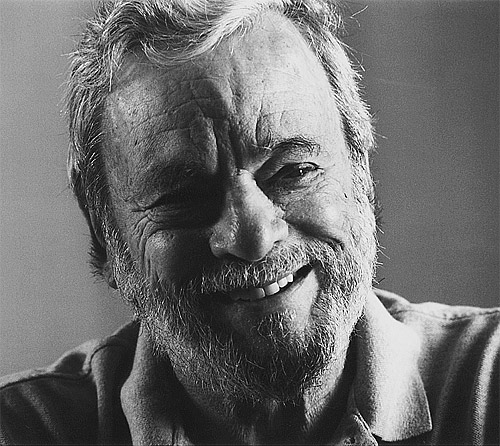 Composer Stephen Sondheim (Photo courtesy of Stephen Sondheim)

To read more of George Heymont go to My Cultural Landscape
FOLLOW HUFFPOST