In May of 1988 I took a red-eye from Houston to London, where I planned to attend several performances before heading south to the Brighton Festival. After arriving at my hotel, showering, and taking a brief nap, I headed over to the Coliseum where the English National Opera was presenting George Frideric Handel's 1738 opera, Xerxes, in a new production directed by Nicholas Hytner and conducted by Sir Charles Mackerras.
With a cast headed by mezzo-soprano Ann Murray, soprano Valerie Masterson, and countertenor Christopher Robson (as well as a chorus dressed to look like the denizens of the darkly comic world created by Charles Addams), this staging of Xerxes took me completely by surprise. I sorely regretted not having time to go back and catch another performance.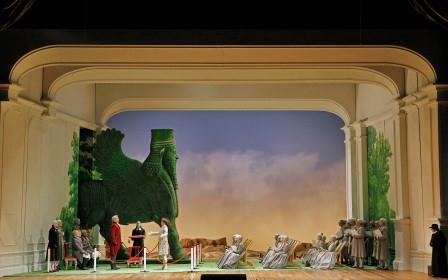 David Fielding's set for Act I of Xerxes (Photo by: Cory Weaver)
I left London desperately hoping that some American opera company would import Hytner's brilliant production. Nearly two decades later, the Houston Grand Opera did just that, staging Xerxes with David Fielding's delightful set and costumes and a cast headed by Susan Graham as the King of Persia and countertenor David Daniels as his brother, Arsamanes.
Earlier this month (nearly a quarter century after my trip to London), I had a chance to once again enjoy this splendid production as I watched a performance of Xerxes unfold on the stage of the War Memorial Opera House. With Patrick Summers on the podium, the San Francisco Opera's company premiere of Xerxes included several instruments rarely heard in operatic ensembles: the arch lute, baroque guitar, and theorbo (a long-necked lute sometimes referred to as a chitarrone).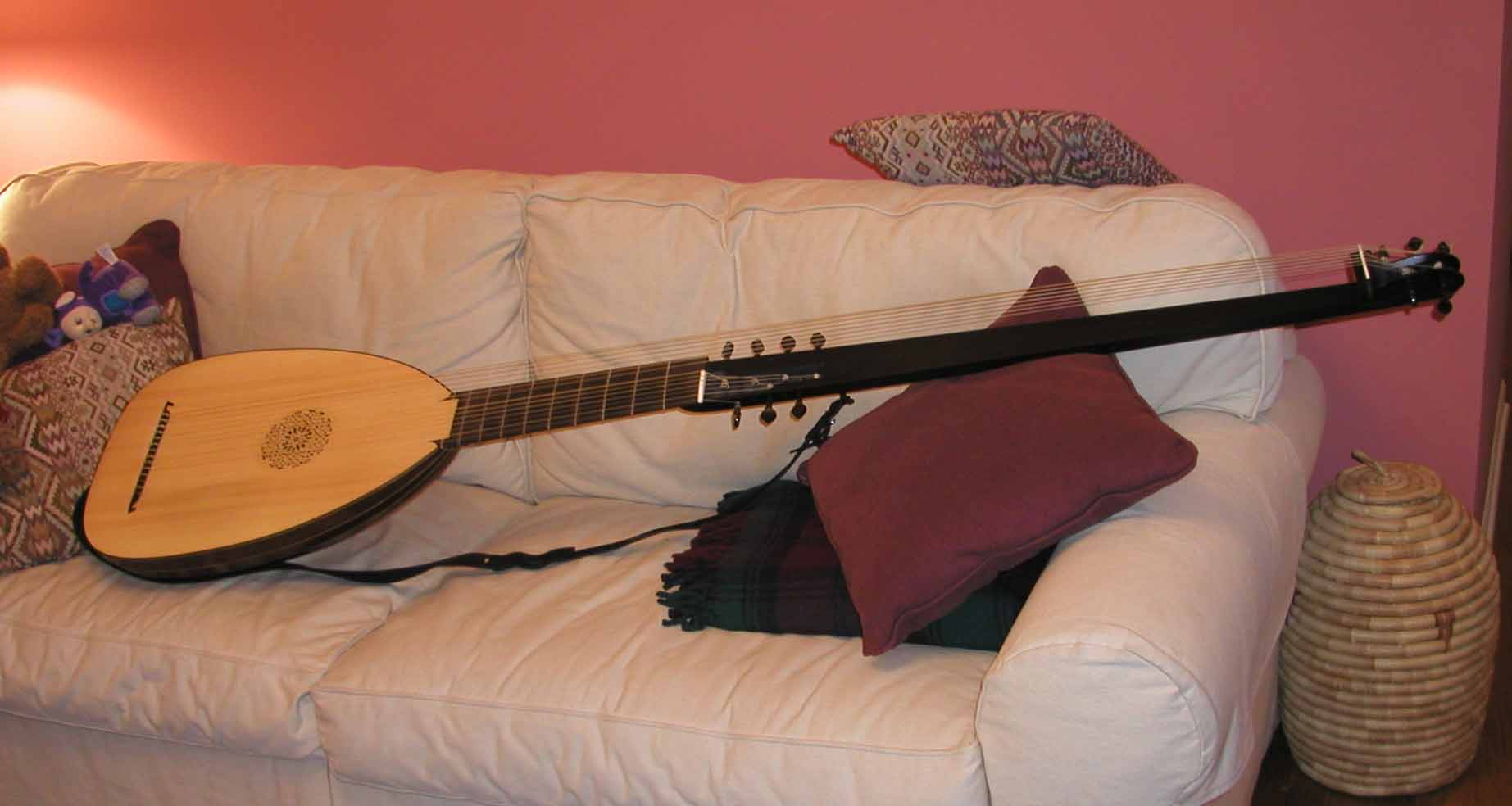 A theorbo (also known as a chitarrone)
Photo courtesy of Wikipedia
While the addition of Supertitles increased the joy I felt as I wallowed in the musical pleasures of Handel's opera, the great appeal of this staging is the way it has been set in London's Vauxhall Gardens (at a time when the English were starting to acquire treasures from foreign lands). In his director's note, Michael Walling wrote:
"With Handel's music running through my head this morning, I went for a walk in Golden Gate Park. And here, in the city where we are recreating the opera, was another Vauxhall. Here were the neo-classical pavilions and follies; here were the shrines of art, with busts of writers and composers appearing through the trees; here were the museums and galleries, the coffee houses and the concerts. Here were botanical specimens from overseas put on display for education and delight; here was the fascination with an exoticized and economically colonized Asia. Perhaps contemporary San Francisco is closer to Handel's London than it may at first appear."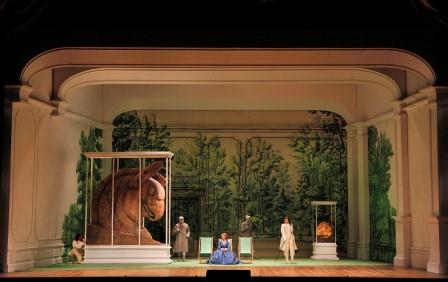 A scene from Act II of Xerxes (Photo by: Cory Weaver)
"Handel, I am sure, would have recognized the city's famous queer culture. Although there is no conclusive evidence that he was gay, it was very unusual for an 18th-century man to remain unmarried, and even more unusual for all his close friends to be other unmarried men. Certainly he took great delight in the gender-bending possibilities presented by the form of Baroque opera. The role of Xerxes was originally sung by the famous castrato Caffarelli, and Arsamenes by a female soprano, 'The Luchesina.' I suspect our reversal of the genders of the singers playing these royal brothers would not have perturbed him. Some of the most expressive music is reserved for the cross-dressed Amastris, whose tessitura is so low that in the final ensemble it is she who takes the tenor line. The conventions of gender are blurred. Identity, certainly, becomes brittle and impermanent. Like performance, it delights and then disappears."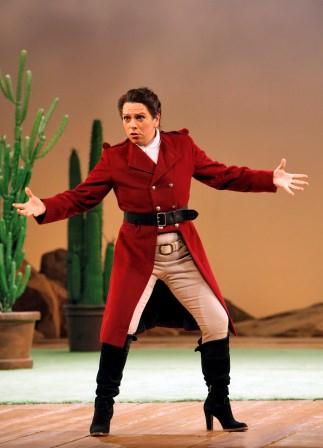 Sonia Prina as the cross-dressing Amastris (Photo by: Cory Weaver)
The plot of Xerxes involves a series of mistaken identities as two very competitive brothers vie for the love of the same woman while one conveniently forgets his betrothal to a foreign princess. With a mezzo-soprano dressed in drag as the King of Persia (modern day Iran) and a countertenor portraying his bearded brother, there is enough gender confusion onstage to leave Rick Santorum sputtering in a puddle of, well, Santorum.
Simultaneously, two soprano sisters (one sincere, the other a jealous schemer) are in love with one of the aforementioned brothers. Add in a suspicious newcomer (the King's fiancée who has arrived on the scene disguised as a soldier), a male servant to Arsamanes who shows up disguised as a maid, and you have the ingredients for a grand farce. But while mistaken identities and misinterpreted messages help to move the plot along, Handel's opera takes a surprisingly mature look at fidelity, jealousy, and betrayal.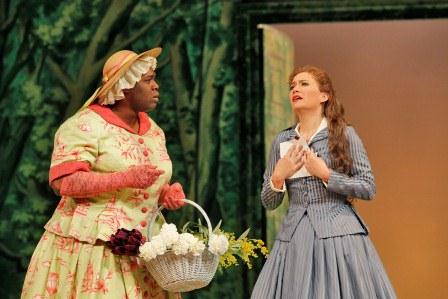 Michael Sumuel (Elviro) and Heidi Stober (Atalanta) in Xerxes
Photo by: Cory Weaver
Sharon Graham and David Daniels (who have each spent a great deal of their careers performing baroque music) were perfectly cast as the two royal brothers who fall for Romilda's charms. Each has a solid sense of style combined with the flexibility required for Handel's more feverish coloratura passages.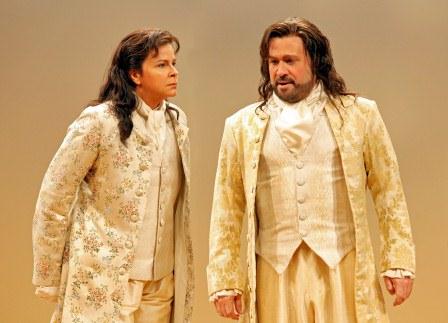 Susan Graham (Xerxes) and David Daniels (Arsamenes) in
Handel's Xerxes (Photo by: Cory Weaver)
While many look to Handel's operas for spectacular displays of florid singing, his scores also offer exceptional opportunities for young voices. Three members of the supporting cast are graduates of programs for young opera singers at leading American opera companies.
Michael Sumuel (Elviro) is a former participant in both the San Francisco Opera's Merola Opera Program as well as the Houston Grand Opera Studio. In Xerxes (as well as in Heart of a Soldier) he continues to impress as a performer who can shine in a wide variety of styles.
Lisette Oropesa (Romilda) has emerged from the Metropolitan Opera's Lindemann Artist Program with a delightful stage presence and solid vocal technique.
Heidi Stober (Atalanta), also a graduate of the Houston Grand Opera Studio, handled the role of Romilda's scheming sister with comic flare and some wondrous vocal moments.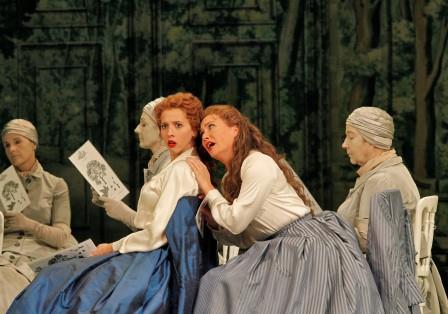 Lisette Oropesa (Romilda) and Heidi Stober (Atalanta) in Xerxes
Photo by: Cory Weaver
Rounding out the cast were an impassioned Sonia Prina (a vocal powerhouse as Amastris) and Wayne Tigges as the commander of Xerxes's army (and father to Romilda and Atalanta). To suggest that Prina's singing may have eclipsed the vocal fireworks of the other members of the ensemble is merely a testament to the embarrassment of riches in this production. Here's the trailer:
SUBSCRIBE TO & FOLLOW CULTURE SHIFT
Every Friday, HuffPost's Culture Shift newsletter helps you figure out which books you should read, art you should check out, movies you should watch and music should listen to. Learn more