As the audience enters the theater, they can see Mohammed Mashal painting a mural on a wall in Herat in 1996. At the very top of the wall are some famous figures (male and female) from Afghan culture. Suddenly, a shot rings out from the back of the auditorium and members of the Taliban storm the stage, grabbing the terrified artist. The long hard slog through the history of Afghanistan has begun.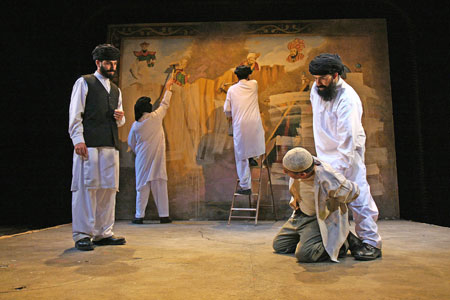 Danny Rahim, Vincent Ebrahim, and Nabil Elouahabi in Monologue.
(Photo by: John Haynes)
Conceived by Nicolas Kent, The Great Game: Afghanistan consists of 12 short plays that cover 150 years of Afghan history ("The Great Game" was a name devised by Rudyard Kipling to describe the struggle for control of Central Asia). Directed by Kent and Indhu Rubasingham, this theatrical marathon consists not only of the 12 short plays, but includes several sequences in which actors perform verbatim (edited by Richard Norton-Taylor) the words spoken by such contemporary figures as Hillary Clinton, Stanley McChrystal, and David Richards. At the performance I attended, there were even quotes as recent as September 26, 2010!
The Great Game: Afghanistan was first produced at London's Tricycle Theatre in 2009. An American tour has taken the company to Washington, D.C., Minneapolis, Berkeley , and finally to The Public Theatre in New York (December 1-19). The venture is a massive challenge for the ensemble of 14 actors (Daniel Betts, Sheena Bhattessa, Michael Cochrane, Karl Davies, Vincent Ebrahim, Nabil Elouahabi, Shereen Martineau, Tom McKay, Daniel Rabin, Danny Rahim, Raad Rawi, Jemma Redgrave, Cloudia Swann, and Rick Warden).
Bugles at the Gates of Jalalabad by Stephen Jeffreys focuses on four British buglers in January of 1842 as they watch for any survivors of the famous massacre of Elphinstone's army. When a distant speck turns into a man who has walked to Jalalabad, he turns out to be an Afghan native trying to discover what the British want. The soldiers wonder if they are merely following orders, spreading civilization, or enacting God's will. Meanwhile, another survivor of the massacre, Lady Florentia Sale, reads excerpts from her diary.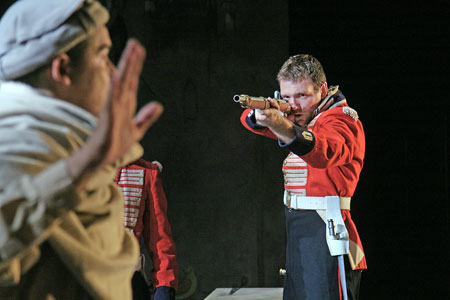 Tom McKay in Bugles at the Gates of Jalalabad.
(Photo by: John Haynes)
In Duologue by Siba Shakib, Mohammed Mashal (the artist painting the mural) is visited by the spirit of Malalai Anaa. A young Pashtun woman who was responsible for the July 27, 1880 victory against the British at the Battle of Maiwand, she reminds him of her importance to the Afghani people as a national folk hero.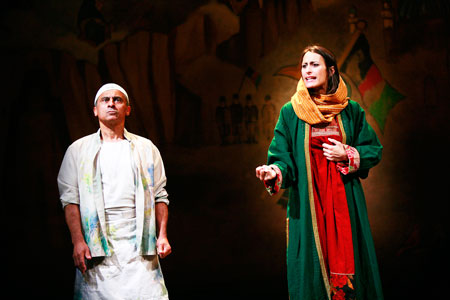 Vincent Ebrahim and Shereen Martineau in Duologue.
(Photo by: John Haynes)
In Durand's Line (by Ron Hutchinson), the Second Anglo-Afghan War (1878-1880) has ended. Set in a guest house in Kabul in 1893, Britain's Sir Mortimer Durand tries to convince the wily Amir Abdul Rahman to redraw the map of Afghanistan according to what would later became known as the Durand Line. A lesson in the philosophy of map making, however, shows Durand how it would be just as easy to carve up Great Britain with a few convenient strokes of a pencil and assume that, by doing so, mountains would disappear while the population effortlessly changed its identity and loyalty.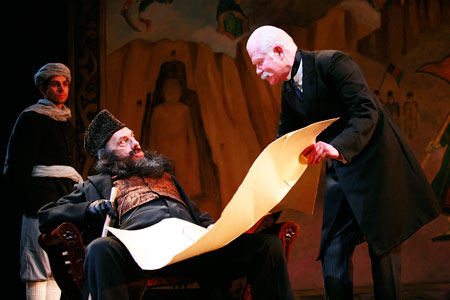 Danny Rahim, Raad Ravi, and Michael Cochrane in Durand's Line.
(Photo by: John Haynes)
In one of the verbatim sequences, General Stanley McChrystal, Matt Waldman (the former Director of Oxfam in Afghanistan), and one of McChrystal's senior staff discuss the war situation with a journalist named William Dalrymple.
The scene then shifts to 2010. In Campaign (by Amit Gupta), James Kite (a British bureaucrat) is trying to find an exit strategy from Afghanistan. In an effort to gain some insight from the history of Mahmud Tarzi (who negotiated the British withdrawal from Afghanistan), he has had Professor Tariq Khan brought to his office under the pretense of a meeting with a Minister whose surname is Hawke. The professor finds himself caught in a carefully choreographed battle of wits with Kite, whose behavior resembles a bird of prey.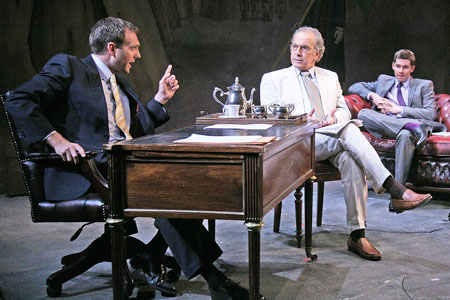 Tom McKay, Raad Rawi, and Karl Davies in Campaign.
(Photo by: John Haynes)
In Joy Wilkinson's play, Now Is The Time, a luxury car has broken down in the snow in 1929. The car, however, is much less interesting than its passengers. They are:
Soraya Tarzi, the Queen of Afghanistan who is the only woman whose name appears on the list of the nation's rulers.
Soraya's father, Mahmud Tarzi (Afghanistan's former prime minister).
Soraya's husband, Amanullah Khan (Afghanistan's King from 1919-1929).
As they flee Kabul, Soraya begins to realize that her husband has bargained away all the freedoms she helped to obtain for Afghanistan's women in his desperate attempt to remain King.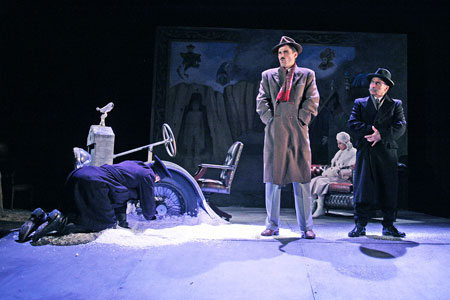 Daniel Rabin, Shereen Martineau, and Vincent Ebrahim in Now Is the Time.
(Photo by: John Haynes)
David Edgar's Black Tulips moves backward in time from 1987 to 1981 as the audience witnesses Russian soldiers being briefed on their weapons and what they can expect to encounter during the Soviet War in Afghanistan. With each step backwards in time, the outlook for the war becomes more and more idealistic.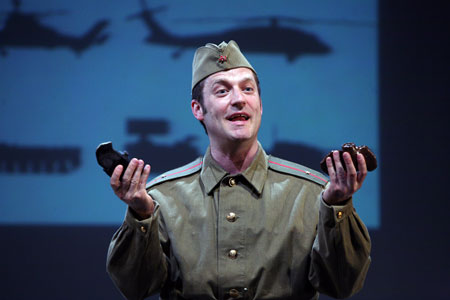 Rick Warden in Black Tulips. (Photo by: John Haynes)
In another one of Siba Shakib's monologues, the ancient Queen Gohar Shahd (the daughter-in-law of Tamerlane/Timur) describes her own vision of a world in which women are nurtured and protected.
Lee Blessing's Wood For The Fire depicts two CIA operatives (male and female) who are trying to cope with Pakistan's General Akhtar (the director of his country's Inter Services Intelligence) and his preoccupation with perceived threats from India.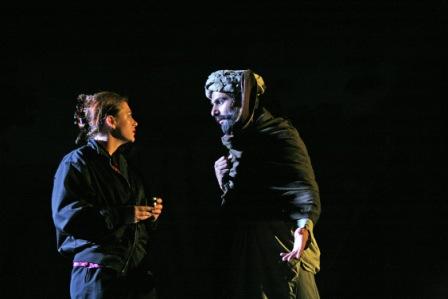 Cloudia Swann and Danny Rahim in Wood For the Fire.
(Photo by: John Haymes)
One of the most fanciful plays is by David Greig. Entitled Miniskirts of Kabul, it takes place in 1992 as a female Western journalist uses her imagination to conjure up a meeting with President Mohammad Najibullah in his secure space in the United Nations compound. While, at first, she is curious to learn if women were wearing miniskirts in Kabul at the end of the Soviet War in Afghanistan, she continues to probe deeper, asking Najibullah to explain how he could have tortured so many of his own countrymen.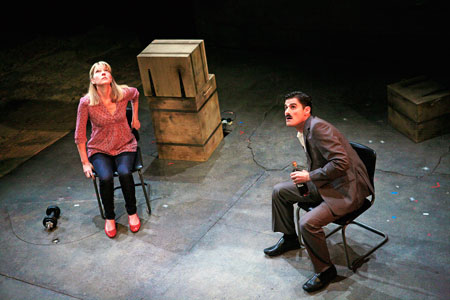 Jemma Redgrave and Daniel Rabin in Miniskirts of Kabul.
(Photo by: John Haynes)
In The Lion of Kabul, Colin Teevan describes the death of two United Nations charity workers who were trying to distribute food when they were murdered for supposedly having "disrespected" some Afghan women. Their boss, Rabia (a woman) has been invited to meet with the Taliban at the Kabul Zoo. She arrives accompanied by her co-worker, Ismael, who is forced to choose between continuing to work for the NGO or continuing to live.
To Rabia's horror, she is informed that she cannot reclaim the bodies of her dead colleagues because they are no longer "available" (one of the men had been castrated and then had his arms and legs tied to two wagons which were then pulled in opposite directions until he came apart). Their body parts were subsequently fed to Marjan, the one-eyed lion in the Kabul Zoo.
Having captured the killers, a Taliban leader is now asking Rabia to decide whether the men who killed her coworkers should also be fed to the hungry Marjan. The Lion of Kabul offers plenty of food for thought.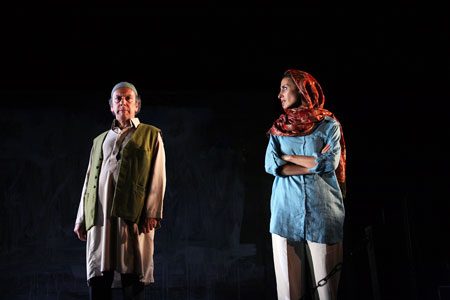 Raad Rawi and Shereen Martineau in The Lion of Kabul.
(Photo by: John Haynes)
Ben Ockrent's Honey spans the five years from 1996 until 2001, as a CIA operative tries to convince Ahmad Shah Massoud (whose assassination on September 9, 2001 is presumed to have been carried out by agents of Al-Qaeda) to help American forces resume their military intervention in Afghanistan.

Daniel Rabin and Michael Cochrane in Honey.
(Photo by: John Haynes)
The Night is Darkest Before the Dawn (by Abi Morgan) tells the poignant story of a widow (whose husband taught school to Afghan children) who tries to reopen his school in the wake of 9/11 and the American intervention in Afghanistan. Set in the countryside outside of Kandahar in April of 2002, it stresses the value of an education to provide a way out of the horrors of life in Afghanistan.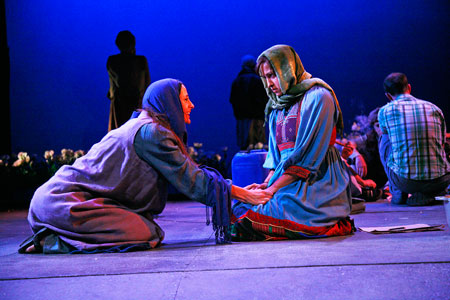 Shereen Martineau and Sheena Bhattessa in
The Night is Darkest Before The Dawn. (Photo by: John Haynes)
On The Side of the Angels (by Richard Bean) offers a combination of comic relief and political tragedy as a British aid worker gets caught up in a struggle over the rights of women in Afghanistan. Desperately trying to negotiate a deal which will help women continue to farm without impacting a hostile warlord's use of irrigation equipment, she ends up condemning two very young girls to marriages with old men.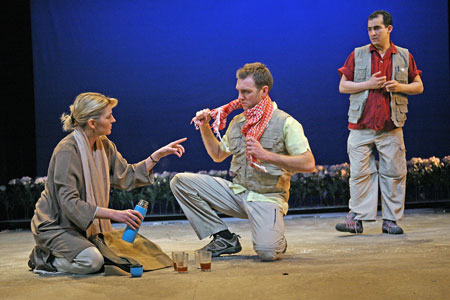 Jemma Redgrave, Tom McKay, and Nabil Elouahabi in
On The Side of the Angels. (Photo by: John Haynes)
The Great Game: Afghanistan concludes with Canopy of Stars by Simon Stephens. This last play begins with two British soldiers who are guarding the Kajaki Dam in the Helmand province of Afghanistan. When one returns home to Great Britain, he remains sullen and withdrawn as his wife confronts him about his behavior and the effect it has had on their family.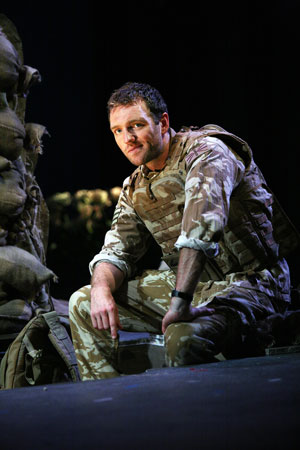 Tom McKay in Canopy of Stars.
(Photo by: John Haynes)

Released in June of 1970, Edwin Starr's version of "War" became a hit record as a strong protest against the Vietnam War. How ironic is it that, following the 9/11 attacks, Clear Channel placed the song on a list of inappropriate titles to be played on the radio? The Great Game Afghanistan arrives in New York this week with uncanny timeliness.
The recent release of diplomatic documents by Wikileaks shows that, in 2009, the former Vice President of Afghanistan (Ahmed Zia Massoud) was able to whisk $52 million in cash out of his country and into the United Arab Emirates without any problem.
If you think that America's involvement in Afghanistan is old news, focus on this tidbit from the Associated Press:
"On Friday [November 26, 2010], the U.S.-led coalition will have been fighting in this South Asian country for as long as the Soviets did in their humbling attempt to build up a socialist state. The two invasions had different goals -- and dramatically different body counts -- but whether they have significantly different outcomes remains to be seen."
Long ago, Ed Sullivan liked to boast that he had "a really big show for you people tonight." While The Great Game: Afghanistan easily fits that description, it is not the only marathon theatrical experience on record:
Richard Wagner's famed tetralogy, Der Ring des Nibelungen, consists of four operas (Das Rheingold, Die Walkure, Siegfried, and Gotterdammerung) spread over 19 hours of music.
Based on the Charles Dickens novel, The Life and Adventures of Nicholas Nickleby is an eight-hour epic performed in two parts (a huge hit in London in 1980, the production was brought to Broadway in 1981 for a limited run).
In 1989, the Long Beach Opera staged a "Figaro" trilogy consisting of Gioachino Rossini's comic opera, The Barber of Seville, Mozart's classic, The Marriage of Figaro, and The Guilty Mother (the play by Pierre Beaumarchais in which, 20 years after their marriage, Figaro and Susanna must help the Count and Countess -- who have each had an illegitimate child -- deal with the fact that Léon and Florestine are in love).
Alan Ayckbourn's trilogy, The Norman Conquests, consists of three plays (Table Manners, Living Together, and Round and Round the Garden) which take place simultaneously in the same house. They can be seen separately or in an all-day marathon.
This fall, three San Francisco Bay area theatre companies worked together to produce the Tarell Alvin McCraney trilogy of Brother/Sister Plays (Marin Theatre Company produced In The Red and Brown Water, Magic Theatre staged The Brothers Size, and A.C.T. staged Marcus, Or the Secret of Sweet.)
While the Ring Cycle, Nicholas Nickleby, the Figaro trilogy, and The Brother/Sister Plays follow a complex plot that makes it preferable to view each segment in a particular order, that logic does not apply to either The Norman Conquests or The Great Game: Afghanistan. In fact, I would not recommend seeing all three plays in one day simply for the sake of participating in a marathon event.
When I saw The Great Game: Afghanistan during a full-day marathon on October 22 at the Berkeley Rep's Roda Theatre, there was so much information and history to digest that, at times, it felt as if I was sitting through a lecture series that would never end. Indeed, there are too many moments when a member of the audience can feel as if he is being instructed to eat his vegetables because "they're good for you."
There is much dramatic gold to be found in this collection of short plays (I was most impressed by the performances of Jemma Redgrave, Tom McKay, Daniel Rabin, Shereen Martineau, Vincent Ebrahim, Danny Rahim, Nabil Elouahabi, and Michael Cochrane). However, if 150 years of Afghanistan's history proves anything, it is that this miserable area of the world is a black hole that baffles armies, swallows invaders, and eats its young. No one wins. Everyone loses. That's not to say that too much of a good thing can't be wonderful. Sometimes it's simply too much.
SUBSCRIBE TO & FOLLOW CULTURE SHIFT
Every Friday, HuffPost's Culture Shift newsletter helps you figure out which books you should read, art you should check out, movies you should watch and music should listen to. Learn more