Long before the Internet and the age of globalization, composers and lyricists were tempted by the challenge to create the sounds of a foreign culture. Some succeeded better than others.
Gilbert and Sullivan tried to create some Japanese sounds and syllables for The Mikado (1885).
Giacomo Puccini's score for La Fanciulla del West (1910) tried to capture the spirit of the California Gold Rush (at one point the opera's libretto refers to "Mister Johnson della Sacramento").
Puccini's score for Turandot (1926) tried to evoke the sounds of ancient Peking.
Rodgers and Hammerstein tried to create a soundscape for Bangkok in The King and I (1951).
In 1976, Stephen Sondheim used the pentatonic scale to create his score for Pacific Overtures.
Japanese composer Minoru Miki combined Japanese and Western instruments in his scoring for Ada, An Actor's Revenge (1979). Working with stage director/lyricist Colin Graham at the Opera Theatre of St. Louis, Miki presented the world premiere of Joruri in 1985.
No one raised any questions about authenticity or political correctness when Alan Jay Lerner and Frederick Loewe wrote songs for the Scottish setting of Brigadoon (1947), the London locales used in My Fair Lady (1956) or the Parisian sentimentality captured in Gigi (1958).
What may succeed when jumping from one culture (and its dominant musical idiom) to another usually works best over a period of several decades or centuries. A shining example of how to create a sound for a historic period that does not rely on using musical remnants from a previous era is currently on display in Palo Alto.
When most theatregoers hear the words Three Sisters, they automatically think of Anton Chekhov's 1901 drama. Few think of the fiercely talented Simon sisters (whose father was the co-founder of the popular American publishing house, Simon & Schuster).
I remember seeing the oldest sister, Johanna Simon, in March 1968 when she appeared as the courtesan, Pantilesia, at the New York City Opera. Riding high on the success of 1966's American premiere of Don Rodrigo (in which a young tenor named Placido Domingo made an impressive American debut), City Opera presented Alberto Ginastera's controversial 12-tone opera, Bomarzo less than a year after its world premiere at the Opera Society of Washington.
Carly Simon became a famous singer/songwriter ("You're So Vain") who received an Academy Award for Best Original Song, a Golden Globe Award for Best Original Song, three Grammy Awards and, in 1994, was inducted into the Songwriters Hall of Fame.
Lucy Simon became a composer of musical theatre works (1983's A...My Name is Alice, 1991's The Secret Garden, and 2006's musical adaptation of Dr. Zhivago ).
With book and lyrics by Marsha Norman, The Secret Garden is a musical adaptation of the 1911 novel by Frances Hodgson Burnett. Currently being revived by Theatreworks, it has been lovingly directed by Robert Kelley in an elegant production designed by Joe Ragey.
Although the action begins in Colonial India in 1906, it shifts to England soon after the orphaned Mary Lennox (Angelina Wahler) is discovered to be the only person in her home who has survived a local cholera epidemic. Upon her arrival in Great Britain, she is met by Mrs. Medlock (Leanne Borghesi), the humorless housekeeper for Mary's depressed uncle Archibald Craven (Joe Cassidy), who is still mourning the death of his beautiful wife, Lily (Patricia Noonan).
Expecting to be pampered in England as she was by her family's servants in India, Mary gets a rude awakening when she discovers that her uncle is so deeply depressed that he can barely communicate with her. Left alone in the rambling hallways of Misselthwaite Manor in North Yorkshire, she is befriended by a maid named Martha (Courtney Stokes) and Martha's brother, Dickon (Alex Brightman), a talented young man who has a unique ability to communicate with plants and animals.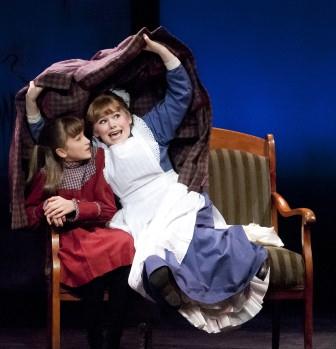 Angelina Wahler (Mary Lennox) and Courtney Stokes (Martha)
in The Secret Garden (Photo by: Mark Kitaoka)
After discovering the presence of the sickly young Colin (whose parents were Archibald and Lily Craven), Mary also finds the key to Lily's "secret garden." How Colin regains his health, Mary gains the love of her uncle, and Archibald breaks through his depression is a tale told with ghosts, magic, seeds, and drenched in the lush orchestrations of Lucy Simon's score.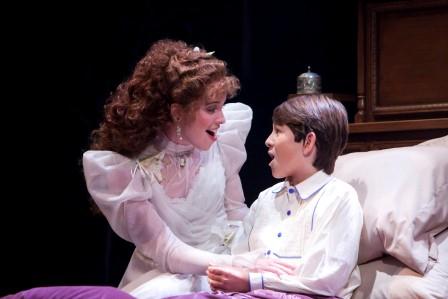 Patricia Noonan (Lily Craven) and Andrew Apy (Colin Craven)
in The Secret Garden (Photo by: Tracy Martin)
Thanks to William Liberatore's solid musical direction, Simon's music has a delicious, semi-operatic appeal. Although the cast is uniformly strong, Patricia Noonan's sweet lyric soprano and Alex Brightman's charismatic performance stand out above the rest.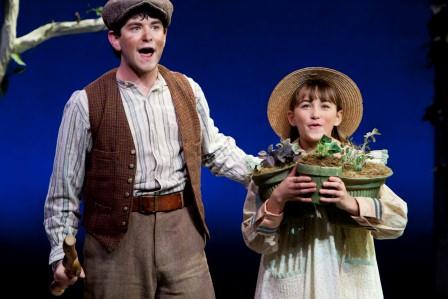 Alex Brightman (Dickon) and Angelina Wahler (Mary Lennox)
in The Secret Garden (Photo by: Tracy Martin)
Much of the show's visual appeal comes from the combination of Ragey's fluid sets and Pamila Z. Gray's lighting. As Ragey explains:
"I wanted to make it more elusive, transparent. I wanted to make it lighter and airy -- it's about memory and spirits, the music and actors bring that to the forefront -- so I went in a different direction with the sets. Silk is transparent. It's almost a scrim-like kind of material, but it's much more beautiful than standard scrim. You can see actors moving around behind it. They are seen in a translucent sort of fashion."
The result is an extremely rich visual experience for the audience that helps to frame The Secret Garden's many moments of mystery, magic, and revelation with a cross between gossamer and a headstrong child's gutsiness.
Performances of The Secret Garden continue at the Lucie Stern Theatre in Palo Alto through December 31. If the crassness of the current social, political, and economic climate has you down in the dumps, I can't recommend a lovelier, more charming, experience. This Theatreworks production is a superbly satisfying evening of music theatre.

Noel Anthony (Neville Craven) and Joe Cassidy (Archibald
Craven) stand before a portrait of the late Lucy Craven in
The Secret Garden (Photo by: Tracy Martin)
To read more of George Heymont go to My Cultural Landscape
SUBSCRIBE TO & FOLLOW CULTURE SHIFT
Level up. Read THIS and be the most interesting person at your dinner party. Learn more