Many children go to bed on Christmas Eve dreaming that Santa Claus will come down their chimney (even if they live in an apartment building) and leave presents for them under the family's Christmas tree. As most adults know, that just isn't how things work.
Over the years, audiences have watched plenty of movies in which the Christmas holiday takes a beating. From Home Alone and How the Grinch Stole Christmas to The Nightmare Before Christmas and Bad Santa, Christmas cheer seems much easier to imagine than achieve.

My own favorite Christmas story took place 40 years ago in Rhode Island. Earl Doyle used to run the movie house in Wakefield. One day, he asked me if I would be willing to get dressed up as Santa Claus for a Sunday children's matinee on Christmas Day. At the time it sounded like great fun.
I remember driving down from Providence dressed in a Santa suit, hoping that some highway patrolman would pull me over. But as I headed north on I-95 that evening, I realized that nature was calling. The closest place I could imagine that would have an available public restroom was the Greyhound bus terminal in downtown Providence.
I made it to the men's room with seconds to spare, only to be followed a few moments later by a drunk who swayed back and forth in front of a urinal as he tried to relieve himself. I'm sure the last thing he expected was to find Santa Claus at the next urinal saying "Ho! Ho! Ho! Have you been a good little boy this year?"
For many dysfunctional families, the holiday season is filled with unreasonable expectations. Consider the following clips as evidence:
Tennessee Williams never shied away from controversial topics. A dropped condom provides a powerful plot point in 1951's The Rose Tattoo, just as Brick's alcoholism and latent homosexuality haunt 1955's Cat on a Hot Tin Roof. Cannibalism and a threatened lobotomy lie at the core of 1958's Suddenly, Last Summer while accusations of statutory rape against a former priest and some Nazi anthems sung by a group of German tourists add spark to 1961's The Night of the Iguana.
As a playwright, Williams demonstrated a peculiar talent for exploiting mental illness and alluding to a once-safe concept of the world that was evaporating from the lives of his characters. In 1960's Period of Adjustment, he came up with two doozies.
Long before post-traumatic stress disorder was identified and diagnosed by the medical community, one of his two Korean War veterans suffers relentlessly from "the shakes." The other lives in a recently built suburban home that keeps suffering noisy, earthquake-like tremors.
The shakiness of the foundation to the Bates house is reflected in the shakiness of the couple's marriage (anyone for symbolism?). Dorothea (Maggie Mason), a homely young woman from a rich family, married Ralph Bates (Johnny Moreno) knowing full well that she was the lure for him to gain access to her father's money.
If things seem rotten in the state of Denmark, Christmas Eve in High Point, North Carolina is seething with resentment. Although Ralph has continually tried to satisfy his wife's emotional and sexual needs, he has just quit his job working for her boorish father and plans to skip town on Christmas Day. An unexpected visit from his closest military pal, George Haverstick (Patrick Alparone), has thrown a wrench into Ralph's flight plan.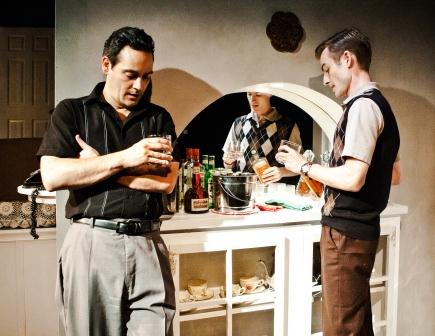 Ralph Bates (Johnny Moreno) and George Haverstick (Patrick Alparone) in
Period of Adjustment (Photo by: Jessica Palopoli)
As it turns out, Ralph and Dorothea aren't the only couple having a miserable holiday. After being hospitalized for months, George finally married Isabel (MacKenzie Meehan), one of the nurses who took care of him. Having quit their jobs, they've been driving around the countryside on a poorly-conceived and woefully-executed honeymoon.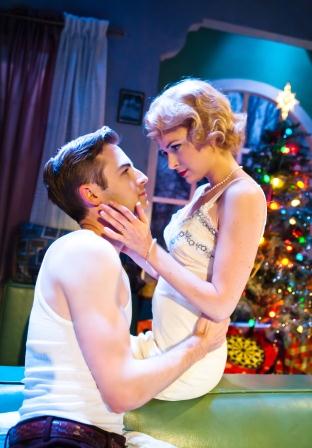 George (Patrick Alparone) and Isabel (Mackenzie Meehan)
in Period of Adjustment (Photo by: Jessica Palopoli)
George and Isabel's initial night of marital lust proved to be a dud. Faced with a woman who doesn't seem interested in sex, George wants out of their marriage. Isabel desperately wants to go home to her parents in Texas, but finds Ralph to be a sympathetic listener.
Meanwhile, Mr. McGillicuddy (Joe Madero) and his wife (Jean Forsman) want to remove all of their daughter's belongings from Ralph's house before he can sell anything. If at all possible, Dorothea wants to make up with her husband.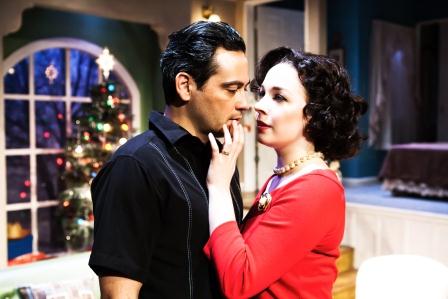 Johnny Moreno and Maggie Mason in Period of Adjustment
Photo by: Jessica Palopoli
As with any Tennessee Williams play, things are seldom what they seem. Back during the Korean War, George and Ralph used to patronize Asian prostitutes whenever they needed to score some "gash" (a term probably unfamiliar to today's more politically correct audiences). Ralph, who had a better understanding of how to please a woman, used to cover for the fact that George would often sit upstairs with a prostitute, trying to teach her English instead of having sex.
Whether George's attacks of the shakes are due to feelings of sexual inadequacy or latent homosexuality is never made clear. However, the initial horseplay when the two men are first reunited makes it evident to the audience that they became the best of buddies during the war.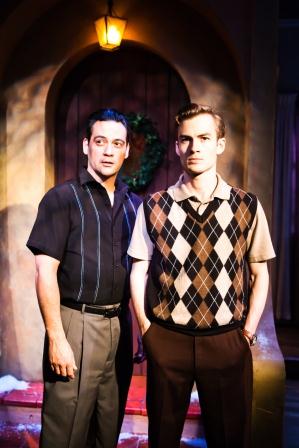 Ralph (Johnny Moreno) and George (Patrick Alparone) in
Period of Adjustment (Photo by: Jessica Palopoli)
Using a clean suburban set designed by Nina Ball, Bill English has directed Period of Adjustment with a keen sense of the play's comic moments as well as its creeping suburban tragedy. Tatjana Genser's costumes and the sound design by Cliff Caruthers help to frame 1958's Christmas Eve with spanking clean looks that are easily undermined by a steady flow of alcohol and some ominous house tremors.
Many plays by Tennessee Williams are built on a foundation of sexual frustration and violence. At the Broadway opening of Period of Adjustment, Tennessee's younger brother, Dakin, boasted that "not a single person was raped, castrated, lynched, committed, or even eaten!" Nevertheless, as I watched SFPlayhouse's production of Period of Adjustment unfold, I found myself reacting to several things in the text that had absolutely nothing to do with the play itself:
In Act I, whenever Isabel would address Ralph as "Mr. Bates," I found myself wondering if Williams was having fun teasing repressed audiences of the 1950s with the phonetic proximity of "Mister Bates" to "masturbates." I also wondered if Isabel would get stabbed to death (Hitchcock style) in the shower of the Bates home.
In Act II, whenever Dorothea said the word "Ralph" I found myself hearing Audrey Meadows' voice from The Honeymooners.
As I watched Patrick Alparone's jittery portrayal of a young military veteran with post-traumatic stress disorder, I wondered if the character's mental instability and potential for violence was something that titillated the playwright (who had a well-known predilection for rough trade).
All that, of course, is wild speculation. SFPlayhouse's production is exceptionally well cast and directed. I was especially pleased to see Johnny Moreno (an underutilized Bay area talent) back onstage where he belongs.
Performance of Period of Adjustment continue through January 14. Here's the trailer:
SUBSCRIBE TO & FOLLOW CULTURE SHIFT
Every Friday, HuffPost's Culture Shift newsletter helps you figure out which books you should read, art you should check out, movies you should watch and music should listen to. Learn more