For me, it all began in Stewart's Ice Cream Parlor in the small town of Corinth, New York. One summer, when my family was vacationing at nearby Lake Luzerne, my parents took us to a place where you could make your own ice cream sundae. The joy of going to Stewart's was not just that you could pile as much glop on top of the ice cream as the dish could hold. In those days, no one cared whether or not you ate it all.
Years later, I was introduced to my first smorgasbord at the Scandia Restaurant in the heart of New York's theater district. Precocious glutton that I was, I knocked off seven plates of food before my parents rolled me down the street to the John Golden Theater for a performance of the ground-breaking hit, An Evening With Mike Nichols and Elaine May.
Anyone who has visited my abode knows that it is decorated in a style best described as wretched excess. When I moved into this apartment in 1974, I was working as a medical transcriptionist on swing shift at San Francisco's St. Luke's Hospital. One night, I asked the ditzy queen who worked in the Neonatal Intensive Care Unit if he had any spare urine specimen jars in which I could store nails, screws, and other bits of hardware. Larry dutifully explained that, because they contained medical waste products, those bottles had to be carefully disposed of but suggested that I try some of the discarded Similac jars instead. Then he asked the magic question.
"Do you want them with or without the nipples?"
Foolish move. Some wooden slats, some Elmer's glue, and the Hallway of Nipples was born. After too many nipples started falling off the walls and doorway frames, I was eventually forced to redecorate. My office now sits in the Angela Lansbury room. Just past the Beverly Sills Hallway Memorial is a room devoted to vintage ocean liners from the first half of the 20th century. The bathroom and kitchen are filled with beefcake (it's just amazing what you can do with an Inkjet printer and several hundred cheap picture frames from the Mission District's "dollar" stores).
My apartment is like a theme park for the madman on Dolores Street. The front window, with its collection of owl figurines, gets constant hoots of attention from children of all ages and has even been mentioned in a book about walking tours of San Francisco. Recently, Tyler MacNiven, the host of Sfsecrets.com, made a small film about the infamous owl window.
Thus, it should come as no surprise that I absolutely loved Harrod Blank's hilarious documentary, Automorphosis. You could not find a more delightful pick-me-up than this sublimely over-the-top tribute to individualism, to acting out your fantasies, and to the joyous results of not holding back when the creative urge strikes.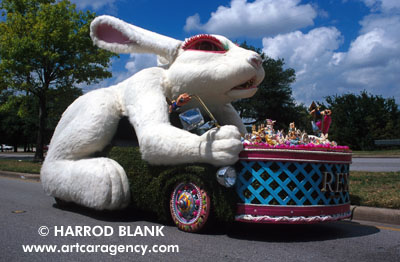 You haven't lived until you've seen someone driving around in a hamburgermobile, a shark car, or a Cathedracar that would make Morticia Addams green with envy. What makes Blank's documentary so much fun is that he has focused not just on the art cars, but on their creators as well.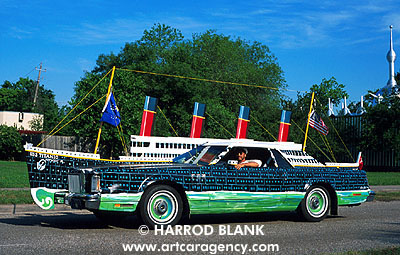 Thus, you get to meet the person who used copper pennies to decorate an art car after wearing a sheath of copper pennies made his arthritis disappear. You meet a woman whose throat cancer spurred her to express herself as an artist, as well as the man who created the amazing Big Horn mobile. Whether you are watching a car decorated with singing fish and lobsters or someone driving around in a horizontal Madonna made from license plates, seeing is believing.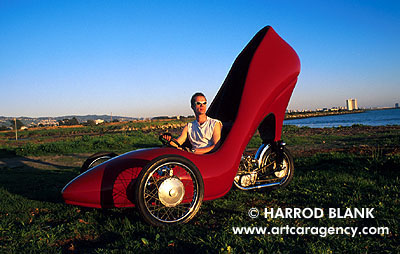 Automorphosis is guaranteed to cheer you up when you're sick. Invite friends over for a screening party. Watch it when you have insomnia. Revisit it when you're down in the dumps. Here's a sample of the craziness you will enjoy:
After you've seen Automorphosis, you'll want to watch its sequel, Oh My God! It's Harrod Blank. The son of filmmaker Les Blank, Harrod Blank is easily portrayed as an eccentric artist who has taken on all different kinds of work.
As a young filmmaker, his first effort was entitled In The Land of the Owl Turds (1987). His subsequent documentaries on art cars were named Wild Wheels (1992), Driving The Dream (1998), and the aforementioned Automorphosis (2008). Blank (who is currently working on a documentary about the Burning Man Festival) can also lay claim to a bit role in 1988's science fiction thriller Killer Klowns from Outer Space.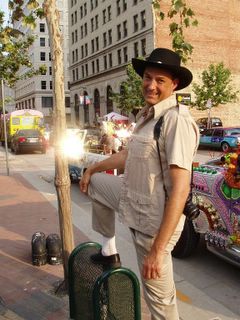 Harrod Blank in Houston
Oh My God! It's Harrod Blank explores the lifestyle of a man who talks to chickens, almost exclusively dates black women, and has no qualms about living a fantasy-driven life. Blank has created such controversial art cars as the Camera Van (a Dodge van with 2000 cameras attached to it) and caused jaws to drop while appearing in his famous Flash Suit (a costume covered with hundreds of photo flash bulbs).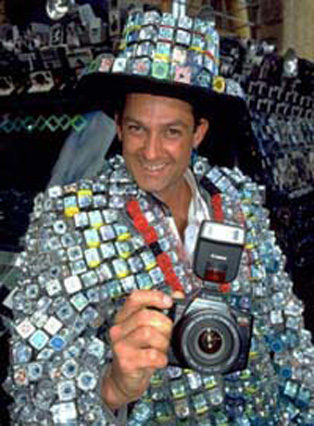 Harrod Blank wearing his Flash Suit
As friends, relatives, and ex-girlfriends describe Blank's irresistible combination of naiveté, curiosity, artistic passion, and eccentric behavior, the audience gets a look at someone who marches to a set of drummers that very few people can hear. The scene in which Blank and his father recreate the moment Harrod tried to shove a pen up his sleeping father's nose will leave some people gasping in disbelief.
Blank's younger brother describes what it was like to grow up in the shadow of Harrod's extroverted behavior and overwhelming need for attention. Harrod's mother describes the qualities which have always made her son "special." But it's up to the audience to piece together the unique personality traits that stimulate the man's creativity.
While Harrod's first car has officially been named "Oh My God! It's Harrod Blank," David Silberger's documentary could just as easily have been named "What Makes Harrod Run?" If you treasure nonconformity, this film is just for you. Here's the trailer:
SUBSCRIBE AND FOLLOW
Get top stories and blog posts emailed to me each day. Newsletters may offer personalized content or advertisements.
Learn more