Back in 1950, when former silent screen star Gloria Swanson took on the role of Norma Desmond in Billy Wilder's Sunset Boulevard, her character told the young Joe Gillis that in the days of silent film "We didn't need dialogue. We had faces!"
The Bay Area has a large and loyal base of silent film fans, many of whom will descend on the Castro Theatre this weekend for the San Francisco Silent Film Festival's annual winter event. Attending silent film events at the 1,400-seat Castro has become like a religious ritual for the truly devoted. Not only do they get to experience these films as they were meant to be seen -- in a beautiful movie palace with a giant screen -- they also have the benefit of hearing live accompaniment on piano, with a small ensemble, or on the theatre's Mighty Wurlitzer organ.
Over the years, three films (which have been restored and are available on Netflix) have brought the audience to a loud standing ovation at their end. Not only are they hugely entertaining pieces of cinema, the live accompaniment by such artists as Dennis James and Stephen Horne has helped to create a thrilling experience. In the following video clip (recorded in 2009 at Ireland's Killruddery Silent Film Festival) Horne describes how he built a career accompanying silent films and the difference that live music makes for an audience.
Just as the discovery of a new species of dinosaur fossil -- or a previously hidden Egyptian mummy -- creates a worldwide sensation, the announcement that a salvageable print of 1926's
Bardelys The Magnificent (a silent film that had, for decades, been assumed lost to history) had been found in a cellar in France sent frissons of ecstasy through the international community of silent film fans.
The fifth and last film to star John Gilbert and be directed by King Vidor, Bardelys The Magnificent was based on one of Rafael Sabatini's popular swashbuckler romance novels. Although Gilbert enjoyed great popularity as a matinee idol, in this film he also did some pretty impressive stunt work.
Playing opposite Vidor's wife (Eleanor Boardman), Gilbert portrays a vain, handsome member of the court of France's Louis XIII. Bardelys is a man who could have any woman he desires and whose sexual appetite is seemingly insatiable.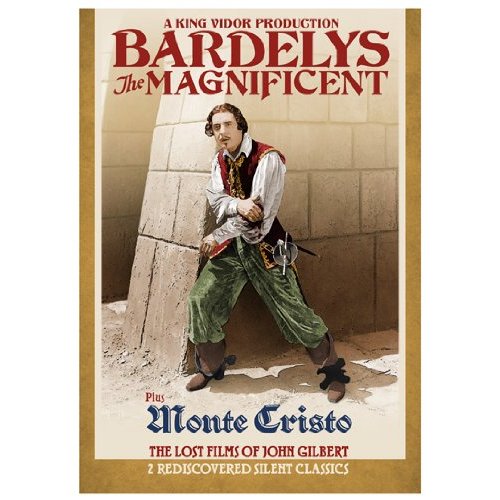 Poster art for Bardelys The Magnificent
After being rejected by the beautiful young Roxalanne de Lavedan (whose parents do not support the king politically), a rival of Bardelys challenges him to win and marry the aloof Roxalanne or else forfeit his castle. Thus begins a long and complicated farce of mistaken identity in which only the villain (Chatellerault) or the king himself can save Bardelys from the gallows.
Because MGM had only licensed the rights to adapt Sabatini's Bardelys The Magnificent for 10 years, when the contract came up for renewal in 1936 (by which time talkies had become all the rage), the studio opted to destroy all of the known prints of the film as per the terms of its contract. Eight decades after its premiere, all but one reel of the film was found in France, was digitally restored, and is now available on DVD with musical accompaniment by the Mont Alto Motion Picture Orchestra.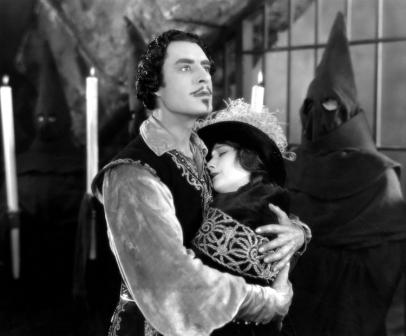 John Gilbert & Eleanor Boardman
Bardelys The Magnificent is great fun, with a wealth of comedy and derring-do (not to mention some magnificent period costume work). Trivia freaks will be thrilled to know that this was the movie in which a very young John Wayne made his professional debut in a bit role. In the middle of the film there is a sequence of such lyrical beauty that it's hard to imagine why anyone in his right mind would have been willing to relinquish the distribution rights. Watch the clip below and you'll want to see the entire film.
When the San Francisco Silent Film Festival screened Anthony Asquith's 1929 film noir triumph, A Cottage On Dartmoor in July of 2007, I was instantly struck by the dour moodiness of Stephen Horne's score, the brilliant ways in which he created tension to match and support what was happening on the screen as well as his meticulous use of the piano's percussive and lyrical abilities to communicate a wide range of emotions. An extremely modest artist, Horne finds great inspiration in the music of Ravel.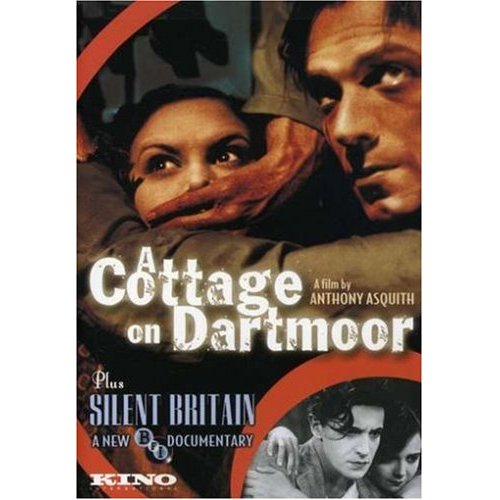 Poster art for A Cottage on Dartmoor
A thrilling piece of noir cinema, A Cottage on Dartmoor is available on DVD with a full orchestration provided by Horne. Although the following clip does not use Horne's music, it gives a few glimpses of Asquith's brilliance in some of the scenes on the heath.
* * * * * * * * * * * * *
Several years ago, when the San Francisco Silent Film Festival presented Paul Leni's 1928 masterpiece, The Man Who Laughs it quickly became obvious that computer-generated special effects can't hold a candle to the real thing. The audience's reaction to Conrad Veidt's magnificent performance as Gwynplaine (a circus freak beloved by audiences who, as a child had been subjected to a monstrous type of plastic surgery at the hands of a gypsy physician) could be felt throughout the theatre..
As a result of Dr. Hardquanonne's surgical abuse, the adult Gwynplaine's face is frozen into the ghastly laugh-like smile which subsequently became the inspiration for the Joker character in Batman comics and movies as well as for the "Smiling Jack" logo of George C. Tilyou's Steeplechase Park in Coney Island.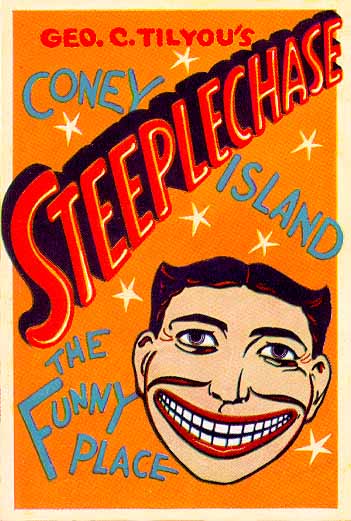 Poster art for Steeplechase Park
The adult Gwynplaine lives with Dea (a blind beauty that he rescued in a snowstorm when he himself was abandoned as a child), Ursus (the man who took pity on them both and now uses them in his traveling sideshow), and Homo, their trusty German shepard. Based on a story by Victor Hugo, The Man Who Laughs offers plenty of opportunity for the kind of period costume spectacle that the silent era loved. Thanks to Hugo's vivid imagination, it boasts a juicy plot with plenty of strong character roles.
Without doubt, Gwynplaine's desire to be loved by someone who doesn't care about his personal tragedy tugs at the audience's heartstrings the same way that WALL-E's desire to strike a connection with Eve attempts to elicit sympathy. But the fact that Gwynplaine is, in essence, a decent soul trapped in a horrid body makes his story all the more pathetic.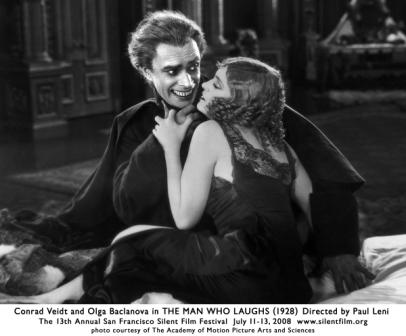 Gwynplaine's trusty dog loves him. The blind but beautiful Dea loves him. However, he is cursed with low self esteem. Until political machinations in the royal court thrust him into a crisis (following the revelation that Gwynplaine is actually the sole living heir to the estate of Lord ClanCharlie), his life is fairly simple.
When all hell breaks loose, the story accelerates to a climactic chase scene in which Homo saves the day by clamping his fangs around the neck of the villain (Barkilphedro) and drowning him as Gwynplaine, Dea, and Ursus make their escape. By that point -- goaded on by Clark Wilson's superb accompaniment on the Castro's mighty Wurlitzer organ -- the audience was on the edge of their seats.
Nothing like that happened during the screening of WALL-E I attended and I doubt that it ever will! Because, as the bitterly aging Norma Desmond insisted, back in her day they had faces. Here's the trailer:
SUBSCRIBE TO & FOLLOW CULTURE SHIFT
Every Friday, HuffPost's Culture Shift newsletter helps you figure out which books you should read, art you should check out, movies you should watch and music should listen to. Learn more