A lot has changed since 1980, when Marcia Millman's Such a Pretty Face: Being Fat in America, was first published. Three decades of foods crammed full of salt, fat, and carbohydrates have led to a massive bulking up of the American population. First Lady Michelle Obama's campaign against childhood obesity is a welcome attempt to encourage families to embrace better nutrition.
While the diet industry has made billions of dollars by pandering to the emotional insecurities of fat people, recent years have seen a remarkable change in how the entertainment industry portrays the clinically and chronically obese (once Hollywood determines there is money to be made off a target population, anything can happen).
Movies such as Queen Sized, Fat Girls, and Zuckerbaby have given many an obese person some knowing laughs as well a chance to rethink their self-esteem. Hairspray has singlehandedly opened up a market for young and full figured women who can sing, dance, and act.
Television has gotten in on the act as well, with series like Huge, Drop Dead Diva, Mike and Molly, and a reality show about dieting called The Biggest Losers.
A handful of fat women (Nikki Blonsky, Marissa Jaret Winokur, Sherri Shepherd, Gabourey Sidibe) are becoming stars.
Few, however, have gone as far as the BBC's
Little Britain
, where comic geniuses Matt Lucas and David Walliams have mined the topic of obesity for outrageous humor. One of the more jaw-dropping characters performed by Lucas is Marjorie Dawes (the plump and incredibly insensitive leader of a "Fat Fighters" weight reduction program). In the following clip, viewers can watch Lucas appearing as Dawes in front of a live audience in Blackpool, England.
In 2008, when HBO produced a spinoff series entitled Little Britain USA, Lucas pushed the envelope even further by casting Rosie O'Donnell as a media spokesperson for Fat Fighters. The result included this amazing sequence:

The use of fat suits in Hollywood has met with mixed criticism. No one seems to blink an eye when African American actors like Eddie Murphy (Norbit, The Nutty Professor ) or Tyler Perry (as Mabel "Madea" Simmons) don a fat suit. But the entertainment media flipped out when Gwyneth Paltrow bulked up for Shallow Hal and Tom Cruise donned a fat suit for Tropic Thunder (Cruise's characterization of Les Grossman is now being developed for a feature film). None of these characterizations, however, went the jaw-dropping distance of Bubbles DeVere (also created by Matt Lucas for Little Britain):
While fat people have often been perceived as the last minority that it's safe to ridicule, recent years have seen the emergence of groups proclaiming that fat is a feminist issue and angrily chanting "Fat Power." Although Hollywood tends to use fat people for comic relief (or to show how much they suffer when dieting), several actors have used the struggle to control their weight as source material for live performance art.
Recently seen at the 2010 San Francisco Fringe Festival, Sarah Abbey's monologue entitled The Weight Game introduces the audience to a series of women who, at various stages of their lives, have all struggled to cope with excess girth. Whether she is portraying a young girl who always knew that if she didn't succeed in something at school, there would be edible consolation prizes waiting for her at home or a woman who attends Weight Watchers meetings in order to avoid her skinny husband with his rock-hard abs, Ms. Abbey knows her territory and inhabits it with exceptional dramatic grace.
Using a variety of hats and hair styles, she can easily switch from portraying a Southern belle who likes to keep dipping her finger into a jar of peanut butter to impersonating a man who can't understand why his wife thinks that, by leaving ice cream containers that are 95% empty in the freezer, she is fooling anyone other than herself.
As a nagging recitation continues in the background detailing how many calories a person has eaten that day (and how much exercise she performed to burn off those calories), Abbey inhabits the bodies of a grade school teacher trying to avoid the temptation of home-made cupcakes during a student's birthday celebration as well as an angry teenager who has determined that, if she starves herself into a hospital bed, everyone will then be forced to beg her to eat. Developed with and directed by Joya Cory, The Weight Game pushes all the right buttons without ever heading into deep and dangerous waters.
By contrast, Pidge Meade's 40 Pounds in 12 Weeks: A Love Story takes audiences to some emotionally dicey places. Carefully nurtured by Charlie Varon, Meade's monologue (seen during The Marsh's recent Festival of New Voices) explores her life-long battle against her hips, her thighs, and people whose insensitive behavior can quickly trigger an eating binge. They include:
Pidge's father, an uberjock/gymnastics coach whose only concern about his daughter is what she weighs on any given day. Upon picking her up at the end of her freshman year, he delivers a stern ultimatum: Either Pidge lose 40 pounds or he'll refuse to pay the tuition for her next semester and she will be forced to drop out of college.
Pidge's mother, a meek, chain-smoking woman who, instead of standing up to her husband, tries to get her daughter hooked on diet pills.
Pidge's college boyfriend, who likes her just the way she is ("No, Dad, he's not black!").
Pidge's former college roommate, who encounters a trimmed-down Meade years later at a class reunion and gives her a heaping share of exactly the kind of attention Pidge doesn't want. Embarrassed by her nephew's morbid obesity, Sue wants Pidge (who has just shed 70 pounds) to give her the quick-fix secret to weight loss so she can quickly get her nephew in shape and stop being mortified by his appearance.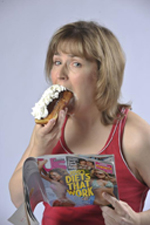 Pidge Meade (Photo by: David Allen)
As someone who has been clinically obese for most of his life, I was fascinated to watch Meade's meticulously crafted, gently sculpted monologue reveal the heartache of being short, fat, unloved, and underappreciated while maintaining a quiet, knowing humility about her situation. Mocking her weight loss in the voice of a circus performer ("And now, presenting the former fat lady..."), Meade takes each insult with a surprising sense of inevitability until she develops the emotional strength to stand up for herself.
Anyone who has boomeranged from one diet to another in the hope of finding a new body and/or self image will emit gasps of recognition while listening to Meade describe the casual digs voiced by her parents and friends (who have absolutely no understanding of the cruelty of their words). Meade captures the sad torment and frustration of any fat person who tries to explain the challenges of dieting to someone whose higher metabolism rests on a solid foundation of crippling insensitivity.
While fat people often assume that their personal issues are contributing to their weight gain, a fascinating documentary seen during the 2008 American Indian Film Festival put a new cultural twist on modern obesity. In Mary Bissell's My Big Fat Diet, members of Canada's Namgis First Nation of Alert Bay (off the coast of Vancouver Island) were forced to confront the fact that they had steadily been gaining weight as their diet grew to include more and more carbohydrates.
With their increasingly obese population at greater risk for diabetes and heart disease, the townsfolk decide to accept a challenge from their tribal chief to eliminate sugar for a year by going back to the diet of their ancestors (who had survived primarily on bacon, salmon, fish, and vegetables).
"No aboriginal language has a word for diabetes," notes Metis physician, Dr. Jay Wortman, in the film.
Under the nutritional supervision of Health Canada and the University of British Columbia, the island's residents agree to go cold turkey. Over the course of a year's time, the study's participants discover exciting new things that can be done with cauliflower. Like most diabetics, they also learn new ways to shop for groceries.
Although the film often seems like the aboriginal antithesis to Morgan Spurlock's Supersize Me, My Big Fat Diet is an excellent teaching tool for newly-diagnosed diabetics who fear being forced to make adjustments to their lifestyles. It shows how valuable community support can be to the process of taking control of one's diet. Viewers will be especially thrilled by the community's graduation ceremony (in which the town celebrates a collective weight loss of more than half a ton). Here's the trailer:

To read more of George Heymont go to My Cultural Landscape
SUBSCRIBE TO & FOLLOW CULTURE SHIFT
Level up. Read THIS and be the most interesting person at your dinner party. Learn more