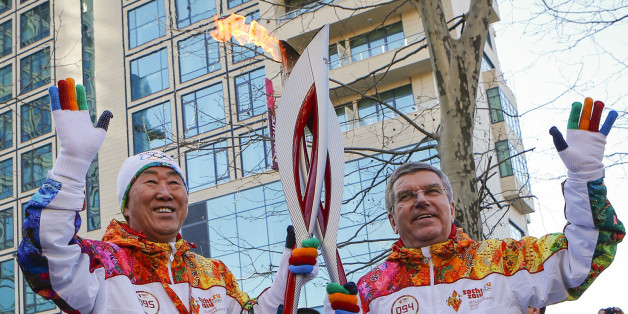 George Papandreou is the former prime minister of Greece and President of the Socialist International.
ATHENS -- Ahead of the second round of Geneva II talks, and as the process to remove the country's chemical weapons continues, the priority in Syria must now be to address the ongoing humanitarian crisis.
According to available estimates, more than 130,000 people have been killed since March 2011. Millions more have been displaced as refugees. Securing a ceasefire would provide immediate relief for citizens caught in the fighting and enable humanitarian aid to reach those most in need.
In this context, the Winter Olympics in Sochi provides a unique opportunity to revive the ancient Greek tradition of the Olympic Truce. The ancient Olympic Games were in fact founded in order to produce a 16-day truce and, ultimately, lasting peace. This peace agreement was observed by all of ancient Greece and is the longest lasting peace accord in human history: It was respected for 1000 years.
This idea and tradition has now been adopted by the United Nations General Assembly (Resolution 68/9) and signed by 121 countries.
In modern times, the Olympic Truce has been respected by warring factions in Sarajevo, by President Bill Clinton during the Nagano Games -- allowing UN Secretary General Kofi Annan to negotiate with Iraq -- and between North and South Korea, who marched together under one flag during the Olympic Games.
Greece, in close cooperation with the Olympic Movement, has been at the forefront of efforts to revive this tradition.
The UN has also been active and Ban Ki-moon, the current UN Secretary General, has made a welcome appeal for all to observe the Olympic Truce during the upcoming games.
As president of the Socialist International and someone who has fought to revive the Olympic Truce, I, too have called for an absolute ceasefire in Syria -- to be respected by all factions -- during the Olympic Games in Sochi.
This proposal was adopted and promoted by the leadership of A Just Russia Party -- a member party of the Socialist International -- and subsequently passed in the Russian Duma. We must also welcome the strong statement made by the Russian foreign minister in support of the initiative.
This gives reason for optimism that a truce may be possible. It is a positive step in creating the necessary momentum for achieving this goal during the Sochi games. The international community -- and all parties involved in the Syrian conflict -- must seize this historic opportunity by supporting this call for truce and prioritizing, above all, the humanitarian needs of the Syrian people.
SUBSCRIBE TO & FOLLOW WORLD POST